Series 1, Episode 8 - Nelson The Naughty Arsonist
It's the worst time of the year for the animals - Bonfire Night (aka 5/11). After failing in his job last year as a fire warden, Nelson faces an angry mob led by Marion demanding an end to the event for good. Kali has her wings clipped and discovers she is suddenly an easy meal for Vince. Destiny decides to pursue a modelling career.
Full synopsis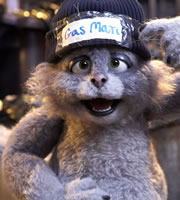 The return of Bonfire Night unearths some bitter memories among the Mongrels.
After failing to protect his friends as fire warden the previous year, metrosexual fox Nelson faces an angry mob demanding an end to the event for good. However, when a rather bewildered and incompetent Marion is nominated as leader of the rebellion, things don't quite go as planned. After having her wings clipped by a safety conscious Nelson to stop her flying into fireworks, a grounded Kali faces a new danger from Vince, who suddenly sees Kali as an easy meal. Kali has to do some serious plotting to devise a way of avoiding becoming Vince's dinner.
Meanwhile, Destiny sets her sights on a modelling career after being spotted by a dog photographer in the park. However, the result of the photo shoot isn't quite as glamorous as she had hoped.
Song: Beautiful - Sung by Destiny.
Written by Daniel Peak and Jon Brown.
Notes
Some sources give this episode the unofficial title Bonfire.
Broadcast details
Date

Tuesday 10th August 2010

Time

10:30pm

Channel

Length

30 minutes
Repeats
Thursday 12th August 2010 at 12:20am on BBC3
Friday 13th August 2010 at 9:00pm on BBC3
Sunday 15th August 2010 at 10:45pm on BBC3
Friday 31st December 2010 at 12:15am on BBC3
Wednesday 10th August 2011 at 2:15am on BBC3
Monday 31st October 2011 at 4:00am on BBC3
Friday 31st May 2013 at 11:45pm on Dave
Monday 5th May 2014 at 2:30am on Dave
Wednesday 8th October 2014 at 2:45am on Dave
Sunday 28th December 2014 at 3:10am on Dave
Saturday 31st January 2015 at 3:15am on Dave
Tuesday 17th February 2015 at 2:25am on Dave
Monday 7th March 2016 at 3:30am on BBC3
Cast & crew
Videos
It's 5/11 (November 5th) and the Mongrels are worried about the Fireworks on Bonfire Night. Nelson has flashbacks to last year's event.
Destiny points out the differences between her and other women - in song form.
Featuring: Lucy Montgomery (Destiny).