Series 1, Episode 2 - Destiny The Reluctant Sniffer Dog
Destiny learns of the power of bottom-sniffing, Kali is reunited with an old partner in crime, Nelson adopts one of Vince's cubs and Marion overdoses on catnip.
Full synopsis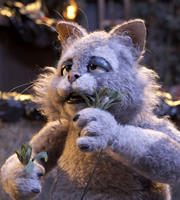 Destiny goes on a date with a dog who enlightens her to the power of bottom-sniffing when it comes to getting to know someone.
After sniffing all the bottoms in the neighbourhood, including that of broadcaster Paul Ross, she is bitterly disappointed that it seems the love of her life could in fact be her straight-laced, metrosexual fox friend Nelson.
Kali is reunited with an old partner in crime, but is irritated to discover that he has no interest in helping her terrorize the neighbourhood as he has now found God and seen the error of his ways. Annoyed, Kali plots to try and tempt him back to the dark side.
Nelson adopts one of Vince's cubs after Vince reveals that he ate the others in a cannibalistic massacre because he was hungry and couldn't find a spoon for the yoghurts in his fridge - they were rhubarb flavour so he didn't fancy them anyway.
And Marion has severe paranoia and a craving for instant noodles after overdosing on catnip.
Song: What Kind Of God? - Sung by Kali, featuring Christopher Biggins as God.
Written by Adam Miller, Daniel Peak and Jon Brown.
Notes
Some sources give this episode the unofficial title Runt.
Broadcast details
Date

Tuesday 29th June 2010

Time

10:30pm

Channel

Length

30 minutes
Repeats
Wednesday 30th June 2010 at 1:15am on BBC3
Thursday 1st July 2010 at 12:30am on BBC3
Sunday 4th July 2010 at 11:15pm on BBC3
Tuesday 21st December 2010 at 12:15am on BBC3
Tuesday 5th July 2011 at 11:45pm on BBC3
Wednesday 6th July 2011 at 3:40am on BBC3
Friday 8th July 2011 at 2:15am on BBC3
Saturday 16th July 2011 at 3:15am on BBC3
Sunday 30th October 2011 at 2:20am on BBC3
Friday 19th April 2013 at 11:20pm on Dave
Monday 14th April 2014 at 2:25am on Dave
Wednesday 17th September 2014 at 2:45am on Dave
Friday 19th December 2014 at 1:00am on Dave
Saturday 10th January 2015 at 3:15am on Dave
Tuesday 3rd February 2015 at 1:55am on Dave
Cast & crew
Videos
Destiny talks to Nelson and Kali about a dog called James who she met last night, who could be "The One." The secret of the dog bark is revealed.
Featuring: Rufus Jones (Nelson), Lucy Montgomery (Destiny), Katy Brand (Kali).