Here are the results of The Comedy.co.uk Awards 2011 - the TV and radio comedy awards decided entirely via a public vote, with every new programme that broadcast during the year (over 340 different shows in 2011, for the record!) nominated.
This year's results largely highlight how fragmented comedy has become: long gone are those shows that either everyone loved or everyone hated; instead now we find series that are highly targeted towards particular demographics and audience sectors, splitting the voters with some predictable - and surprising - results...
Best New British TV Sitcom 2011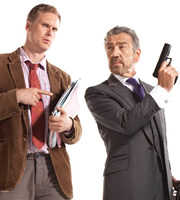 Spy
We loved Sky's new family-friendly sitcom, and are delighted that our visitors do too. After years of playing solid but nevertheless second-fiddle roles in programmes from Saxondale to Green Wing and Whites to Kiss Me Kate, actor Darren Boyd was flung front and centre as the mild-mannered accidental MI5 recruit and single father Tim, and he delivered with aplomb. Channel 4's Friday Night Dinner and BBC One's Mrs. Brown's Boys also scored very highly in this category, but it was the lively, genuinely laugh-out-loud funny scripts from Simeon Goulden and a top-notch cast supporting Boyd that cemented Spy's position as the Best New TV Sitcom of 2011.
Worst New British TV Sitcom 2011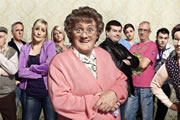 Mrs. Brown's Boys
Despite only narrowly missing out on the 'Best' title, popular hit of the year Mrs. Brown's Boys also polled a significant number of negative votes, earning it the unwanted label of Worst New TV Sitcom for 2011.
Somewhat unsurprisingly, Ricky Gervais and Stephen Merchant's Life's Too Short was a very close contender for this 'prize'; it certainly seemed to disappoint many contributors to our message board, particularly so after the heights of Extras and The Office.
Best Returning British TV Sitcom 2011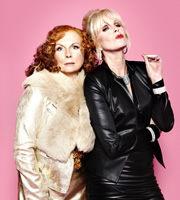 Absolutely Fabulous
Following a break of nearly 7 years, Jennifer Saunders' riotous sitcom returned to screens this festive period. The Christmas special was suitably well received - and highly anticipated enough - to garner your votes to crown it the Best Returning TV Sitcom. An Olympics special is set to follow in the summer, and word from TV Centre has it that a whole new series and specials are likely, so will this win be repeated for 2012 or 13?
After a tricky few years, bosses at BBC One can sleep a little easier tonight, with the knowledge that fellow channel-mates Not Going Out and Outnumbered also did extremely well in this category. BBC Two's Rev wasn't far behind.
Worst Returning British TV Sitcom 2011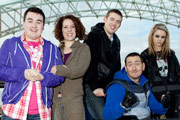 Two Pints Of Lager And A Packet Of Crisps
Having picked up the same not-so-coveted gong for its previous series in 2009, British Comedy Guide readers continued to voice their dislike for this BBC Three sitcom in 2011. Despite some key cast departures the show actually managed to increase its audience figures during Series 9 and wasn't received too badly by its fans, but those that voted for it in this category can rest easy with the knowledge that new BBC Three boss Zai Bennett has brought the show to an end.
Best British Radio Sitcom 2011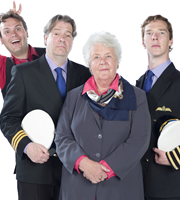 Cabin Pressure
This sitcom set around the adventures of a tiny airline company has captured a large Radio 4 fan base since its premiere in 2008. Writer John Finnemore (left) mixes carefully planned plots and sharp dialogue with an array of utterly joyful characters to create a winning show. Fans will be pleased to hear it's coming back for another series, even though Benedict Cumberbatch has been catapulted to TV stardom as the new Sherlock Holmes. Someone at production company Pozzitive should crack open a bottle of bubbly to 2011, as their other sitcom - Another Case Of Milton Jones - was second in this category.
Best British TV Sketch Show 2011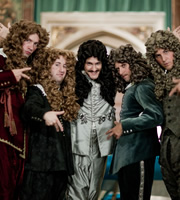 Horrible Histories
The drought of sketch shows during 2011 has been widely commented upon, with Come Fly with Me the only big prime-time terrestrial TV sketch vehicle - and even that was somewhere between sitcom and satire, being as it was a mockumentary. However, one of the few sketch series that did broadcast has kept its high quality level for years: CBBC's Horrible Histories. Fellow childrens' show and now sadly cancelled Sorry, I've Got No Head came a close second place in the poll, proving that comedy fans are willing to seek out the best comedy, wherever it might be. A fourth series of Horrible Histories has already been recorded and will broadcast a little later in the year.
Worst British TV Sketch Show 2011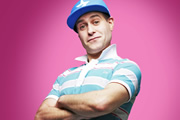 Lee Nelson's Well Good Show
Lee Nelson's Well Good Show is, according to our readers, anything but 'well good'. The series, which mixes studio games and audience interaction segments with pre-filmed sketches, gets fairly decent ratings and clearly knows its audience, but it seems that they just don't often vote in our awards.
Best British Radio Sketch Show 2011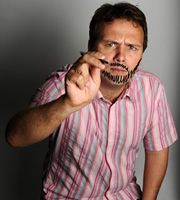 John Finnemore's Souvenir Programme
A second win for John Finnemore, but perhaps not surprising as his sketch show - the first programme to go out in Radio 4's new Sunday night comedy slot - was a winning mix of clever skits and wonderful wordplay, and all done without repeating or beating ideas to death. There's no word yet of a second series or not, but here's hoping...
Best British TV Panel Show 2011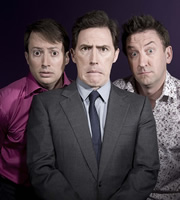 Would I Lie To You?
This BBC One panel show has been growing in popularity over the last couple of years, with Lee Mack and David Mitchell's playful arguments at the heart of many people's enjoyment of the programme. The opening episode of the 2011 series was hailed by many as the best yet - as host Rob Brydon and The Apprentice's Nick Hewer's antics with a 'cuddle jumper' reduced the studio and viewers at home to tears of laughter. However, this was another particularly fiercely fought category, with QI, HIGNFY and Shooting Stars also attracting many votes.
Worst British TV Panel Show 2011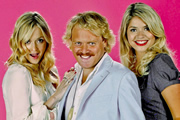 Celebrity Juice
Despite attracting record breaking audience figures in 2011, the ITV2 panel show fronted by Leigh Francis's comedy creation Keith Lemon failed to impress our voters. The series is doing wonders for its home channel though, so don't expect an end any time soon. Prime time Channel 4 hit Chris Moyles Quiz Night also scored rather highly for this somewhat dubious title.
Best British Radio Panel Show 2011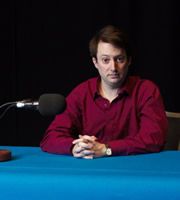 The Unbelievable Truth
It first appeared on the airwaves just 6 years ago, but David Mitchell's The Unbelievable Truth is fast looking like it could join the likes of ISIHAC, Just A Minute and The News Quiz as a Radio 4 signature programme. The format is simple: contestants must spot true facts amongst the lies told in pre-prepared lectures. Playing the game, however, is not...
Congratulations to David Mitchell and the production team for beating the more established panel show giants in the voting.
Best British TV Entertainment Show 2011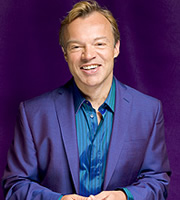 The Graham Norton Show
This category, which mixes the burgeoning TV genres of stand-up, comic chat shows and other satire, saw strong support for Stewart Lee's Comedy Vehicle and Harry Hill's TV Burp, but it was The Graham Norton Show that polled the most votes. Norton's chat show has been going from strength-to-strength since it confidently took over the Jonathan Ross slot, with the host expertly handling his guests and squeezing comic mileage out of all their stories.
Worst British TV Entertainment Show 2011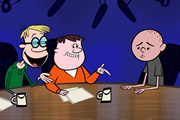 The Ricky Gervais Show
This animated TV series received the most negative votes in the TV entertainment category. As 2010's first series didn't annoy anyone, we can only speculate that the public are beginning to tire of Gervais's elephant ego and dismissive comments towards any British comedy he hasn't written; not to mention the hugely hyped shambles that was recent sitcom Life's Too Short. Has Reading's boy wonder finally lost his sparkle?
Best British Radio Entertainment Show 2011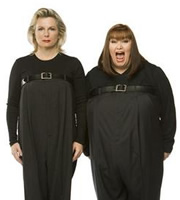 French & Saunders
Long standing comedy duo Dawn French and Jennifer Saunders have been taking to Radio 2's airwaves since Boxing Day 2010 with a periodic series of holiday specials. The duo's natural charm and likeability have combined perfectly with the radio medium in this chat and entertainment show, as evidenced by their taking this title for Best British Radio Entertainment Show 2011.
Best British TV Comedy Drama 2011