Rory McGrath & Philip Pope
Rory McGrath and Philip Pope in Bridge Over Troubled Lager
Comedy
10:10pm (1 hour)
31 Jul; 1-9 & 16-26 Aug 2013
12 - 13
This is a 2013 show that has now finished.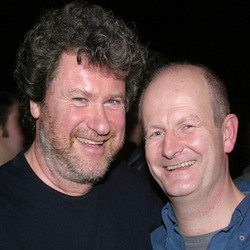 | Mon | Tue | Wed | Thu | Fri | Sat | Sun |
| --- | --- | --- | --- | --- | --- | --- |
| | 30 | 31 | 1 | 2 | 3 | 4 |
| 5 | 6 | 7 | 8 | 9 | 10 | 11 |
| 12 | 13 | 14 | 15 | 16 | 17 | 18 |
| 19 | 20 | 21 | 22 | 23 | 24 | 25 |
| 26 | 27 | 28 | 29 | 30 | 31 | |
Venue details
A collection of songs that are a sophisticated mix of wit, elegance and clever musical pastiche (but don't worry, there's also silliness and filth). This is the show where music and comedy meet, have a few drinks, fight, then stagger home singing hits from the 60s. Something to offend everybody.
Share this show
Reviews
Press coverage
Full press release
After an extensive hiatus Rory McGrath and Philip Pope make a triumphant return to the Edinburgh Festival Fringe from 31st July - 26th August at The Assembly Two, George Square. After their hit 'Dad-rock' album Dark Side of the Moob, Rory and Philip are set to bring a brand new collection of witty, elegant, sophisticated and at times, rather unpleasant songs to audiences this summer.
Rory began his comedy career whilst at Cambridge, performing and writing in The Cambridge Footlights working with Griff Rhys Jones, Clive Anderson, Jimmy Mulville, Stephen Fry, Hugh Laurie, Emma Thompson and Tony Slattery. After several unskilled labouring jobs, he became a house comedy writer for BBC Radio's LE department. Here he worked, among many others, for Frankie Howerd, Dave Allen and Peter Cook as well as contributing to Not the Nine O'clock News and Alas Smith and Jones. His first major series as a writer/performer was Channel 4's flagship late night sketch show Who Dares Wins, after which he co-founded Hat Trick Productions. He co-wrote and co-starred in Hat Trick's first production Chelmsford 123 with Philip Pope, one of his co-stars in Who Dares Wins. In the 90s he was a resident panelist on the hugely popular They Think It's All Over. Since then he has presented several documentaries about history and engineering, hosted ITV1's The Lakes and more recently starred with two other men in a boat, Griff Rhys Jones and Dara O'Briain in several series of the popular BBC show. He was written two books: Bearded Tit, an amusing memoir nearly about bird-watching, became a Sunday Times best-seller. He followed that with a tortured but hilarious memoir about being brought up a Catholic called, The Father, The Son and The Ghostly Hole.
Philip is a composer and actor. He has been writing music longer than he can remember (which isn't saying much these days) and has had an association with comedy for almost as long. In fact people have always laughed at his music. He sometimes finds this
puzzling. His career in music and comedy started at the Edinburgh Fringe in the Oxford Revue alongside Rowan Atkinson, Richard Curtis, Angus Deayton, Tim McInnerny and Helen Atkinson Wood. He then helped Deayton set up the Oxford Revue Company with Geoffrey Perkins, Helen Atkinson Wood and Michael Fenton Stevens with successful tours around the UK and Australia. This became the popular Radio Active and seven series for BBC Radio 4 followed which featured pop parody band the HeeBee GeeBees with Philip as vocal impressionist together with Deayton & Fenton Stevens. He wrote the hit Meaningless Songs (In Very High Voices) with Richard Curtis At the same time he wrote for and appeared in Not the Nine O'clock News. Radio Active transferred to television as KYTV for BBC with the same cast.
Philip met Rory at BBC LE Radio and went on to appear alongside him, Jimmy Mulville, Tony Robinson & Julia Hills in Channel 4's Who Dare Wins and then in Chelmsford 123. He has made guest appearances in a number of shows including Blackadder, Shelley and most recently in Outnumbered. Perhaps his best-known role is as Tony Angelino in Only Fools And Horses singing "Crying" (Cwying!). On the radio he is a regular on Andy Hamilton's Old Harry's Game and has appeared in a number of other series (Hitchhiker's Guide to the Galaxy, Dirk Gently and Clare In The Community to name a few) Philip has written for a who's who of iconic television comedies. Credits include: Outnumbered, Harry Enfield & Paul Whitehouse, Spitting Image, The Fast Show, Dame Edna, Fry & Laurie, Catherine Tate, The Hitchhiker's Guide To The Galaxy and Gimme Gimme Gimme. In addition to his work in TV, Philip also composes for theatre, film, radio, documentary and commercials.
He is an accomplished singer, impressionist and voiceover artist. In fact as well as being musical director he performed the singing vocal impressions for Spitting Image. He has to admit to co-writing the No 1 hit single The Chicken Song.
Following this year's Festival Philip goes straight into The Hitchhiker's Guide To The Galaxy Radio Show Live which returns for a second sell-out tour as musical director/performer.
Over the years he has also come to a number of philosophical realisations such as: time seems to pass more quickly the older he gets, wrong numbers are never engaged, and he is definitely not going to win the lottery - especially if he is too mean to buy a ticket.
---
Credits
Tweets by rorymcgrath