Edinburgh Fringe 2012 shows with the best reviews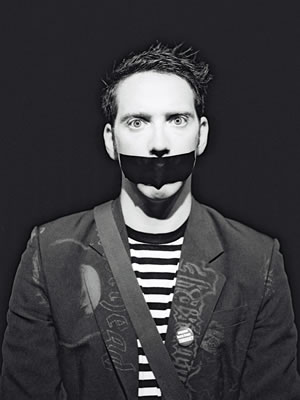 So the Edinburgh Fringe is done and dusted, and all the reviews are in. As a result, it's now time to work out who put on the best shows... well, according to the critics.
Here at British Comedy Guide we're firm believers that you shouldn't rely on just one review to inform you as to whether a show is any good or not. No matter how hard critics try to be un-biased, personal taste still comes into it. For evidence of this just look at Vinegar Knickers and Guilt & Shame, two acts which managed to elicit a wide range of differing feelings.
So we've listed below the acts that picked up lots of reviews and achieved the impressive feat of obtaining an average of 4 stars or more across the write-ups. It's possible the best show during the Fringe wasn't reviewed much or at all, so some things could be missing from this list - but it'd be fair to say these 15 are all solid hits.
We wouldn't be presenting this list without the hard work of BCG data expert Ian Wolf. He has collected and sorted more than 3,500 reviews from over 50 publications this year, and you may be interested to read some of his thoughts. A big thank you is also due to Gareth Morinan, the only comedian/artist/data-analyst in the world (probably). His help in refining our formulas and crunching through all of those thousands of data records has been invaluable.
So here's the list - the top 15 acts ordered from highest average star rating. Click on any name to see the reviews in detail:
1.
The Boy With Tape On His Face

Sam Wills, aka silent mime act The Boy With Tape On His Face, absolutely stormed the festival. He picked up solid four and five star reviews across the board, and took away the Edinburgh Comedy Award Panel Prize too.

2.
Pappy's

Sketch group Pappy's were reviewed by 17 major publications this year - and every single one of them gave the trio a great review. It's definitely their best show ever... but is it true it's their last show too? Incidentally, they recorded a new series of Pappy's Flatshare Slamdown, their hit podcast, at the Festival. It'll be on BCG this autumn.

3.
Sammy J & Randy

The reviews would suggest Australian comedian Sammy J and his puppet friend Randy had another very good festival this year (they were also in the top 10 last year). Their show The Inheritance was a musical about an enormous financial fortune.

4.
Doctor Brown

You've probably already read the headlines. Phil Burgers, better known as silent clown Doctor Brown, walked away with the big prize for the best show at the 2012 festival. Befrdfgth was certainly the most thrilling, dangerous-feeling show we saw this year. Side-splittingly funny too - as many of the reviews echo.

5.
Susan Calman

News Quiz regular Susan Calman recently told a story about how, in her first year at the festival, just two people came to see her. It's a different story this year, as her most personal and political show yet (about gay marriage) sold out every day and attracted some lovely press too.

6.
Felicity Ward

Australian comic Felicity Ward may not be known to all comedy fans at the moment, but the good reviews for her Hedgehog Dilemma show suggests that could be about to change. When we asked her to write a blog for the site last month, the resultant piece was unexpected but funny.

7=
Chris Ramsey

TV viewers will have recently seem Chris Ramsey acting as MC on BBC Three's stand-up show from the festival. He certainly looks set to be one of the biggest stars of the future as not only does he deliver solid stand-up routines and keep popping up on TV, but he stars in new sitcom Hebburn, on TV shortly, too.

7=
Austentatious

Austentatious was a free show in which a group of comedians improvised a Jane Austen novel every day. Word spread quickly about how good it was and there were soon queues around the corner. This production perfectly demonstrates that you don't need to pay high ticket prices to see excellence at the festival.

7=
Morgan & West

Rhys Morgan and Robert West were one of the break-out hits of last year's festival and it looks like they've followed it up with another entertaining show. This year the slick 'time travelling magicians' were performing feats of amazement in a show called Clockwork Miracles.

10.
Sam Simmons

A man is standing next to another man, they have nothing in common and nothing to speak of; maybe they can talk about the weather? That was the premise of the show from the slightly un-hinged Sam Simmons this year. It was funny too.

11.
Jim Jefferies

As the picture indicates, the caustic and controversial Jim Jefferies seems to be calming down a bit. That hasn't stopped him having another belting year though. How many more times he'll be coming to Edinburgh is rather in doubt however, as he's about to become a star in the US after signing a deal for his own sitcom.

12.
Tony Law

Surreal Tony Law is one of our favourite comedians and we're thrilled to see he had a great festival. Despite having a show on at lunchtime, The Stand was packed every day - in fact, they even had to put on extra shows to try and cater for the demand. Never have elephants in torchlight been so much fun.

13=
Barbershopera

Barbershopera returned to the festival this year... with swords. Reinventing Alexander Dumas' classic adventure story with some fresh four-part harmonies, the foursome sung their way into some good reviews.

13=
Will Franken

We must admit we're not really that familiar with American comic Will Franken, but his debut show at Just The Tonic, described as a unique form of theatrical comedy, pleased reviewers from the likes of The Guardian and The Independent, so we've made a mental note to try and see him in action soon.

13=
Jigsaw

Sketch group Jigsaw - aka Dan Antopolski, Tom Craine and Nat Luurtsema - have recently been seen on Live At The Electric, and are apparently working on a Radio 4 series too. They ably demonstrated they can deliver the laughs live with this year's satisfying Edinburgh show.
Narrowly missing out on the 4* average requisite to make our above list were: Thom Tuck, Totally Tom, Brendon Burns, Simon Munnery, Chris Coltrane and Hannibal Buress.
How we calculated this list
Here's how we came up with this list. Firstly, we discounted the reviews from sources that published less than 20 reviews this year - this took out publications with an interest base in a specific area of comedy or individual performers, susceptible to 'skewed' reviews not comparitive with the wider comedy scene. We were left with reviews from the following titles: British Theatre Guide, Broadway Baby, Chortle, Edinburgh Festivals, Edinburgh is Funny, Exeunt Magazine, Fest Mag, Festival Journal, Fringe Guru, Fringe Review, Giggle Beats, one4review, ScotsGay, Spoonfed, The Arts Desk, The Guardian, The Herald, The Independent, The List, The New Current, The Public Reviews, The Scotsman, The Skinny, The Telegraph, ThreeWeeks and Time Out.
We then looked at productions to have received 8 or more reviews across these publications (the point at which we feel a reliable consensus can be measured). For the record, 108 shows met that criteria. Finally, we performed a simple mathematical calculation to derive the average star rating for each show in turn. Einstein would be proud of us.