Vinegar Knickers
Vinegar Knickers: On The Edge
Sketch show
2:40pm (1 hour)
2-13, 15 & 18-26 Aug 2012
7 - 9.50
This is a 2012 show that has now finished.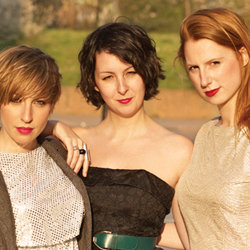 Mon
Tue
Wed
Thu
Fri
Sat
Sun
01
2
3
4
5
6
7
8
9
10
11
12
13
14
15
16
17
18
19
20
21
22
23
24
25
26
27
28
29
30
31
Venue details
Join Harriet, Sam and Katie on a desperate quest to be the edgiest sketch group on earth. In a laundrette. Yes way! You bloody asked for it. Expect thought-provoking, world altering stuff that'll make you wanna call the police or David Cameron or something (nb venue has bad reception). Watch in horror as this living, breathing Benetton advert peels itself off the billboard and into your consciousness. Bring a set square - this sh*t just got edgy. 'A female powerhouse' (Stylist Magazine). 'Wouldn't seem out of place on TV' (ThreeWeeks). 'Hilarious and wonderfully unpredictable' (RemoteGoat.co.uk).
Share this show
Reviews
Full press release
A powerful female trio who come armed with a selection of intelligent skits and sketches, and are proud to be making substantial ripples in sketch comedy.
The ladies write and perform surreal distortions of popular culture through non-gender specific, often absurdist imaginings and have sold out to audiences in Edinburgh as well as London.
Since working together, actresses Harriet Fisher, Samantha Baines and journalist Katie Burnetts, have been featured in the Guardian, Stylist, ASOS Magazine and owing to their penchant for yiddish humour, The Jewish Chronicle and Jewish News too.
This year they return to Edinburgh for a second month run, on a quest to be the *edgiest* sketch group in the land. Because, be honest; who's ever heard of a posh girl, a jew and a gypsy doing comedy together? It really is out of this world. Their uninhibited approach may be just the kind of schtick to change attitudes the world over.
Danish crime drama is DEAD. Even a bloody horse could win The Apprentice and at the end of the day, class comes down to what hoover you own.
---
Credits
Tweets by vinegarknickers