Susan Calman
Susan Calman: This Lady's Not for Turning Either
Stand-up
6pm (1 hour)
1-12 & 14-27 Aug 2012
11 - 12
This is a 2012 show that has now finished.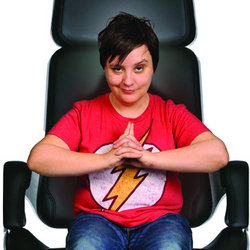 Show details
Stand-up show starring Susan Calman performed on the following days in August 2012...
Mon
Tue
Wed
Thu
Fri
Sat
Sun
01
2
3
4
5
6
7
8
9
10
11
12
13
14
15
16
17
18
19
20
21
22
23
24
25
26
27
28
29
30
31
Venue details
Susan (News Quiz/HIGNFY) knows her own mind and wants to share it with you. Shooting from the hip in her most personal and political show yet. Susan has appeared on radio shows like The News Quiz, The Unbelievable Truth and The Now Show. You may also have seen her on TV shows like Have I Got News For You, Show and Tell, Comedy Rocks and Fresh Meat. She won a Scottish Bafta for Channel 4 Comedy Lab, Blowout. You can totally trust her. Don't come if you think women aren't funny.
Share this show
Reviews
Press coverage
Full press release
Hot on the heels of winning Best Compere at the 2012 Chortle Comedy Awards, feisty Glaswegian Susan Calman will be returning to the Edinburgh Festival, after a year off, with her brand new show This Lady's Not For Turning Either. 2012 is already turning out to be a great year for Susan - she has co-starred with Jennifer Saunders in the BBC Three show Dead Boss (written by Sharon Horgan and Holly Walsh) as well as the CBBC show School of Silence. She has also appeared on Have I Got News for You and A Short History of Everything Else on Channel 4.
Born in the 70's Susan Calman is a true Thatcher's Child. But she's starting to worry. What if the old saying is true and she's starting turning into her mother? Having spent many hours trying to work out why she is the way she is, Susan is now looking for someone to blame. Why can she never admit she's wrong but more importantly why more people don't realise she's always right? Stubborn, willful and consistently insistent, if Susan was on a blind date with herself she'd probably sneak out before the starters arrived. Astonishingly in 2012 Susan is getting hitched, but can she really trust someone who wants to spend the rest of their with her?
With an investigatory ability honed through hours of watching Diagnosis Murder, Susan examines the evidence to establish the events that made her who she is in the most political, and personal, show she's ever performed. A modern fairytale of Clause 28, finding someone idiotic enough to want to marry her and coming out in Glasgow in the 80's. A true story of what makes this comedian who she is and most importantly why no one's going to change her. Because what Susan Calman knows for certain is, much like Thatcher, this lady's not for turning either.
Susan gave up a lucrative career in corporate law to become a comedian and has since proven to be one of the fastest rising stars in comedy. She reached the semi-finals of the BBC New Comedy Awards and So You Think You're Funny in 2005, was a finalist in the prestigious Funny Women competition in 2006. More recently she was awarded Best New Comedian at The Real Radio Scottish Variety Awards becoming resident compere at Glasgow's most famous comedy club The Stand in the process.
In 2007 Susan was cast in Ugly Kid, a sketch show that was a sell-out at the Edinburgh Festival and following critical acclaim, was commissioned as a pilot for Channel 4. The show was renamed Blowout and the cast went on to be awarded a Scottish BAFTA that same year. In 2008 she appeared in the Rab C Nesbitt Christmas Special following this up with a starring role the programme's ninth series (BBC2). Other TV credits include; Have I Got News for You (BBC), Comedy Rocks With Jason Manford (ITV), Fresh Meat (Channel 4) and How Not To Live Your Life (BBC).
On Radio 4 Susan has appeared on The News Quiz, The Now Show, The Unbelievable Truth and So Wrong It's Right as well as And the Winner Is with Matt Lucas on Radio 2.
---
Tweets by SusanCalman