Vic & Bob in Catterick
Vic Reeves and Bob Mortimer's Catterick begins in monochrome, as Bob Mortimer's character, Carl Palmer, awakes from a dream. We hear the gentle, eerie strumming of a banjo, as Carl sits onboard a train near three crows, who are called John, Peter and Andrew. These peculiar travelling companions are apparently owned by the menacing man sitting opposite him, who has a suitcase emblazoned: 'Those dozy crows'. We hear Carl tell us:
"My name is Carl Palmer. I've returned home after twenty years abroad to find the son I abandoned in Catterick when he was just four-years-old. This is the story of that search."
This beginning sets the tone for Catterick; a thriller/sitcom/road-movie, that was darker and stranger than anything Vic & Bob had ever attempted before...
Reeves & Mortimer began performing together in the late-eighties, their double act falling together by chance. Jim Moir, who had settled on the stage name Vic Reeves, began performing his show Vic Reeves Big Night Out at a relatively small venue, The Goldsmiths Tavern in Croydon. There he met Bob Mortimer, and in 1989, the pair (now performing together) moved the show to a bigger venue, the Albany Theatre in Deptford. They quickly began to attract mainstream attention; Vic & Bob's future long-term collaborators Charlie Higson and Paul Whitehouse were in the audience for these first shows. However, it was Jonathan Ross's interest that brought the double act to our TV screens, with Ross's production company, Channel X, moving Vic Reeves Big Night Out from the stage to television in 1990.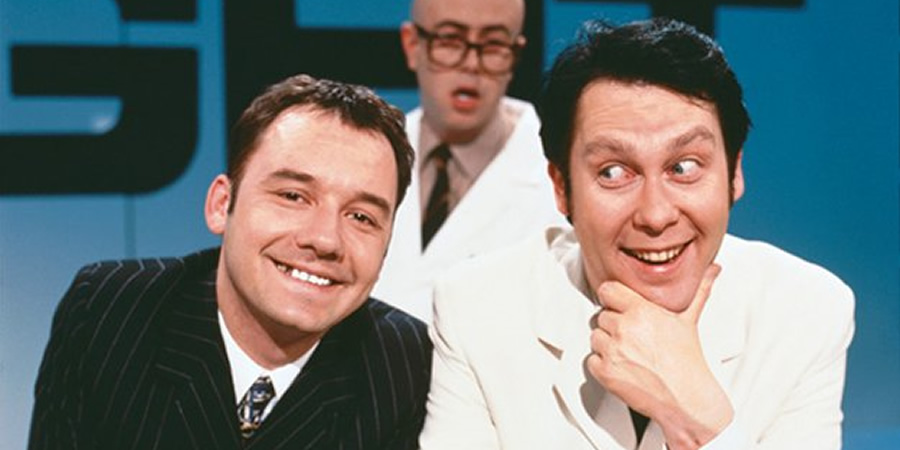 Big Night Out was an almost immediate success for Channel 4 and the channel was eager to capitalise on Vic & Bob's particular brand of surreal humour, so in 1992 they offered the duo a chance to make their own sitcom; a one-off pilot was commissioned called The Weekenders.
Written by the pair, this quite brilliant pilot was packed with bizarre asides and sight gags. Vic & Bob were essentially playing distorted versions of themselves (Jim & Bob): the duo attend a meat festival where they attract the attention of a gang of extra-terrestrials. As you'd expect, it was off-beat and unapologetically weird, featuring cameos from future Fast Show stars Simon Day and Paul Whitehouse.
This one-off episode was screened as part of a selection of pilots for titled Bunch Of Five. It was well received by both the channel and Vic & Bob fans - this was Reeves and Mortimer doing something completely different, expanding their inspired sketches into a narrative. Everybody wanted to see the pair running wild with their ideas in a full series of the sitcom, but there was just one problem - Channel 4 were not willing to make a full series of The Weekenders unless Vic & Bob agreed to make a third series of Big Night Out.
At that time, Vic & Bob had been working solidly on Big Night Out for years and had decided that they really wanted to try something new. They passed on Channel 4's offer and headed to the BBC, where they cemented themselves as the double act Reeves & Mortimer with The Smell Of Reeves And Mortimer (featuring that classic MasterChef sketch), and arguably their most famous series, the nineties cult classic Shooting Stars.
Throughout their long career on the BBC, Reeves & Mortimer would continue to experiment with various formats, but they never returned to the heightened level of self-penned sitcom bizarreness that was The Weekenders until 2004, when they embarked on their most ambitious project yet, for the still young BBC Three.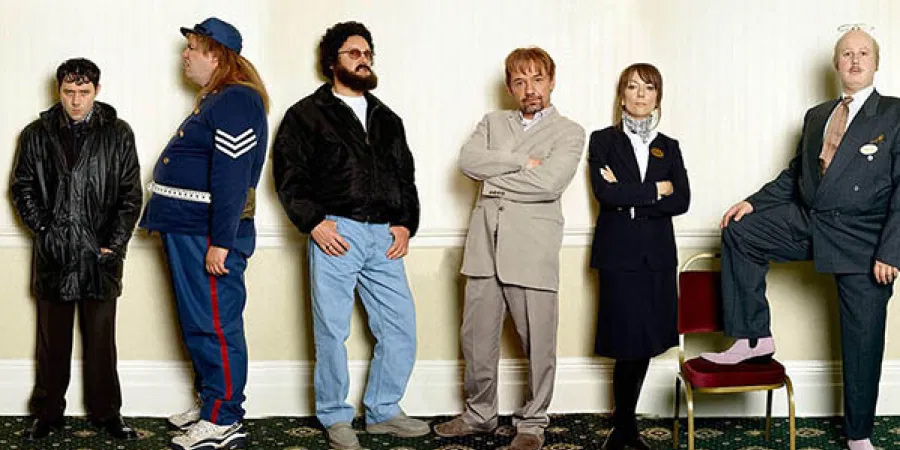 This was a BBC Three in its infancy, barely a year on from its birth (having replaced the admittedly similar BBC Choice). It was a try-out channel at this time and had yet to establish much of an identity, but what it did really well was take chances on daring comedy shows that may not have had the opportunity to make it to BBC television in a pre-digital world. Series like The Mighty Boosh, Gavin & Stacey, Little Britain and Pulling all have BBC Three to thank for their success. Even now, in its online-only state, the channel still manages to make an enormous impact on the comedy scene, most recently with the multi-award-winning Fleabag.
Catterick is certainly one of those series that only BBC Three could have taken a punt on: originally conceived as a movie, the duo restructured the idea as a television series to pitch to the channel. The word 'surreal' is thrown around too readily these days; despite it being the obvious way to describe Vic & Bob's comedy, it doesn't even begin to describe the sort of humour that Catterick has to offer. What we're dealing with here, if it has a name, is advanced surrealness.
As the story begins, Carl (Bob Mortimer) reconnects with his brother, Chris Palmer (Vic Reeves) after fifteen years apart. Carl had enrolled in the army after discovering that his wife was having "sly love with a midnight creeper". Ever since, Chris had been living alone in their late mother's house, with only a turkey in a box and his George Clooney poster for company, which, much to the disgust of everybody around him (not least George Clooney), he had recently torn down.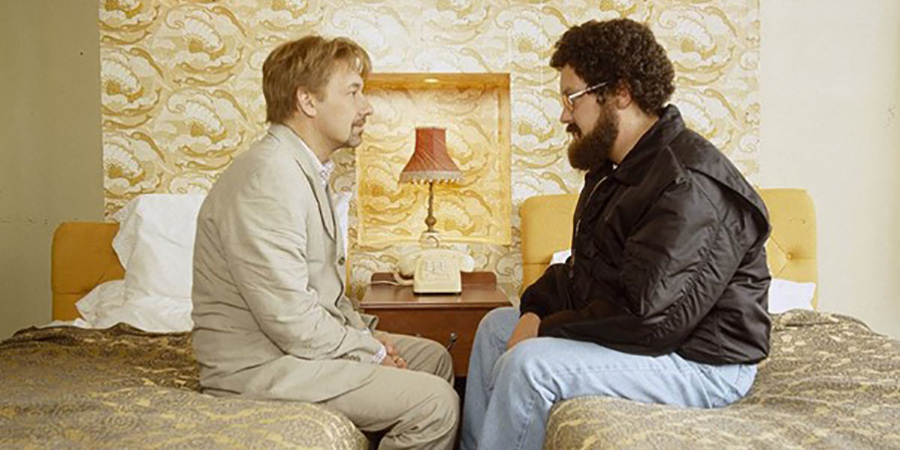 After an awkward reunion, the brothers decide to take up the search for Carl's son. They steal a car from Tony (Reece Shearsmith), a dangerous lunatic who has just murdered a man in cold blood and left a suitcase full of cash in the car. Oblivious to all this, Carl and Chris journey to The Mermade Hotel, where they strike up a friendship with the hotel porter (Mark Benton) who is under the thumb of his bizarre boss, Roy Oats (Matt Lucas), and Carl takes an immediate liking to Roy's wife, Tess (Morwenna Banks). Things finally seem to be looking up for him, but all this time the deranged Tony is lurking in the shadows... Can they escape his evil clutches and find their long-lost relative?
Looking back over all Vic & Bob's various shows down the years, what they mostly have in common is a bright and breezy quality, be it the sing-song nature of their more recent sitcom House Of Fools ('Didn't we have a lovely day?') or Shooting Stars ('Come along and let's start shooting stars!!') or the various Reeves & Mortimer series on the BBC, where they deliberately invoked the feelings and passion of the tradition music hall style of comedy; often showing a heavy influence from Morecambe & Wise.
Their shows had always brimmed with optimism, but Catterick has a poignancy, a sort of strange emotional weight that not only makes the series stand out from all their other work, but elevates the show to a whole new level - it becomes a sort of surreal art piece. There's a moment where Chris is asked, "What's been happening with you, Chris?" followed by an intense cut away to a swan in a wheelchair. The overall darker tone transforms this from a simple sight gag into something much odder.
Of course that is not to say that Catterick doesn't have its lighter moments. Mark Benton's endearingly idiotic hotel porter is a very typical cheery Vic & Bob creation. Of all the characters, one that has stood out as a fan favourite and was even earmarked for a potential spin-off was Vic Reeves's police inspector, Keith Fowler; the no-nonsense (or should that be all-nonsense?) American cop.
"Cordon off this entire area with the finest silk and thread!" Fowler is absurdly brilliant. He's a character who is so over the top that the humour comes effortlessly; a scene concerning his lack of ability to pronounce the word 'Tupperware' with his thick New York accent was a standout moment of the series.
It's hard to see how Matt Lucas kept a straight face playing his junior officer, Webster (although according to the outtakes from the series he almost invariably didn't). Fowler has to be Vic Reeves's finest and daftest performance: "May the police force be with you! My Ghawd!"
Tony is the main source of drama across the six episodes. Unsurprisingly, Reece Shearsmith nails the character, and considered one of the UK's masters of sinister comedy, this sort of thing is right in his wheelhouse. The Inside No. 9 star certainly brings the uneasy tone of The League Of Gentlemen to the series, the style of which clearly had an influence on Catterick, a feeling made ever clearer when Mark Gatiss shows up for a cameo.
Despite the obvious comparisons, Catterick is a series with its own identity and surprisingly Tony was actually written with actor Paddy Considine in mind; although now it's impossible to see how anybody but Shearsmith could have played him. His relentless pursuit of our heroes results in some of the most outlandish scenes that the show has to offer. One particular moment stands out, as a serious road accident suddenly turns into an extraordinary overwrought romance complete with I Want To Know What Love Is by Foreigner blaring out in the background.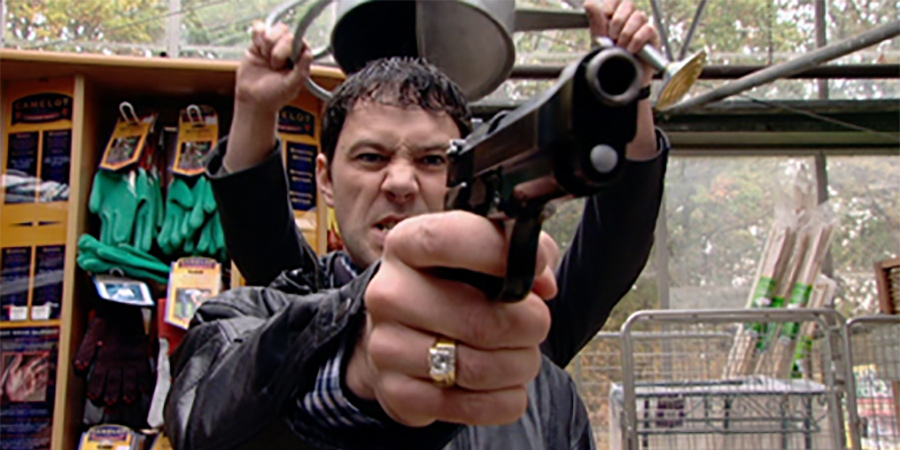 Music choices for the show were clearly very important to Vic & Bob. Most episodes feature an extended lip-synced musical number and the series is littered with prog rock references. Of all these musical interludes, it is Matt Lucas's memorable shuffle to Kinky Boots that wins the day.
His character, Roy (with an accent that's so wildly meandering and frankly too indiscernible to even put a location on) is a despotic hotel manager, who harbours many strange and disturbing secrets. His wife Tess delivers a rendition of Joni Mitchell's The Sire Of Sorrow proving that, at times, the show is peculiarly heartfelt, not least in the final episode, where Vic Reeves's Chris (a kind of Forest Gump/Andy Pipkin hybrid of a character) delivers a scene that packs a surprising emotional punch. The series plays around with his character, presenting him as daft throwaway comedic creation one minute, and then a fairly tragic and genuine figure the next.
Chris, along with DI Fowler of the NYPD (North Yorkshire Police Department), began life in Vic & Bob's 1999 BBC Two series Bang, Bang, It's Reeves And Mortimer. The duo took these sketch show characters and placed a more significant spin on them, much akin to The Fast Show with its lack of fear in mixing tragedy with comedy.
In many ways Catterick has the style of a sketch show, as most of the actors take on several parts - Vic plays both Inspector Fowler and Chris, while Matt Lucas also moonlights as one of Fowler's officers and Dan; Dan The Shellfish Man. Charlie Higson, who was also in Bang, Bang, along with Morwenna Banks and Matt Lucas, takes up the role of the owner of the pub, Pat (adding to The Fast Show mood).
Tim Healy's Ian is another highlight in Catterick's rainbow of eccentric characters, a curious oddity who is constantly trying to think of ways to warm up his interminably cold wife.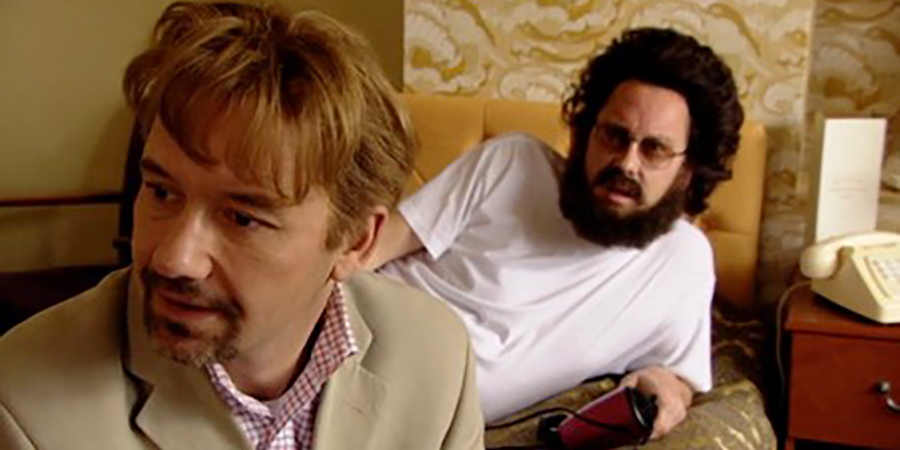 Stylistically Catterick is baffling stuff, but in the best way possible. Set twenty miles from where Vic Reeves and Bob Mortimer both grew up, this project was clearly a labour of love, a pilgrimage for the stars. They had a vision and wanted to tell a story in their own ingenious way - which they did, not held back by the typical conventions or interferences that a mainstream sitcom might require or be forced to succumb to.
Today, comedy that pushes into the world of drama is far more commonplace, if not actively mainstream. A sitcom where the feeling of wanting to find out what happens next creeps beyond the simple desire to be amused. That unusual but compelling combination has enjoyed a huge insurgence in recent years with narrative comedies such as Back, Stag, The Wrong Mans and, of course, the wildly popular Inside No. 9. However, back in 2004, it wasn't really a recognised genre. Even these days, Catterick still feels very different. Vic & Bob wanted to do another series, but - in all honesty - the story was brilliantly self-contained.
Its popularity was something of a slow burner, however the show is now regarded as some of Vic & Bob's finest work. A retrospective of the series appeared in The Guardian a few years ago stating: "This is the most bonkers, brilliant and gripping thing Vic Reeves and Bob Mortimer have ever done".
Vic Reeves picked it out as one of their best shows too: "I'd say Bang Bang first, and then really close second Catterick," he told an audience at the British Film Institute in November 2019.
Vic & Bob teased that same audience with the prospect of reviving Catterick as an animation before talking about their next venture, a narrative-driven comedy movie: The Glove - a project that seems to have pulled them back to the elusive offbeat style of Catterick. "I think the people who liked Catterick will be pleased," Vic said, before adding: "Because it's exactly the same."
Where to start?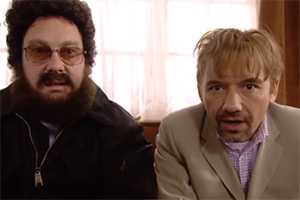 Series 1, Episode 1
Now an ex-soldier, Carl Palmer (Bob Mortimer) has returned home from service in Cyprus to find his long-lost son and to reconcile with his younger brother, Chris (Vic Reeves). His return sets the pair on a series of strange adventures and bizarre detours as they journey to Catterick.