2008 results
Comedy.co.uk Awards 2008 - Results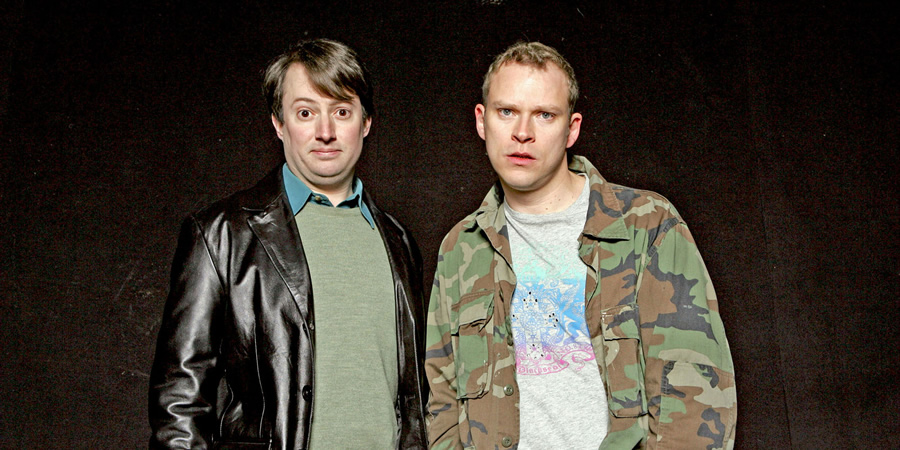 Here are the results of our annual poll to discover the best and worst comedies of the previous year. This year we expanded our nomination list to include radio comedies too, thus there were over 200 shows in the voting...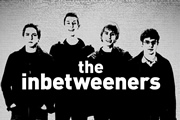 The Inbetweeners
2008 is not going to be remembered as a good year for new British sitcoms. However, there was one new show that stood head and shoulders above all others. The Inbetweeners made a low-key entrance via E4, however it wasn't long before word spread that this was a sitcom worth checking out. It captured the reality of being a teenager growing up in middle-class suburbia perfectly. This new show got eight times more votes than any other comedy in this category!
Worst New British TV Sitcom 2008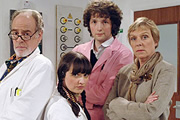 Lab Rats
In the 2008 Comedy.co.uk Awards, a large number of the new sitcoms picked up votes in this 'Worst New Sitcom' category - a depressing indicator of what a poor year it was for new sitcom. Teenage Kicks and Clone were two of the disasters, however the new show with the most votes in this category was Lab Rats. The idea behind the show may have been good (to bring back silly studio-based sitcom to the BBC), but the execution was anything but good. An awful, awful comedy.
Best Returning British TV Sitcom 2008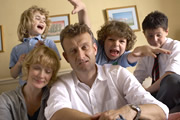 Outnumbered
Things were healthier in the returning sitcom category, with established sitcoms like Gavin And Stacey, Lead Balloon and The IT Crowd pleasing viewers. In the end though the voting was between Peep Show and Outnumbered. The result was so close that people's 2nd choices came into play. In the end, it was Outnumbered that came out top... but only just - six votes was all that was in it! This result demonstrates just how quickly Outnumbered has become one of the UK's biggest comedies.
Worst Returning British TV Sitcom 2008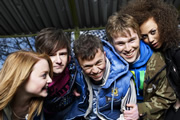 Coming Of Age
This sitcom, written by a 19-year-old, was piloted on BBC Three in 2007. It was a terrible episode, but the BBC commissioned a full series anyway (presumably to meet some kind of young talent quota). The resultant series was six more painful episodes of 'comedy', complete with lazy, crude nob gags. Pretty much everyone who voted chose this comedy as their least favourite, so it can quite conclusively be said that this is the comedy that should not have been allowed to return.
Best British Radio Sitcom 2008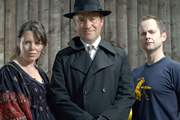 Dirk Gently's Holistic Detective Agency
This is one of the new radio categories we introduced to the Comedy.co.uk Awards in 2008. It was heartening to see so many radio sitcoms in the running for this award - Ed Reardon's Week, the pilot of Rhod Gilbert's Leaving Llanbobl and Bleak Expectations all picked up lots of votes, however they were just edged out by Dirk Gently's Holistic Detective Agency. It seems Douglas Adams's sleuth (played by Harry Enfield) was a particular audio favourite in 2008.
We did also ask people to name their least favourite radio sitcom, however not enough negative votes in this category were cast to provide a definitive answer. For those interested, 'The Lost Weblog of Scrooby Trevithick' was technically last.
Best British TV Sketch Show 2008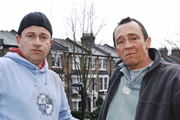 Harry & Paul
What a turn around for this show! Last year, Ruddy Hell! It's Harry & Paul was in the running for our Worst Sketch Show award, however the re-titled and much-improved Harry & Paul is named the best sketch comedy this year. The scripts were definitely much improved, and the talent of the late Geoffrey Perkins (who took over the production for series two) was certainly evident. (It should be noted That Mitchell And Webb Look also attracted a significant number of votes in this category).
Worst British TV Sketch Show 2008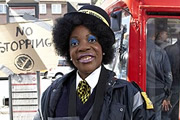 Little Miss Jocelyn
Even though this sketch show was broadcast way back in January 2008, it must have left a strong negative impression in many people's brains because lots of people selected it as the worst sketch comedy they saw last year. The series picked up low ratings so it isn't a surprise to hear it has been cancelled.
Best British Radio Sketch Show 2008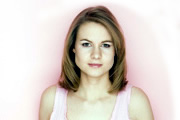 Laura Solon: Talking And Not Talking
It would seem Laura Solon's audio sketch show was a favourite with our readers. It is notable for having lots of one-off sketches. A number of other sketch shows also picked up a decent number of votes in this category: Tilt; The Penny Dreadfuls; Cowards; Footlights At 125; and A Series Of Psychotic Episodes. Kudos must go to Radio 7, as despite their tiny commissioning budget, three of these top six are from the digital station.
Not enough negative votes were cast to definitively name the worst radio sketch series. 'Tilt' technically received the most negative votes, however we suspect many of these might have come from bitter writers rejected by the show (because, as mentioned, it did receive many positive votes too).
Best British TV Panel Show / Satire 2008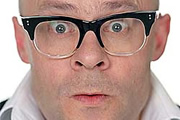 Harry Hill's TV Burp
We initially thought this was going to be a fiercely contested category, because topical satire and panel show comedy was particularly strong in 2008. HIGNFY, Mock The Week, Never Mind The Buzzcocks and Would I Lie To You? were all popular choices, however in the end none of them came close to TV Burp, which easily gained the most votes.
Worst British TV Panel Show / Satire 2008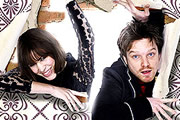 The Wall
According to our poll, The Sunday Night Project, Celebrity Juice and Tonightly were all disasters in 2008, but not quite such a disaster as The Wall was. It is safe to say that this BBC Three show's mix of celebrity guests, comedy sketches and music was not enjoyed by the majority of those that voted in this category.
Best British Radio Panel Show / Satire 2008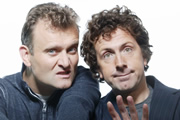 The Now Show
The voting for this inaugural radio award ended up being between Radio 4's three Friday night series (The Now Show, The News Quiz and Armando Iannucci's Charm Offensive). In the end, Hugh Dennis and Steve Punt's show just edged out in front. It's a popular winner, in our opinion topical satire doesn't come any better than that delivered by The Now Show.
Worst British Radio Panel Show / Satire 2008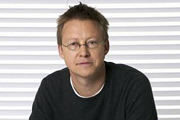 Act Your Age
Of those that voted in this category, almost 100% of people selected this as their least favourite 2008 radio panel show. It is perhaps not surprising as it was clear from very early on that Act Your Age was going to struggle - on the first show, one of the panellists delivered the Dr Who knock-knock joke in a desperate attempt to get a laugh!
Worst Comedy Of The Year 2008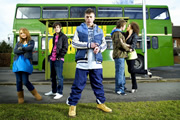 Coming Of Age
We've already talked about this comedy above - however we're happy to lay into it a second time. We want to say something nice about it, as the actors are all likeable enough, however the show's painfully cliched, predictable, lumbering, juvenile 'jokes' make us too angry to try and be un-biased. Out of over 200 comedy programmes broadcast in 2008, this is the one that those voting most disliked! What is really shocking is that it'll be back in 2009 for another series, yet the sublime award-winning Pulling has been axed. There is no justice in this world!
Comedy Of The Year 2008
Outnumbered, Gavin & Stacey and The Inbetweeners all had a shot at the top prize this year, however Peep Show just edged ahead in the voting. It was a very close thing so thanks to everyone who cast a vote - they all counted.
Five series in, Jesse Armstrong and Sam Bain's show is well on the way to comedy greatness now - few sitcoms can sustain the laughs for 30 episodes without a drop in quality, however we think Peep Show is a definite exception to this rule. If anything, it just keeps getting funnier... this is backed up by the fact that, of the 1000+ hours of new comedy broadcast in 2008, it was the three hours of Peep Show that attracted the most positive votes in the 2008 Comedy.co.uk Awards.
British Comedy Guide Editors' Award 2008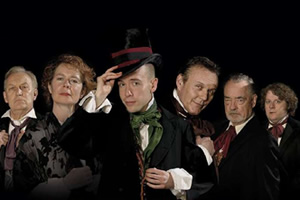 Bleak Expectations
This is the additional award we keep behind each year to hand out to the show, person, channel, or indeed whatever else we think deserves some extra recognition. For 2008, we've opted to give our award to a radio show, a genre we are now covering in some depth on the website. There were some great sitcoms on the radio in 2008 but, of them all, Bleak Expectations is the one that made the editors of this website laugh the most. Bleak Expectations is hard to describe as it is so unique - think Victorian England on acid. Writer Mark Evans' scripts are like nothing we've heard before and they're performed with gusto by a top cast. Definitely seek it out!