Series 6, Episode 1
Broadcast details
Date

Friday 26th October 2012

Time

10pm

Channel

Sky 1

Length

60 minutes

Ratings

0.33 million viewers (1.80% audience share)
Full synopsis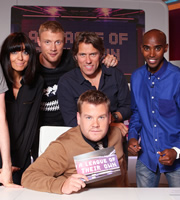 This first instalment sees series favourite John Bishop make his first appearance of the run, while double Olympic gold medallist Mo Farah returns to the place where he first found his 'Mo-bot'. TV presenter Claudia Winkleman also takes position, and Olympic medal-winning gymnast Louis Smith joins in the fun too.
Repeats
Monday 29th October 2012 at 21.00
Sunday 30th December 2012 at 20.00
Tuesday 12th February 2013 at 20.00
Wednesday 13th February 2013 at 22.00
Wednesday 29th May 2013 at 20.00
Tuesday 25th February 2014 at 24.00
Thursday 27th February 2014 at 02.00
Saturday 8th March 2014 at 24.00
Wednesday 2nd July 2014 at 22.00
Sunday 4th January 2015 at 20.00
Thursday 8th January 2015 at 21.00
Friday 7th August 2015 at 21.00
Sunday 9th August 2015 at 22.30
Thursday 3rd September 2015 at 21.00 on Sky2
Cast & crew
Videos
A clip from Series 6 of A League Of Their Own.