Series 6, Episode 5 - The Practice Around The Corner
Mrs Tishell returns to the village. Martin has to work out what is wrong with beach comber Lorna. Al and Morwenna have an internet dating disaster, and romance is blossoming for Bert and Jennifer.
Further details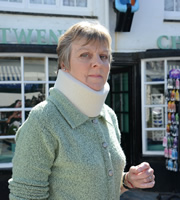 Louisa is having problems sleeping. She is worried about Mrs Tishell coming back to the village and presumes this is why Martin is up too. Martin tells Louisa she shouldn't be worried about Mrs Tishell's return, but this doesn't put Louisa's mind at rest. The next day she goes to see Ruth, who eventually agrees to pop in on Mrs Tishell.
Penhale embarks on a survival course in the middle of the Moors in his bid to be selected for an elite police squad. With just his initiative and Buddy the dog, he has to find his way back to Portwenn. But Buddy deserts him and in trying to shoot a rabbit for dinner he accidentally shoots himself in the foot. Using a tip from an out-of-date survival book he dresses the wound with moss, but that makes it worse.
After a night on the moors and in increasing pain, Penhale makes his way back to Portwenn by hitch hiking. He gets dropped off at the Doc's, who is aghast to find the spaghum moss packed tightly into Penhale's wound. The spores could have caused blood poisoning.
Lorna Gillott has trodden on a shard of glass whilst beach combing. The doc notices that Lorna's ankles are a little puffy and tells her to lay off the salt. He also chastises her brown skin and tells her to wear some sun screen.
Mrs Tishell returns to the village and frostily meets Jennifer, the locum pharmacist. Mrs Tishell goes upstairs to her room and is confronted by her homage to the Doc, she pings an elastic band on her wrist and slowly takes down the pictures.
Later that day Ruth comes to see Mrs Tishell, who notices the elastic band, part of Mrs Tishell's Cognitive Behavioural Therapy. Louisa goes to check Mrs Tishell out for herself. It is awkward, Mrs Tishell is still weird, but no weirder than before. It puts Louisa's mind at ease.
Mrs Tishell can't stand to be supervised by a locum pharmacist and asks the Doc to contact the Pharmaceutical Board to say she is safe to return to work, without supervision. The Doc refuses, he is not her psychiatric doctor. Something snaps in Mrs Tishell and her burning flame for Martin is snuffed out and turns into hatred.
Al and Morwenna are getting along well living together. Things are looking up for Al on the love front, he has an internet date that evening. Bert, inspired by Al's internet date, asks Jennifer out on a date too. Al goes to meet his blind date and randomly bumps into Morwenna at the pub, they have a lovely chat but it slowly dawns on them that they are there to meet each other! Things get very awkward, very quickly and they make a hasty exit.
Things are just as bad the next morning and Al decides to move out. He plans to go back to his dad's, but when he sees Bert having a cosy date with Jennifer he realises that he can't go back home. Penhale offers Al his spare room, which Al reluctantly takes.
Lorna goes to the chemist to get something for her energy levels, she is feeling tired all the time. Mrs Tishell notices that her ankles are swollen and tells her to see the Doc - her cut could be infected and swelling up.
Martin examines the cut, it isn't infected, but her ankles are definitely swollen. He tells Lorna that she could have something wrong with her heart or liver. Lorna has been bottling up her health worries and cracks when the Doc tells her this. Her joints are really painful, she has been feeling so tired and she is worried she has arthritis, which crippled her mother. She needs to use her hands to make jewellery.
Ruth visits Martin. She thinks his blood phobia and insomnia could be related and recommends a doctor he could speak to. Louisa overhears and is hurt that Martin confided in his aunt and not her.
Lorna collapses on the beach. Her blood results show she has a high level of ferritin in her blood. The excess iron has burnished her skin, put a strain on her liver or heart, which resulted in her swollen ankles and collected around her joints. Her condition can be cured by draining the blood - something which Martin struggles to do.
Broadcast details
Date

Monday 30th September 2013

Time

9pm

Channel

Length

60 minutes
Cast & crew
Supporters and subscribers get more
Additional content and tools are available across the site for Supporters and BCG Pro subscribers. On this page you can:
Broadcast details of 10 further repeats of this episode
This episode's inital overnight ratings
Already a donor or Pro user? Sign in