Series 15, Episode 6 - Rob Delaney, Sharon Horgan, Adam Lambert, Catherine Tate, Roisin Murphy
Further details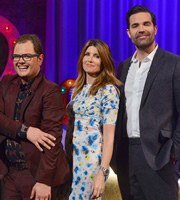 Sharon Horgan and Rob Delaney
Alan: How horrific is the birth scene?
Sharon: We make it as graphic as we can without there being any sort of tissue.
Alan: Cause I hate those ones that say "Oh I'm having a baby. Oh it's come out".
Sharon: No, I tried to make it look as believable as possible, but it is comedy.
Rob: I always thought she would play it comedy but no, it was like a war zone. I have been a witness to three births from my wife, of babies that I put in her, and one was very recent and Sharon went for it.
Sharon: I was having flashbacks to my own labours, and you know they weren't nice. I got in to it. It was method.
Rob: My wife tried to walk to the hospital with the first one. I was like 'get in the car'. They go bananas.
Sharon: But it's not any better in the car that's the problem.
Rob: It will get you there faster.
Alan: So Sharon did it really hurt? I've heard it's like putting a watermelon through a basketball hoop.
Sharon: It's like putting a watermelon through a snooker table hole and the net ripping apart. It is not fun!
Alan: How did you handle the pain? Was it gas and air? Hypnotism?
Sharon: Hypnotism? Bollocks. No I had gas and air and I had too much gas and air which meant everything slowed down and it didn't come out quick enough - 72 hours or something. By the time the baby was ready to be born it was completely dry. My waters had broken 3 days before so it was like a dry birth. I vomited all the way though it, and I had an epidural and I split my erm...
Alan: You two are friends now. What was it like filming those sex scenes? It must be awkward?
Rob: We are quite technical about it now.
Sharon: It's easier now.
Rob: Plus you can't see the 40 crewmembers in the room right there. They're doing filthier stuff than we are.
Sharon: I'd say it was maybe awkward the first time and since then it's just like it could be anything and how can we make this funny. And Rob, I hope you don't mind me saying, sweats a lot.
Rob: Just a whole lot.
Sharon: So you're more pre-occupied who is going to bring you a towel than whether there is a naked man on top of you. It just gets down to just practicalities.
Alan With the sex scenes, who was the first one that said lets do a sex scene? Who brought it up?
Rob: Well, we wanted to show and man and woman under incredible stress and what's a better way to make people angry and terrified than to introduce sex. That is going to make anything worse, so we knew it had to be a part of it. I think it was a forgone conclusion.
Sharon: The only time it was ever even brought up, because we write like you would write anything, and once during writing the first series Rob stopped and said "Is this weird that we are planning in this script what we are going to do in bed in 3 months?" and I went, "Yeah, it is and you've made it much weirder now that you have brought it up". Then we sat in silence. You nearly ruined the day. Since then we have never mentioned it.
Alan: And you always wear a bra?
Sharon: Well it's a comedy. Do you want to see boobs in a comedy? I don't think you want to see boobs in a comedy. I just think it's good that we are balancing things out with Rob Delaney's arse. Normally it is the girls getting their tits out, and he is doing a great service.
Alan: I want to do some stand up in America next year. Actually, I have got some booked in New York. How big am I in America?
Sharon: Oh my god you are huge.
Rob: Bigger than you are here.
Alan: You're joking?
Sharon: No I'm not. Yeah I am. No I'm not. You're voice work. SpongeBob.
Alan: Did you hear about that? I was Seagull Number 1 in The SpongeBob SquarePants Movie.
Sharon: People can't believe that a voice can do that. You should come out on the back off that!
Alan Now Rob, do you reckon Americans have heard of me? I have got this theatre to do and I don't think anyone is going to turn up.
Rob: No, they will turn up! Yes you are not as famous there as you are here but you will like that because then you will have to earn it back and it's fun when people don't know who you are.
Alan: Will I have to change my act? Do they have Lidl over there?
Rob: It's funny you mention that because when I first came over here I was like 'there won't be any translation problems because I just speak to the common man' and then everything I was saying had so many cultural references, so it does take a second. You should maybe consider letting me write some jokes for you just to be safe.
Catherine Tate
Talking about her character, Nan...
Alan: Is she making a comeback?
Catherine: She is going to be on telly, I think around Christmas time. I've done two specials. In one of them I had Warwick Davis. Oh my god it was so joyful. It was so joyful cause when he walked on the set and Nan saw him the audience were thinking "Oh what is going to go on here" but he has the upper hand and it was such a joy to work with him.
Alan: Are you ever going to take Nan on tour?
Catherine: I'd like to actually. I am thinking of doing a live show of Nan and sort of bringing back some of the characters, probably in the spring I'd like to do that.
Alan: Oh really? Is that a Chatty Man exclusive?
Catherine: Yes! I'm just saying I'd probably like to do it.
Alan: So it's not really an exclusive.
Catherine: Well it is because I've never really said it out loud. No it is. I'd like to do it. I've never been on tour. It must be great. Is it great? Doing it live?
Alan: Yeah it's a right old buzz. Would you do the big arenas?
Catherine: I don't know because I have just thought it up.
Alan: The trouble is when you go to O2 you have to put on a show. I saw Beyoncé and she did 3 costume changes, zip wire, fire and shit like that.
Catherine: I don't know. Would a sketch show work in an arena? I don't know. Should I go somewhere smaller? More intimate. I'd like to do it.
Alan: Everyone is talking about how hard it is being a woman in Hollywood these days. How hard is it being a ginger?
Catherine: Oh my god. Well, there is a lot of; lets just say a lot of talk goes on behind closed doors, shall we?
Alan: What about?
Catherine: Keeping us out. How many are there in Hollywood?
Alan: It's just you and Julianne Moore.
Catherine: Julianne Moore! Once I was in a supermarket in LA - this sounds like she came up to me in a supermarket but she didn't - and you know you always think the culture really does assault you with the politeness, the "Hi, how are you today? You look great today". You know these are strangers. You don't know who they are. Everyone is really polite and no one swears, quite frankly. A lady stopped me in the supermarket and she said, "Oh my god you're hair is so pretty, it's an amazing colour. Do you go to the same colourist as Julianne Moore?" I said, "Oh no my hair is not dyed actually. This is just my hair." She goes, "What do you mean your hair isn't dyed? It's such a pretty colour. There was a colourist who has done that right". "No, no it's not. It's natural", and she just went "Well, fuck you lady". I loved her for it! No one ever does that.
Broadcast details
Date

Friday 16th October 2015

Time

10pm

Channel

Length

65 minutes
Cast & crew
Supporters and subscribers get more
Additional content and tools are available across the site for Supporters and BCG Pro subscribers. On this page you can:
Broadcast details of 2 further repeats of this episode
This episode's inital overnight ratings
Already a donor or Pro user? Sign in