Series 15, Episode 10 - Dawn French, Russell Howard, Richard Osman, Little Mix
Further details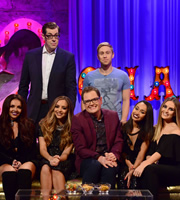 Alan is joined on his sofa by comedian and writer Dawn French who will be talking about her new novel According To YES.
Girl group Little Mix will also be popping by for a chat, as well as performing their new single Love Me Like You live in the studio.
Russell Howard talks to Alan about the current series of Russell Howard's Good News.
Finally, Pointless host Richard Osman talks about his new book The A-Z of Pointless.
Dawn French quotes
Alan: I can't imagine you getting angry.
Dawn: I do occasionally get the grump on. I don't like bullying. I can get angry because I don't like bullying. That's the thing I don't like. I've had people attempt to bully me a little bit.
Alan:[i/] Who bullies Dawn French?
[i]Dawn: Well there is a person who has written a book about me, in fact two books about me, an unauthorised book about me. Now ok, I'm fair game and you can write what you like about me, even though it is bad and all inaccurate, but then she had a little go at my daughter. I'm not having that. No one touches my daughter. So when somebody goes near my kid like that I am a lioness, and that is when I come out roaring. Don't make me angry Alan. Don't try to bully me or get me angry because I will bite you. I'll go in low and hard, bite you on the back of my knee. You will know about it. That is who I am.
Alan: How hard is it doing your solo show without Jennifer Saunders there?
Dawn: It was strange. I had a weird thing with the director and he kept saying to me, "Please stand in the middle of the stage Dawn". I would be like, "What do you mean?" He said I kept moving over to left and I said, "It's because there is another bird that should be standing there and I miss her". I left a space - a Jennifer sized space next to me. I got over that pretty quickly and now I own that stage. I dare her to come on there now.
Alan: Now I have had Jennifer Saunders on here and she admits that she is a terrible procrastinator. How did you two ever get anything done?
Dawn: She is. She is a lazy mare. You have to remember she is very, very bright and she can get away with doing things at the last minute. She has become a person who always does that and I am the opposite of that: organised and on time with a diary. When we worked together it would be me that would say, "We aren't leaving this office until we have written that script".
I knew that writing the Ab Fab film, for instance, that she was never going to do it, because she was supposed to have done it for eight years. Let me say that again, eight years! She just hasn't done it. One day we were on the radio and I she said "Next year I'm going to write the script". I thought, "as if you lying cow" and we put a record on so when it finished and we were back on air I said, "I bet you £100,000 that you don't write that film by the end of next year". This wasn't a two way bet. This was a one-way bet. She can give me £100,000 or the Ab Fab script. We shook on it. The year goes on, I know she isn't writing it. I can see her out with the power hose, which is her favourite thing. When she is doing that she is distracting herself. It was getting later and later in the year and I said to her, "Jen, I am honestly going to take your money". I even spoke to her husband and told him to get the chequebook out. We go on air again and this time we had to pre-record a couple of weeks before the end of December and I asked if she had it. She had a bit of fear in her eyes but she said, "Yes I have" and she slapped it down on the table. I looked through and there was Patsy and Edina and they're all there. I shook her hand. I get out of that room later and look through, and yes, the first thirty pages have scenes but the rest of the pages say, "Blah, blah, blah blah,blah". I could have bitten her right there. She then said, "You said the end of the year. It's not the end of the year". I was away in Mexico on New Year and 11.55pm there was a ping on my husbands email, and there it was. She got it in just in time.
Alan: I was surprised at the amount of sex in this book. Did you find yourself surprised at how filthy you could be?
Dawn: Well look, I haven't written this kind of sex before. I sat in my office and I did a very odd thing which is that I closed the door to my office and I don't know why I did that because thousands of people are going to read this. It's not like its private. I closed the door because I needed to be intensely private to visit my own imagination, and I realised I had even more freedom, because although it is Dawn writing it, it is Rosie doing it. I went all sorts of places I have been afraid to go. It was a bit hot in my office that day.
Russell Howard quotes
Alan: Now last week you had a rant about tampons. Now you're a man, why were you so pissed off about it?
Russell: I just thought it was just ridiculous because women have to pay 5% extra VAT on tampons because they are considered a luxury and I thought that was funny. It's really funny because there was a whole host of things that were considered essential that you don't have to pay VAT on. Jaffa Cakes are essential and tampons are not. Helicopter rides are essential and tampons are not. I think the interesting thing is that if you discover these little titbits and share them with the nation, people find it funny but also interesting.
Talking about being heckled...
Russell: English heckles are different. I once had a women throw a dildo in my face.
Alan: Where the hell did that happen?
Russell: Romford. It's that amazing thing of how little faith can you have in an evenings entertainment to go, "I'm not going to enjoy this", and pack a sex toy before you leave. "In case he is shit I will bring my rabbit".
Alan: Maybe a magazine or a good book...
Broadcast details
Date

Friday 13th November 2015

Time

10pm

Channel

Length

65 minutes
Cast & crew
Supporters and subscribers get more
Additional content and tools are available across the site for Supporters and BCG Pro subscribers. On this page you can:
Broadcast details of 2 further repeats of this episode
This episode's inital overnight ratings
Already a donor or Pro user? Sign in