To coincide with the 45th anniversary of hit sitcom George & Mildred, Mark McCaighey talks to star Brian Murphy about his long and varied career in comedy.
Brian Trevor John Murphy was born in Ventnor, Isle of Wight on 25th September 1932. He moved to Portsmouth and then London when he was a child, with his parents who were in the restaurant business. He became a keen amateur actor and, after National Service where he met fellow acting enthusiast Richard Briers, he was accepted into RADA. However, he didn't stay the full term - when the money he had saved during his years in the RAF ran out, he was forced to leave and work at odd jobs.
In the mid-fifties Brian joined The Theatre Workshop, run by influential director Joan Littlewood and based at The Theatre Royal, Stratford East. While there he appeared in many stage plays, and met both his first wife Carol (they married in 1957), and future TV wife Yootha Joyce.
In 1960 he began appearing in character roles for various TV dramas; some broadcast live, such as The Avengers and Z Cars. In 1963 he made his movie debut in the kitchen sink comedy Sparrows Can't Sing, starring Barbara Windsor and directed by Joan with an ensemble cast of Theatre Workshop players, including Yootha.
Many more character parts followed on both the small and big screens, and in 1973 he struck comedy gold with a role that would turn him into a household name and for which he continues to be associated. George Roper, along with wife Mildred (the late, great Yootha Joyce), first appeared as the middle-aged landlords in Johnnie Mortimer and Brian Cooke's hit ITV sitcom Man About The House, starring Richard O'Sullivan, Paula Wilcox and Sally Thomsett as young flat sharers.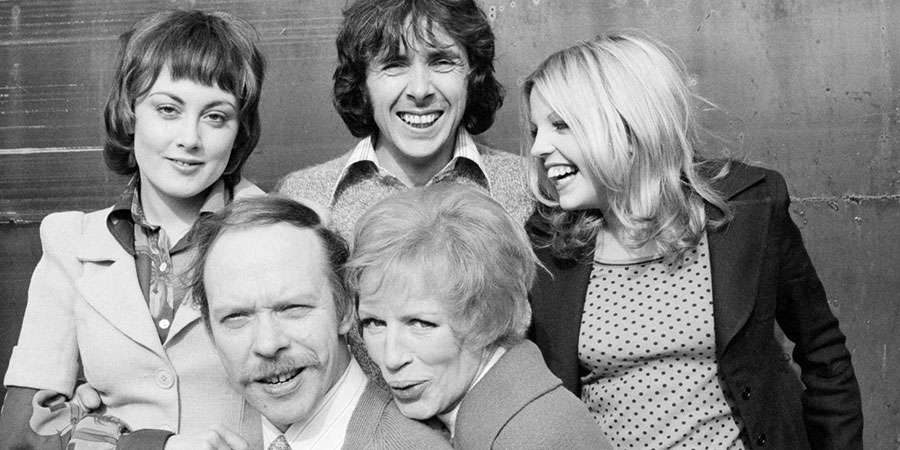 George was mean spirited, petty-minded, crafty, dishonest, selfish, cowardly and - if that wasn't enough to get on Mildred's nerves - he had lost, to her frustration, whatever sexual attraction he once held for her. Mildred counterbalanced this with her affable, cheerful, and sociable nature and at times an optimism, albeit ill-fated towards the practically non-existent intimate side of their relationship. Mildred ruled the roost, and George knew it.
After three enormously successful years, 39 episodes and a feature film, Man About The House ended. The writers wasted no time in creating two sequels: Robin's Nest (1977-81) for Richard, and George & Mildred.
In a TV Times article, co-writer Brian Cooke stated: "They were so well loved by the public; we couldn't waste characters like that. If we hadn't used them again in something else, then somebody else would have."
At 8pm on Monday 6th September 1976 the much-anticipated spin-off made its debut. In the opening episode, Moving On, the Ropers said their goodbyes to 6 Myddleton Terrace, Earls Court. Their lodgers had all gone, and the house was finally being requisitioned by the council with a compulsory purchase order.
George would have been happy to move to a council flat and live among his 'own kind', as he put it, but Mildred was determined to climb the social ladder. They moved to 46 Peacock Crescent in the upmarket Hampton Wick suburb (although the real exterior filming location was Manor Road, Teddington) next door to snobbish estate agent Jeffrey Fourmile (Norman Eshley), whose patience the unemployed 'working class and proud of it' George regularly, and consistently, tested. His wife, the amiable Ann (Sheila Fearn) became a good friend to Mildred and their eight-year-old son Tristram (Nicholas Bond-Owen) also got on well with his new neighbours.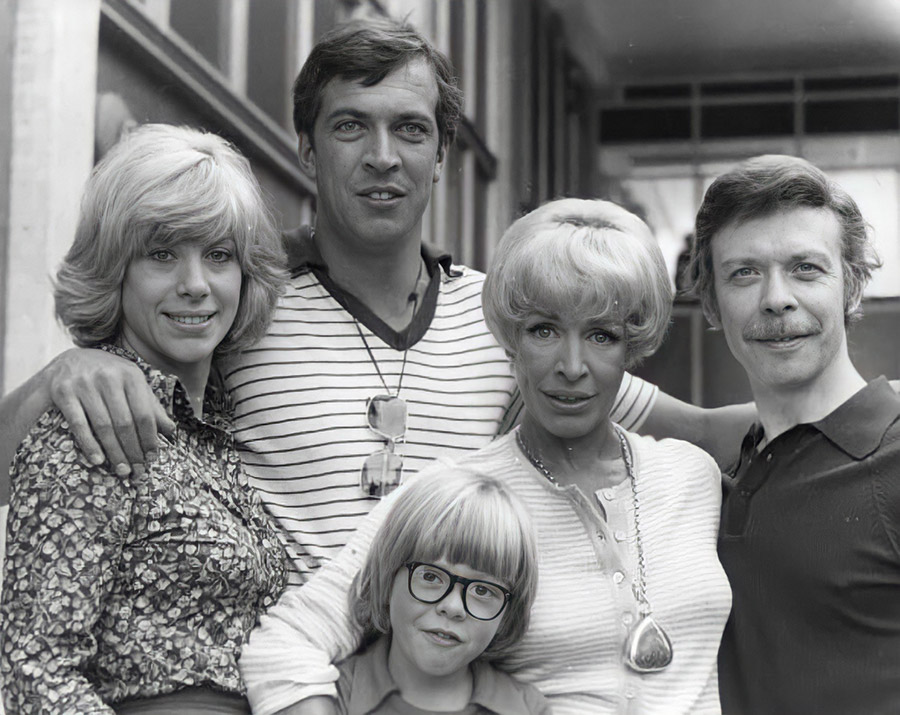 After 38 episodes over five series and its own spin off feature film, tragedy struck with the sad passing of Yootha Joyce. After concealing the full extent of her widely known alcohol problem, she died from cirrhosis of the liver on 24th August 1980, aged just 53. A sixth series had already been written, and the news shocked the nation, making headlines on most of the country's newspapers, each featuring Brian's quote: "It's a great loss, I've lost a friend, poor old George has lost a wife, and the viewers have lost a very funny lady."
During his first marriage Brian had two sons and fostered six children. Now aged 88, he lives in Kent with his second wife, the actress and crime novelist Linda Regan, whom he married in 1995. Linda is best remembered for her role in Hi-De-Hi!'s sixth to ninth series as Yellow Coat April Wingate.
Recently I had the great pleasure of interviewing Brian, speaking at length about George & Mildred, his dear friend Yootha and some of his subsequent comedy successes.
Hi Brian. I'd like to start with Man About The House, if I may. What lead to you being offered the role of George Roper and what were your first impressions of the character?
As far as I know, the writers Brian Cooke and Johnnie Mortimer were very pleased with my performance in an episode of their earlier sitcom starring Richard O'Sullivan and Beryl Reid - Alcock And Gander. The director was Alan Tarrant who was a fan of my work and employed me many times, and cast me in Alcock And Gander. The writers suggested me for the role of George to director/producer Peter Frazer-Jones, who in turn suggested Yootha Joyce for Mildred, not knowing that we both had worked together at Stratford East.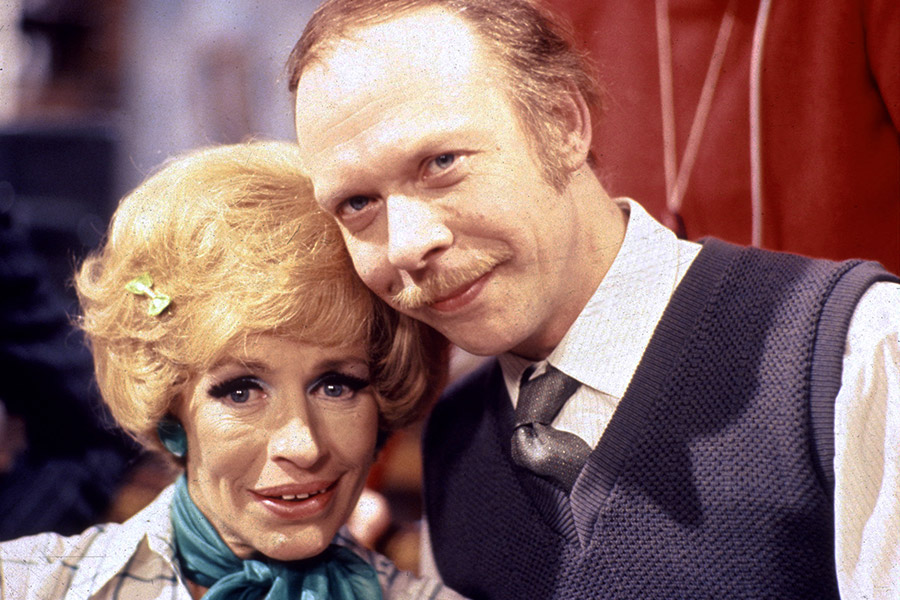 How did you and Yootha feel about having your own series? Did it feel like a natural progression, as your roles in Man About the House grew over the six series? And how did you learn that you had your own spin-off?
Yootha and I got on as friends and fell easily into the roles of George and Mildred, becoming more and more prominent as the series progressed. Later, Philip Jones, Head of Light Entertainment at Thames, said to us: "You know there is a lot of mileage to be had from your characters and will make a new series."
Neither Yootha or I took that too seriously, being old hands and thinking we had heard that sort of thing before in our careers. However, one Sunday when we were about to record Man About the House, a stagehand said to us "It's great you getting a series of your own". We said "it would be nice, but nothing is certain", he replied "What do you mean? We are building the set already!"
During your time as George in these two massively popular sitcoms, what type of things did fans say?
I had some men telling me that they had problems [sexual] at home, and 'did I have any advice?'. I usually replied light heartedly by telling them to have another pint!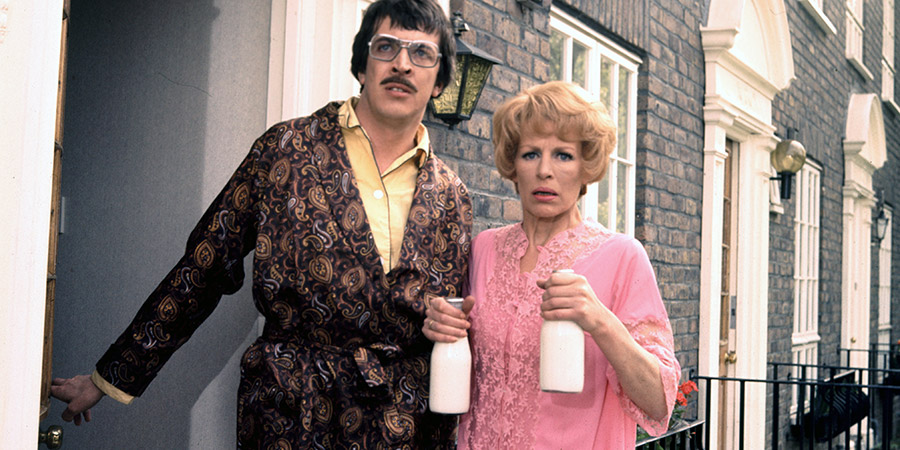 The 1933 Brough Superior motorcycle and sidecar that George drove in the series had previously appeared in an episode of Dad's Army. With the bike being over forty years old at the time, how was it to drive?
My first time driving the motorcycle was a little unnerving, I had never driven a motorcycle before. On one occasion I was taking the next-door neighbour to hospital (she was going into labour), and as I took a corner the camber of the road pulled me towards the kerb, I just managed to right the bike and sidecar back towards the road. I heard the shout "Cut!" and slowed down to a halt, I looked back towards the crew and camera, and they were all holding their hands over their eyes. Sheila Fearn [Ann Fourmile] said to me "Did you mean to go near the kerb?" And I, of course, lied and said, "I thought it might look funny."
Which sitcoms from that golden era did you like to watch?
Dad's Army was a great favourite; Love Thy Neighbour - no longer PC; Get Some In!; Hi-De-Hi!; Some Mothers Do 'Ave 'Em; Yes Minister; and Rising Damp.
In 1978 you released a single with Pye Records, a song titled Jogging and on the B-side The Great Gnome Robbery. What lead to this, and would you have liked to have done more singing in your career?
Out of the blue I was requested to record Jogging in the manner of George, and naturally could not refuse. I had been told I had an excellent singing voice and in fact did some training, but sadly I lacked confidence and missed opportunities - one of my biggest regrets.
Did you or Yootha receive any mementoes from your time as those characters?
Often people named their pets after George and Mildred!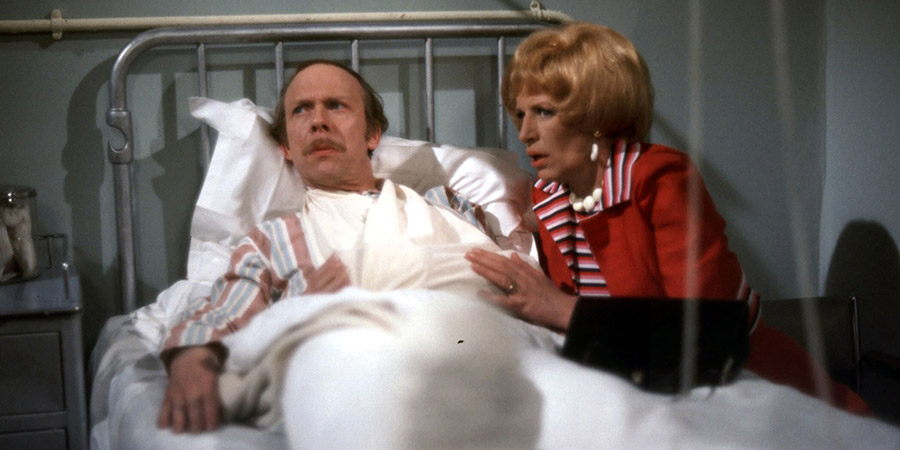 I believe that taking George & Mildred to the stage was a suggestion from yourself and Yootha to the writers Johnnie Mortimer and Brian Cooke? Did you both have an input in the writing of what became an extremely successful farce everywhere it played - Britain, Australia, and New Zealand? And what are your memories of touring?
Both writers were aware that it was the actors who were most recognised from successful sitcoms and we both said to them that the authors of successful plays were most likely to be remembered. Why not start by turning George & Mildred into a stage farce? Both Yootha and myself with our stage experience would be able to help.
We found the resultant script, like their TV achievements, was just waiting to be performed. We had to do very little apart from playing to audiences already familiar with the characters.
The theatres we played in this country and abroad were packed each night. During summer seasons, audiences brought young children who had never been in theatres before. There were lots of flashes from cameras until audiences were asked not to, and we did our best to let them take pictures at the packed stage doors. There was no doubt the play was a huge success, great fun to perform, rewarded by gales of laughter and many, many letters of appreciation.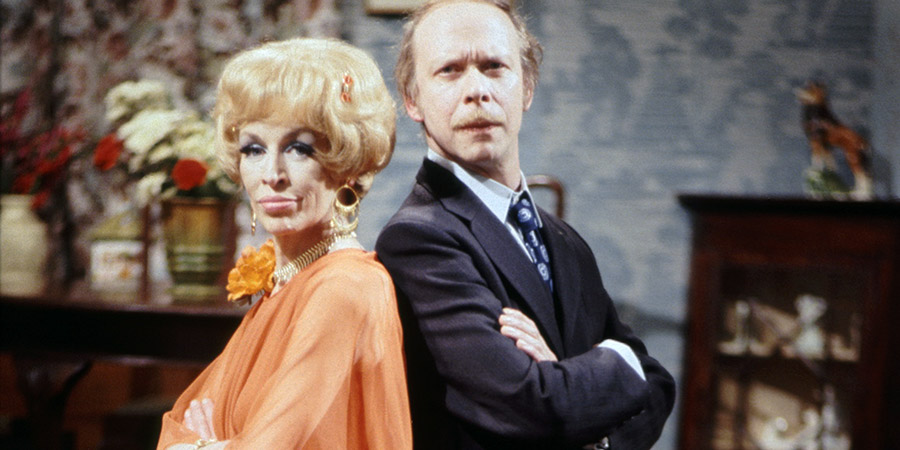 The 1980 George & Mildred movie was penned by established TV drama and comedy writer Dick Sharples. It was the only time Johnnie and Brian didn't write for the characters they created. Do you know why they handed over the writing and what are your thoughts about the movie?
Sadly, the film did not share the same success, the writers did not feel so hands-on and in command as they were when working on television. Our TV director and producer Peter Frazer-Jones was not allowed to direct the film as he did not hold a Film Makers Union card. When, eventually, he obtained one, Johnnie and Brian felt too disillusioned with the industry and let go of the reins, thus the chemistry was missing. Albeit the play continued to be a great success and could have gone on but for the sad loss of dear Yootha.
The eight episodes that were to make up the sixth and final series of George & Mildred were written but never produced due, of course, to the sad death of Yootha. Do you recall how Johnnie and Brian finally ended the series?
I don't remember reading all the episodes of Series 6. The sadness of losing Yootha had knocked the wind from our sails.
There was a spooky occurrence that would happen whenever yourself and Yootha were interviewed, and it continued when ITN News spoke with you not long after her death. Tell us about that...
On an occasion when we were performing George & Mildred for a summer season in Jersey, we were interviewed by a journalist using a tape recorder. After getting to the end of the interview he ran the tape back to the beginning then played it back - nothing! He couldn't understand what had happened, we said "never mind, let's do it again". He was of course embarrassed, but we went for a second take with some variations. When he finally replayed it, we were listening to Take 1 - total mystery.
Whilst, in Australia, being interviewed in a brand-new studio we warned the engineer what had happened to us before, he said, boastfully that it couldn't happen here, everything was brand new - but it did, and he was flabbergasted!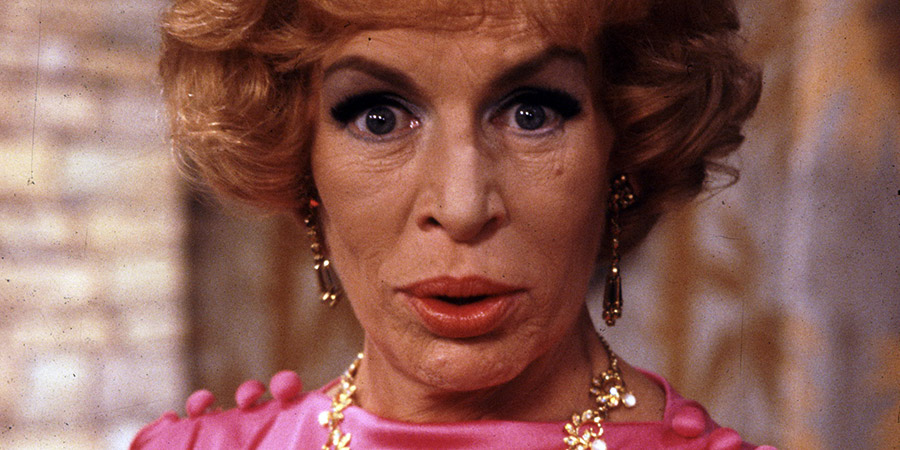 When Yootha died, ITV Newscast asked if they could talk to me that afternoon to go out on The Six O'Clock News and, sure enough, no sound... but later, when the programme was repeated, all was well - spooky indeed! I believe to this day it was Yootha playing tricks.
You met Yootha in the fifties, at Joan Littlewood's Theatre Workshop. Tell us about your time there and your friendship with her?
Back in the fifties with Joan Littlewood at the Theatre Workshop, Joan was producing The Good Soldier Schweik for the Paris Festival and wanted some extra actresses for the company. Glynn Edwards, who was with us, said his partner Yootha Joyce was free and Joan took her on - she thought Yootha brilliant and cast her many times from then on.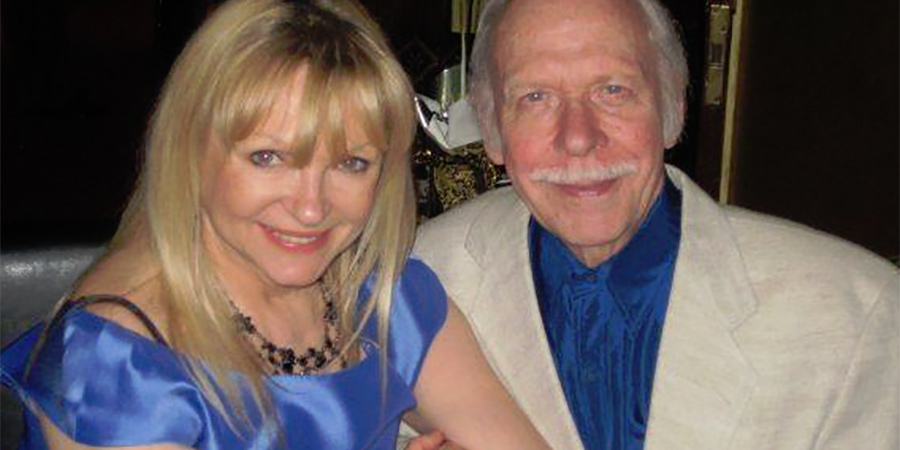 I too thought her brilliant and loved working with her, which perhaps explained why we were so good as George and Mildred. When we toured together, I discovered two idiosyncrasies - she collected teddy bears (so does my wife Linda! [pictured]) and had a very poor sense of direction. I used to take her by the hand backstage of a theatre we were about to perform in and steer her from her dressing room to the stage until she was sure she would remember.
She liked her glass of wine, which she dubbed 'cold tea' and it had to be 'dry'. No matter how expensive any wine that was sweet was, it was 'rubbish' - in this respect we had a lot in common.
Your next sitcom was about a hapless street entertaining escapologist - The Incredible Mr Tanner. Johnnie and Brian had re-written their 1971 sitcom Kindly Leave The Kerb for yourself and good friend Roy Kinnear. It was made, I believe, in the studio space that had been booked for the final series of George & Mildred. How did it feel working on that and what are your memories of it?
I'm afraid I was probably wrong to agree to go ahead with The Incredible Mr Tanner so soon after George & Mildred. The TV audience identified me as George and I'm sure were missing Yootha. Nevertheless, I enjoyed the script and working with Roy, who was such a pleasure to be with. It actually received much praise from the press, but we went out at the same time as the launch of Hi-De-Hi! and the competition proved too much.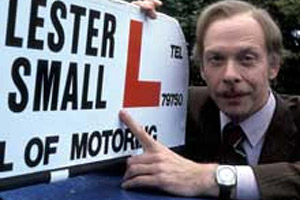 In 1982 you switched channels to BBC2 for the sitcom L For Lester. It attracted a healthy regular audience of about five million viewers and was described as an action-comedy, featuring some great motoring stunts, including a Mini driven along a rail track with a train closely behind. How much were you involved in the stunts, and did you find it quite a fun departure from the sitcoms that you had made up to that point?
I met producer Dennis Main Wilson after doing a performance at Stratford East. He told me that he had the perfect script for me by a new writer and that he wanted me to meet him at BBC White City where he would give me the script to read.
When I got there, he handed me the script and said he was going to lock the door until I had read it. I have to admit that, because it was Dennis Main Wilson who had produced and successfully directed Tony Hancock, I was dutifully flattered. So, I read the whole series and loved it - not a sign of George, and very funny with some great stunts, some of which I was allowed to be involved in.
The author, Dudley Long, was a delightful actor and there were some old buddies and excellent actors in the regular roles - I felt extremely lucky. I got on well with the director John Hobbs and when we were transmitted on BBC2 it played to a very respectfully sized audience. Sadly, Dudley - who was quite young - died and we were robbed of a very promising writer and of course, yours truly was back on the market.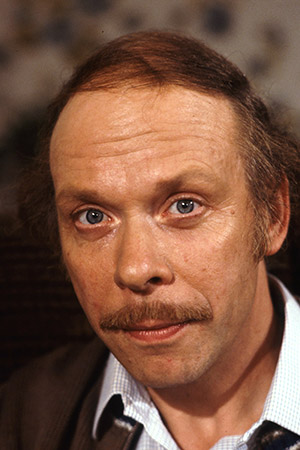 In the same year you gave a marvellous portrayal on stage of music hall performer Arthur Lucan as Old Mother Riley in Alan Plater's musical play On Your Way, Riley!, with Maureen Lipman as Arthur's wife Kitty McShane who - in their act - played Mother Riley's daughter, Kitty. The play was based on the deteriorating relationship between Arthur and Kitty and was made for TV in 1985. I believe that it was originally your idea to play the character? Did this derive from your love of variety theatre as a child in the thirties and forties, and who else where your comedy heroes of that era?
For most of my life I loved impersonating certain comics, mostly for my own amusement: Laurel & Hardy, Will Hay etc and, often in front of people, a glimpse of Old Mother Riley - friends would say 'you must play him sometime'.
I got hold of some of the feature films whist collecting Super 8 features as a hobby and studied Arthur Lucan's performances. I had, as a youngster, seen him on stage, and he made me laugh a lot. I decided to attempt to get people interested with the help of my agent and, apart from some interest from TV, it was Philip Hedley, now running the Theatre Workshop, who suggested we should put a play on about Old Mother Riley.
He got Alan Plater on board - an inspired writer for On Your Way, Riley. Another inspiration was an old friend and colleague Maureen Lipman, also with my agent, and cast as Kitty McShane - "What's a good Jewish girl doing playing an Irish Catholic?": a quote from Maureen.
The show was a great success, particularly with young people who would never have seen the original Arthur. There was talk of a transfer into the West End, but I had some other commitments, and the opportunity was missed.
However, later on, Yorkshire TV wanted to do an adaption of the stage show and a date was set, but unfortunately whilst on tour, and while having a horse-riding lesson, I was thrown and ended up with a dislocated shoulder - not good for the arm waving antics of Old Mother Riley!
The rehearsals were continued with yours truly in plaster and then followed a series of physio until I was back to normal and could continue making the TV programme. It was good of Yorkshire TV to have shown such patience and understanding.
In 2003, you joined the cast of Last Of The Summer Wine, playing Alvin Smedley who moves into the late Compo's house next to Nora Batty. Although your character was different from Compo he did share some similarities, such as his liking for playing practical jokes on Nora. Did you feel the pressure of the inevitable comparison of filling the wellies (so-to-speak) of Bill Owen, who had been such a big part of the sitcom for 26 years, and what are your memories of your seven years on the show?
In later years, usually regarded as possible retirement, I was offered a guest role in Last Of The Summer Wine which I happily accepted, being a great admirer of it as the world's longest-running sitcom.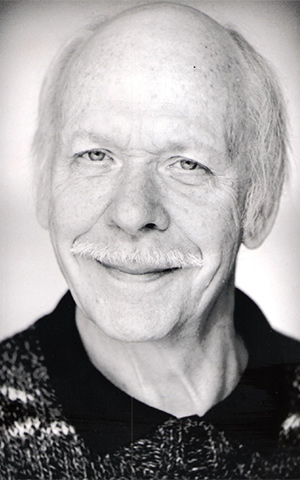 Whilst recording scenes in the studio, Alan J. W. Bell, the director and producer, asked me would I like to permanently join the series. I was about to do the TV play The Booze Cruise - it meant working in both series in tandem and spending many months up in Yorkshire - not what you would expect turning 70, but we did it and I thoroughly enjoyed working with so many old icons.
I wasn't expected to be a shadow of Bill Owen, although I found myself involved in doing quite a lot of similar stunts. I told Alan on one occasion when I was about to tumble off a wall into the water "Don't forget Alan, I'm an old age pensioner!" Alan replied pointing at Frank Thornton and Peter Sallis: "but you're not as old as them...". I replied: "I'm not likely to be if I have to tumble off more walls!" The combination of such good scripts, old friends, and wonderful scenery made it a most pleasurable job for the advancing years.
You have had such a varied and interesting career, ranging from your time in the Joan Littlewood Theatre Workshop, working with director Ken Russell on two movies, various roles in great sitcoms, an impressive portrayal of Old Mother Riley and other great stage performances, not to mention working with comedy stars that include Les Dawson, Caroline Aherne and Catherine Tate...
I couldn't help reflecting that I had a most glorious career, lots of highs and rewards and missing out only by not being called a dubious celebrity.
Thank you very much Brian for your time and for bringing laughter and joy to millions in all your great comedic performances from over the years.
---
See also: A look back at the sitcom and why it remains so popular.
Published: Monday 6th September 2021