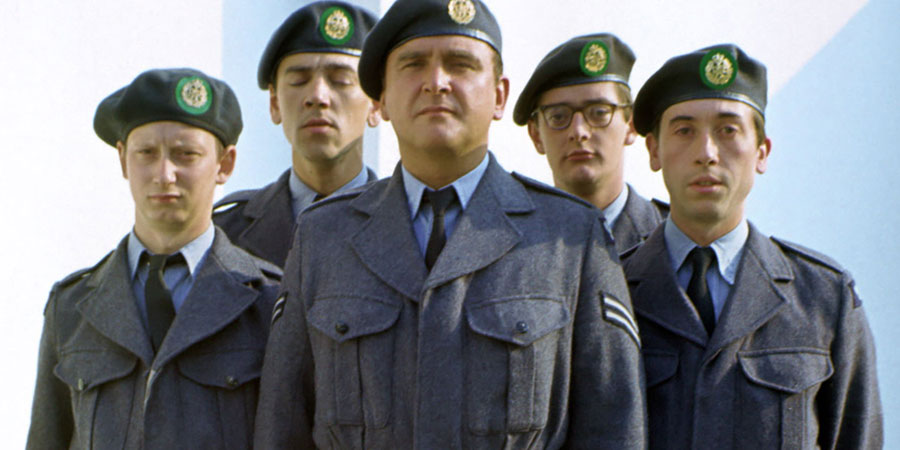 Genre

Sitcom

Broadcast

Channel

Episodes

Starring

Tony Selby, David Janson, Gerard Ryder, Robert Lindsay, Karl Howman, Brian Pettifer, Lori Wells, David Quilter and Nigel Pegram

Writers

Director

Producer
Conscripted to the RAF for two years' of National Service, 18 year-olds Bruce Leckie, Jakey Smith, Matthew Lilley and Ken Richardson find themselves thrown together at RAF Skelton for basic training. They quickly become particular enemies of their drill sergeant, Corporal Percy Marsh - a vicious, dim-witted bully of a man thoroughly hated by everyone in the camp, but ploughing on and ever hopeful of promotion regardless.
Whilst the lads continue their way through their time in the service, they continue to fall foul of the strict rules and standards set by the RAF, and - worse still - find themselves, through a succession of unbelievable bad luck, continually dogged by Marsh's presence and power over them.
Production company

Laugh track

Live audience
Broadcast details
First broadcast

Thursday 16th October 1975 on ITV at 8:30pm

Last new broadcast

Thursday 18th May 1978 on ITV at 8pm

Length of episodes

30 minutes

Last repeat

Tuesday 25th May 2021 at 10:00am on TPTV
Website links