George & Mildred is 45 today. The popular spin-off from Man About The House ran for 5 series between 1976 and 1979, spawning along the way a film adaptation and a stage show.
In the decades since it has assumed a place in our collective cultural consciousness as an iconic domestic sitcom: as instantly recognisable as Terry & June, Bless This House or The Good Life. Along with its predecessor, the comedy made household names of its stars, Brian Murphy and Yootha Joyce, and would have continued into the following decade, had it not been for the untimely death of Joyce in 1980. Indeed, at the time of her death, a sixth series had just been written.
George & Mildred was the brainchild of Brian Cooke and Johnnie Mortimer, prolific writers from "the golden age of television comedy", who had also created and written its antecedent, Man About The House. Originally cartoonists, the pair met at a cartoonists' convention and would go on to create, write or contribute to numerous television and radio comedies including the last series of the seminal radio show Round The Horne; its Kenneth Williams-led sequel Stop Messing About!; Tommy Cooper sketch show Life With Cooper; and sitcoms including Father, Dear Father and Tom, Dick And Harriet. Working alone, Mortimer would create the popular antique-dealing sitcom Never The Twain, whilst Cooke penned Leonard Rossiter's final work, Tripper's Day. But it was Man About The House, and its sequels Robin's Nest and George & Mildred, that would prove their most enduring work.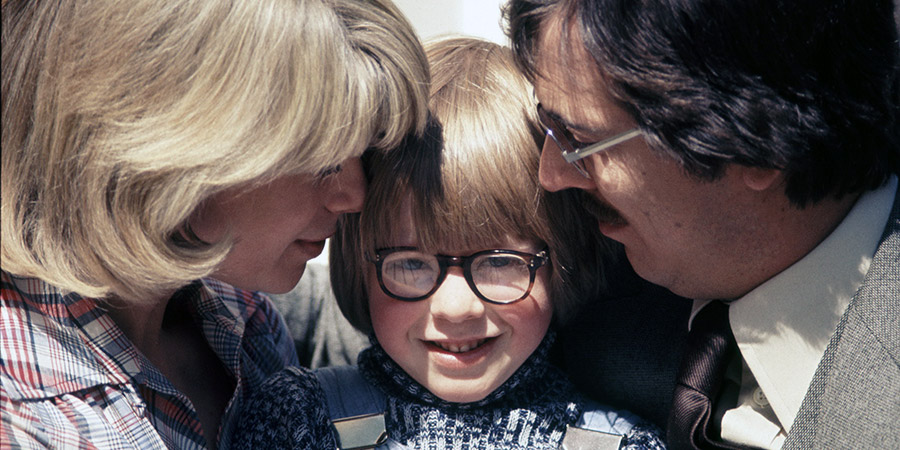 George & Mildred, perhaps particularly, is magnificently cast. Brian Murphy is perfect, physically and vocally, as the scrawny, weaselly, lazy, and impotent George Roper, whilst Yootha Joyce effortless sparkles as the vivacious, glamorous and kind-hearted Mildred. The marriage feels convincing, even though the audience is often left wondering why she stays with him (or, indeed, what attracted either partner to the other in the first place). Perhaps the answer is that these were different times. Perhaps the truth is that they love each other. It's testament to the skill of both the performers and the writers that the couple always seem real - more than a mere sitcom confection, this is a portrait of a long-term relationship as it could be; indeed, for many, how it is. This central relationship is complimented neatly by the Ropers' next-door neighbours, the Fourmiles.
Norman Eshley as Jeffrey Fourmile is every inch the mid-70s middle-class Conservative. Tall, bespectacled and besuited, Jeffrey is the snooty antithesis of George - and their conflict provides the engine for plenty of episodes. The friction between them goes beyond the merely cultural: there is at times real political conflict, the show feeding off the social antagonism of the time. Jeffrey's wife Ann, played by Sheila Fearn, is perhaps less well drawn; by no means a shrinking violent, she none-the-less feels like a more traditional cypher than the other characters. Completing the Fourmile family is young Tristram, played by Nicholas Bond-Owen, who brings out the motherly side of Mildred and the childish side in George, who takes particular delight in teaching Tristram working class colloquialisms, to Jeffrey's constant chagrin.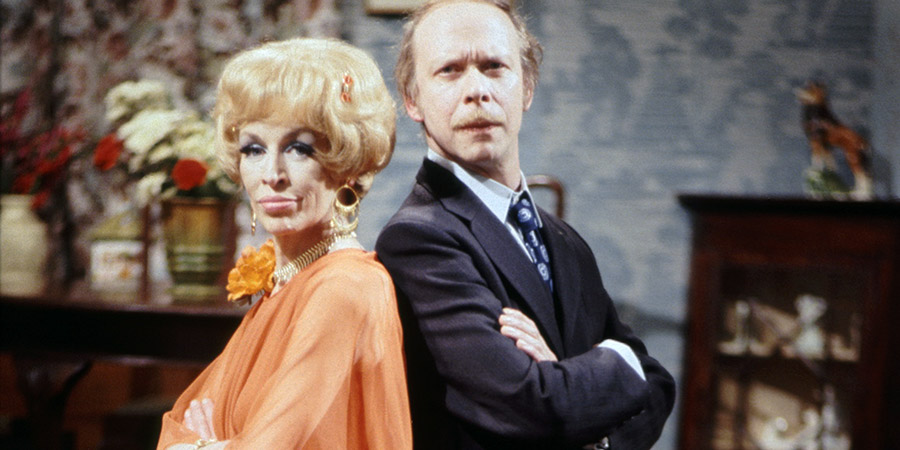 Like so much of the seventies sitcom canon, the humour is broad and bawdy - and instantly accessible. George is always cutting corners, trying to avoid work or spending money, and constantly trying to grab a few minutes up in the attic with his "art magazines" (almost the only concession he ever makes to a libido). Mildred, meanwhile, wants to be loved, obviously - but she wants friendship and respect too, and acts as a precursor to the eighties with her aspirations of upward mobility; whilst George would much prefer to be moving to a council tower block, the very first episode sets up the couple's social clash with perfection as Mildred insists on their moving to a newly built home in the leafy suburb of Hampton Wick.
The best episodes continue to play with this dynamic. In You Must Have Showers, Mildred insists on buying a 'Hollywood shower', and George calls on his hapless, whisky-drinking friend Jerry, played by Roy Kinnear, to install it. In The Travelling Man, the couple take on an attractive lodger, and Mildred is hurt to learn he pretended to be gay in order to deflect her advances. Perhaps it's the emotional truth that underpins this silliest of sitcoms that helps to elevate it above more conventional offerings. There is, the viewer senses, some real pain there. Smut is great, but it works best when a show is honest, too.
For comedy aficionados, it is particularly sad that Yootha Joyce was taken from us so young - her final television appearance being transmitted posthumously in early January 1981, as a guest on Max Bygraves's variety show, Max. It was revealed after her death that she had been drinking heavily for many years, both as a means to escape her difficult personal life, and as self-medication for stage fright. But, with Brian Murphy, she created a unique partnership. "It's a great loss," said Murphy, when she died. "I've lost a friend, poor old George has lost a wife, and the viewers have lost a very funny lady." However, like all great sitcoms, and all great comic partnerships, George and Mildred will live on.
---
See also: An interview with Brian Murphy to mark the anniversary.
This 6 disc set contains all the series of this classic Man About The House spin-off.
The acclaimed series follows dispassionate landlord George Roper (Brian Murphy - Last Of The Summer Wine) and his upwardly mobile wife Mildred (Yootha Joyce - Nearest And Dearest), as they move from working class life to 46 Peacock Crescent, and thus to suburbia. The move is long awaited for domineering Mildred, who climbs the social ladder to middle class with gusto. George, however, is working-class and proud, and intends to stay that way. Much hilarity follows this transition, which together with the mishaps of a staling 25 year marriage, create a classic comedy.
This illustrious show was created and written by Johnnie Mortimer and Brian Cooke (Full House) and co stars Norman Eshley (Randall And Hopkirk Deceased) and Sheila Fearn (The Likely Lads) as snobbish neighbours Jeffery and Ann Fourmile.
First released: Sunday 23rd September 2007
Released: Monday 6th October 2008
Distributor: Network
Region: 2
Discs: 6
Catalogue: 7952843
Buy and sell old and new items
Search for this product on eBay
This particular product has been discontinued. However, you may still be able to find second-hand copies.
Distributor: Network
Region: 2
Discs: 6
Catalogue: 7952725
Buy and sell old and new items
Search for this product on eBay
It looks like you're in the US? Fear not! Almost everything can still be ordered.
Amazon UK
deliver internationally,
Amazon.com
carries many items separately, or you can look out for US/Canadian flags on our product listings for direct links.
If ordering from a UK store, please note that you are in Region 1 (DVD)/Region A (Blu-ray), whilst the UK is in Region 2/B, respectively. This means that many - but by no means all - may fail to play. Look for products marked "Region free", "All regions", "Region 0" or "Multi-region". Blu-rays may also be marked "Region A/B/C", "Region free", or variations thereof. You may also check whether your DVD/Blu-ray player supports multi-region playback (also referred to as "region free"), or whether it can be set to do so. There should, of course, be no problems with books, CDs, or other physical items.
More advice & help on importing
Published: Monday 6th September 2021