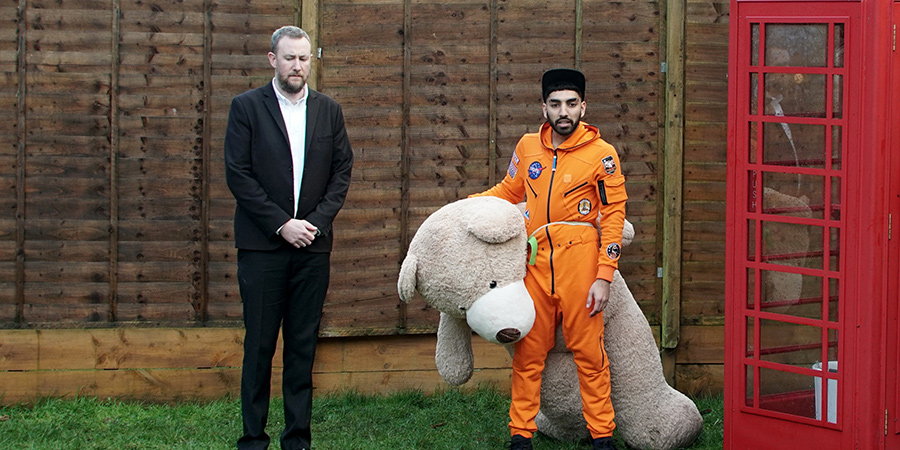 Series 10, Episode 1 - God's Haemorrhoid
Further details
Prize task: The nicest thing to put in your mouth.
* Daisy May Cooper: White wine - 5
* Richard Herring: Halloumi cheese with chilli in it - 4
* Johnny Vegas: Anti-reflux medicine - 3
* Katherine Parkinson: Braces - 2
* Mawaan Rizwan: A rubber teething toy shaped like a chicken wing. - 1
Task 1: Part 1 - Knock the coconut off its perch. Fastest wins. Your time starts now.
* Daisy, Katherine, Mawaan and Richard: All in less than 10 seconds. Each wins a gigantic teddy bear.
* Johnny: 25 seconds. Wins a small teddy bear.
Task 1: Part 2 - Put all these drinks on the table in the caravan without spilling a single drop. Also, you must be clutching this teddy at all times. Also, you must not walk on the grass while holding drinks. Fastest wins. Your time starts now.
* Everyone spills some of the drinks. - 0
Task 2: Make the largest object properly vanish. Largest object to properly vanish wins. You may not use any editing trickery. You have one hour. Your time starts now.
* Mawaan: Makes a cow that looks large disappear, but it is a small cow close to the camera that is moved out of shot. - 5
* Johnny: Performs a play in which Jeremy Corbyn summons a 200ft mutant chicken destroying London, where in reality a normal-sized prop chicken destroys a model version of London, and the chicken disappears behind a piece of blue paper being put in front of it. - 4
* Richard: Makes Little Alex Horne disappear using a mirror. - 2
* Katherine: Makes a sofa disappear by moving a partition in front of it. - 2
* Daisy: Makes a large cow disappear by moving into some bushes. - 1
Task 3: Land the most egg in the frying pan. You may not throw any egg. You must stay on this balcony and you may only use the contents of one of the boxes. You have twenty minutes or until you run out of egg. Your time starts now.
* Daisy: Bonus point for getting an egg closest to the pan.
* Johnny, Katherine, Mawaan and Richard: All landed eggs further away from the pan than Daisy. - 0
Live task: Get the most balls in your bucket. At the end of the task, all the balls in your bucket must be the same colour as each other. You will lose five points for every different coloured ball in your bucket. You may only touch your litter pickers and you must stay on your spot at all times. You have 100 seconds.
* Richard: 12 points - 5
* Daisy: 8 points - 4
* Johnny: 6 points - 3
* Mawaan: 5 points - 2
* Katherine: 4 points minus one penalty, totalling -1 point - 1
Final scores
* Richard - 12
* Daisy - 11
* Johnny - 10
* Mawaan - 8
* Katherine - 6
Broadcast details
Date

Thursday 15th October 2020

Time

9pm

Channel

Length

60 minutes
Cast & crew
Videos
Supporters and subscribers get more
Additional content and tools are available across the site for Supporters and BCG Pro subscribers. On this page you can:
See 10 press clippings related to this episode
Broadcast details of 6 further repeats of this episode
This episode's inital overnight ratings
Already a donor or Pro user? Sign in