Jason Manford set to star in ITV nudist sitcom
Jason Manford set to star in ITV nudist sitcom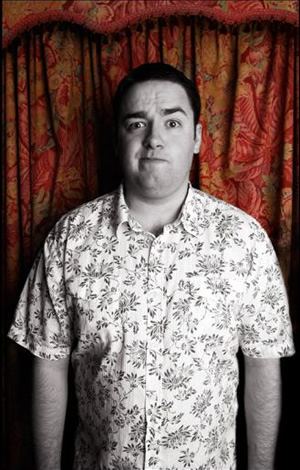 Jason Manford is set to star in a new family-oriented ITV sitcom.
The stand-up comedian looks set to take the lead role in Naked House, a sitcom pilot for ITV1 revolving around the topic of naturism.
A trial episode of the sitcom will be filmed at BBC Elstree Studios at the end of April. Producers describe the show as a warm-hearted family sitcom, in which Manford plays the role of the husband and father of the family.
They say: "Having recently fallen on hard times, and much to the annoyance of his wife Dana and son Mike, the family is forced to move back up North and back in with his retired parents. And if three generations under one roof wasn't bad enough, his parents are celebrating their retirement with a new hobby - naturism!"
The show is being created by Leftbank Pictures, the production company behind programmes like the 2008 sketch format School Of Comedy and the forthcoming E4 sketch show Cardinal Burns.
Speaking to British Comedy Guide last year, Jason Manford confirmed his interest in appearing in a sitcom once his stand-up tour had finished. The comedian had previously acted in the 2005 series of BBC Three sitcom Ideal.
Naked House bears a remarkably similar premise to Parents, a new generation-clash sitcom for Sky1 starring Sally Phillips, in which a family with two teenage children are forced to move back in with one of the sets of grandparents.
In other news, Manford is set to make his stage acting debut this year, appearing in the West End production of Sweeney Todd during July. He will take on the role of Adolfo Pirelli, an Italian barber character.
To apply for free tickets to be in the audience of the Naked House pilot on the 27th of April see our free tickets page
Naked House is the latest in a number of comedy projects revealed to be underway at ITV, as the network looks to re-establish its comedy credentials. The company has just hired Myfanwy Moore, the Executive Producer behind hits like Little Britain, to oversee its new comedy strategy following the demise of its hit show Harry Hill's TV Burp.
Other new ITV projects in the pipeline include The Job Lot, a sitcom starring Russell Tovey; The Security Men, a comedy drama written by Caroline Aherne; Fool Britannia, a hidden camera prank show starring Dom Joly; and panel shows You Cannot Be Serious!, Mad Mad World and Keith Lemon's Lemonaid.
The network currently enjoys just two big-hitters: ITV2's Celebrity Juice and sitcom Benidorm on flagship channel ITV1.
Share this page