Sky1 commissions comedy thriller Apocalypse Slough
Sky1 commissions comedy thriller Apocalypse Slough
---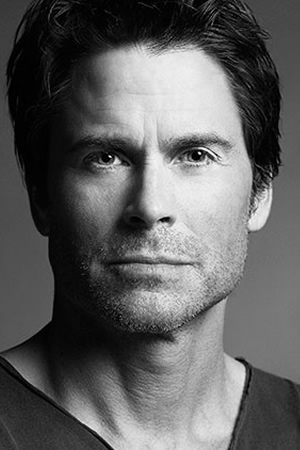 Sky1 has ordered a brand new comedy drama set amidst the end of the world.
Apocalypse Slough sees Earth threatened by an eight mile-wide comet, with the story centring on a group of people who share a "mysterious connection".
Described as an "epic, adrenaline-fuelled witty drama", the central characters include a British bank manager, an Italian nun, a female death row inmate, a Five Star US General, a White House civil servant and a bride with a one-eyed fiancé 30 years her junior, who all gather beneath Slough to watch the end of the world on television.
The 10-part "exuberant and heart-warming" series was created by digital media company Bigballs Films, and has been developed with Working Title, the production company whose credits Yonderland, Bridget Jones's Diary and Shaun Of The Dead.
Iain Hollands, the creator and writer of Channel 4 comedy drama Beaver Falls is lead writer on the series, which is being directed by Michael Engler, whose previous credits include Sex And The City and 30 Rock.
Juliette Howell, executive producer and head of television at Working Title, said: "We wanted to tell a story about what might happen to a group of ordinary people confronted with the idea that the world is about to end, the chaos that might ensue and how you can deal with that in a comedic way. It's not a doom and gloom piece."
Sky1 commissioner Cameron Roach adds: "Even though a significant amount of the show is set in Slough, having Michael direct it means you get an outsider's view of that world - showing it in a slightly different way."
Adam MacDonald, Director of Sky1, says: "Apocalypse Slough is world-class, high concept new drama for Sky 1. The show has bundles of energy, vibrancy and laughter, as well delivering an exuberant and heart-warming story on an epic scale. There is a raft of extraordinary characters who we hope our customers will have a lot of fun watching throughout the series."
The series begins filming this month on location in London, Malta and South Africa. It is planned to begin on Sky1 later in 2015.
Meanwhile, ITV2 next week begins broadcasting Cockroaches, a romantic comedy set after a nuclear wear. From Big Talk Productions, the sitcom has been written by Bad Education co-writer Freddy Syborn.
---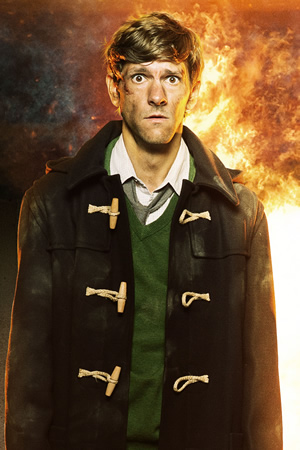 Story Update, 21st January 2015: Cast Announced
Sky have now announced the main cast for the show - a mix of British comedy actors, and Hollywood stars - and more details on the plot. The network describes the commission as follows: "Apocalypse Slough is a bold, adrenaline fuelled comedy drama about the last days of mankind. A relentlessly entertaining mix of action, adventure, romance and wit set against a backdrop of apocalyptic chaos, the story follows an eclectic group of seemingly unconnected characters around the world as their lives start to intersect in the most unexpected ways. All triggered by the news that a comet is on an unavoidable collision course towards earth...
"Our characters include a foul-mouthed priest, an unhinged white supremacist, a mild mannered bank manager, a germ-phobic cyber-terrorist, an American 5 star general and a child who (possibly) rose from the dead. Some of them are destined to make it to a bunker deep beneath the suburbs of Slough, and as a result will become the hugely unlikely (and frankly, somewhat unsuitable) future of mankind..."
Mathew Baynton (The Wrong Mans, pictured) will take on the role of humble Slough bank manager Jamie. Hopelessly likable but hopelessly stuck in a rut, he's still mourning the mysterious disappearance of his wife seven years ago. But news of the apocalypse will finally spur him into action, and he will embark on a perilous quest to find his wife, discovering courage he never knew he possessed along the way.
Pauline Quirke (Birds Of A Feather) will take on the role of Jamie's loving but tough-as-nails mum Paula. A nurse by profession, she also nurses a dark secret about Jamie, one that will turn his life upside down...
Joel Fry (Plebs) plays Dave, Jamie's hedonistic best friend, who encourages Jamie to grab what's left of life by the balls. Blessed with an outrageous sense of humour and a lust for life, he responds to news of the impending apocalypse by writing an utterly shameless bucket list...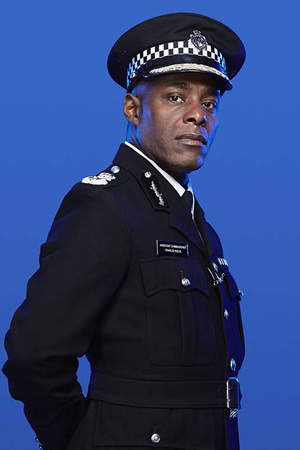 Paterson Joseph (Babylon, pictured) will play General Gaines who has rapidly risen through the ranks of the army, becoming a 5 Star General with responsibility for briefing the President of the United States on high-level military matters.
Rob Lowe (The West Wing) will play Father Jude, the Vatican's most rebellious priest. But beneath his irreverent exterior he's a deeply moral man with a profound and passionate faith. His world will be turned upside down by news of the impending apocalypse, and he will find himself facing the greatest challenge of his life. One that will shake his faith, force him to question his vows, and bring him face to face with his past.
Jenna Fischer (The Office USA) will portray Rhonda, a mild-mannered librarian who finds herself dangerously out of her depth when she is sent to a maximum security prison in New Mexico for a crime she did not commit. Desperate to be re-united with her beloved family, she will find herself inadvertently plunged into a race against time to find them before it's too late.
Megan Mullally (Will & Grace) will play Leanne, an unhinged white supremacist who takes a deeply reluctant Rhonda under her wing. Morally dubious but intensely loyal, she's a woman uniquely suited to surviving the end times and will prove herself to be exactly the streetwise sidekick Rhonda needs.
Rob Lowe comments: "I've always been a fan of the kind of smart, ambitious and challenging filmmaking that comes from Sky and Working Title. This script and my character in particular, blew me away."
Mathew Baynton says: "I've had a great time making Yonderland with Sky1 and Working Title and from page one of Apocalypse Slough I knew I wanted to be involved. Iain's produced an epic rollercoaster ride of a story and I can't wait to get started on the end of the world".
Pauline Quirke comments: "I was intrigued by the title then gripped by the actual scripts and storylines can't wait to get started!"
It has also been confirmed today that NBC will broadcast the show in America.
Share this page