Series 1, Episode 14 - Hair By Mr. Bean Of London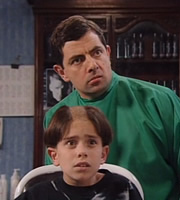 The blunderingly inept master of disaster goes for a haircut, but ends up styling the other customers' hair before causing chaos at a school fun day.
Broadcast details
Date

Friday 25th August 2006

Channel

Nickelodeon

Length

30 minutes
Notes
Some websites suggest this episode to have been broadcast on Friday 17th November 1995, but we have been unable to find any evidence of this.
Originally produced as a VHS-exclusive episode in 1995, Hair By Mr. Bean Of London was not broadcast until 25th August 2006. This was on childrens' digital channel Nickelodeon, and as such remains the only Mr. Bean episode not to have been premiered on free-to-view terrestrial television.
Repeats
Thursday 10th June 2010 at 18.50 on ITV3
Wednesday 28th July 2010 at 20.25 on ITV3
Sunday 29th August 2010 at 19.25 on ITV3
Sunday 17th April 2011 at 20.30 on ITV3
Sunday 17th July 2011 at 18.50 on ITV3
Wednesday 31st August 2011 at 20.20 on ITV3
Tuesday 10th January 2012 at 19.30 on Comedy Central
Thursday 12th January 2012 at 16.30 on Comedy Central
Saturday 14th January 2012 at 19.30 on Comedy Central
Sunday 15th January 2012 at 19.30 on Comedy Central
Wednesday 15th February 2012 at 16.30 on Comedy Central
Wednesday 15th February 2012 at 19.30 on Comedy Central
Sunday 19th February 2012 at 13.45 on Comedy Central
Wednesday 29th February 2012 at 16.30 on Comedy Central
Wednesday 29th February 2012 at 19.30 on Comedy Central
Saturday 3rd March 2012 at 16.00 on Comedy Central
Sunday 4th March 2012 at 13.30 on Comedy Central
Friday 6th April 2012 at 20.30 on CC Extra
Saturday 7th April 2012 at 14.30 on Comedy Central
Saturday 7th April 2012 at 19.30 on CC Extra
Sunday 8th April 2012 at 15.30 on Comedy Central
Sunday 15th April 2012 at 19.30 on CC Extra
Wednesday 15th August 2012 at 13.30 on Comedy Central
Wednesday 15th August 2012 at 16.30 on Comedy Central
Saturday 18th August 2012 at 19.00 on Comedy Central
Sunday 19th August 2012 at 14.30 on Comedy Central
Sunday 19th August 2012 at 14.30 on Comedy Central
Wednesday 19th September 2012 at 16.30 on Comedy Central
Wednesday 19th September 2012 at 19.30 on Comedy Central
Saturday 22nd September 2012 at 19.30 on Comedy Central
Wednesday 2nd January 2013 at 15.30 on Comedy Central
Wednesday 2nd January 2013 at 19.30 on Comedy Central
Saturday 5th January 2013 at 18.30 on Comedy Central
Wednesday 16th January 2013 at 15.30 on Comedy Central
Wednesday 16th January 2013 at 19.30 on Comedy Central
Saturday 19th January 2013 at 18.30 on Comedy Central
Sunday 2nd June 2013 at 09.30 on CC Extra
Sunday 2nd June 2013 at 18.30 on CC Extra
Wednesday 5th June 2013 at 19.00 on CC Extra
Thursday 6th June 2013 at 10.00 on CC Extra
Friday 7th June 2013 at 22.30 on CC Extra
Saturday 28th December 2013 at 09.45 on Comedy Central
Saturday 27th December 2014 at 20.30 on CC Extra
Sunday 28th December 2014 at 19.30 on CC Extra
Tuesday 30th December 2014 at 17.30 on CC Extra
Tuesday 30th December 2014 at 20.30 on CC Extra
Saturday 25th April 2015 at 16.05 on ITV2
Sunday 26th April 2015 at 06.00 on ITV2
Friday 25th December 2015 at 11.50 on ITV2
Tuesday 27th September 2016 at 20.30 on ITV4
Sunday 2nd October 2016 at 19.30 on ITV4
Cast & crew