Series 13, Episode 13 - Stephen Fry, Micky Flanagan, Clare Balding, Gorgon City
Alan is joined by
Stephen Fry
who talks about his new book
More Fool Me
; cockney comedian
Micky Flanagan
discusses the the DVD release of his series
Micky Flanagan's Detour de France
; and sports presenter and author
Clare Balding
chats about her latest book,
Walking Home
. Plus music from Gorgon City, who perform
Go All Night
, featuring vocals from
Jennifer Hudson
.
Further details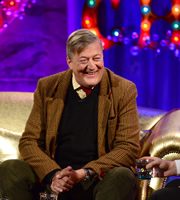 Stephen Fry talking about More Fool Me:
Fry: This is a particular period of my life which saw me kind of having achieved a certain amount of success, and therefore one would expect enjoying life to the full, and I somewhat overdid it... People are very disappointed in me, and they're right to be, to learn that I had these drug years, and I wanted to put it in to the book without boasting, without seeming proud of it, and on the other hand without it being a constant hand-wringing 'oh I was a victim of this and that', because I don't think I was a victim, I was a fool.
Carr: The diary bit at the back [of the book] - you were off your head, you'd have a couple of lines of coke, and then you'd wake up in the morning - 'oh and then I wrote a play, and then I directed a film' - how did you do it, looking back?
Fry: I suppose I had a very extraordinary constitution, and I wouldn't recommend anybody go anywhere near having the time of life that I did - it seems incredible when I look at my diary now, and I saw these days in which - as you say - I would just consume the most appalling amount of illegal chemical substances, and yet somehow manage to work very hard. But I never took it when I was working, it was always like a pudding after work, if that makes sense?
Carr: You said you starting doing cocaine because you hated parties - how can you hate a party?!
Fry: I don't think I have ever hated anything or anyone as much as I hated parties. I don't mind parties around a table with food too much, with people I know and like, but parties with music I just cannot bear, parties with a lot of people standing up where you have to stand up, people shouting at each other over the din - I just hate them, I don't know why... and that's one thing this unspeakable drug did for me was that it made me like parties, so it keeps you up, and I found that I would be up, be partying, a lot. In fact that's the word used for it isn't it - 'partying' like a sort of euphemism - when you read it in the paper 'oh he was quite a party animal' - just come out and say it, he was a drug addict. But I honestly believed at the time that everybody was on cocaine, it was a blizzard that blew over the entire London scene, and to some extent I was right, it was incredibly popular at that time, and there are victims of it to this day whom I think of and are a great warning against this ridiculous stuff.
Some people say 'what would you say to young people to stop them taking drugs?' and I don't know what the answer to that is, I really don't, because I'm sure when I was younger - whether it was just taking cannabis or ecstasy or anything like that - that somebody telling me not to would be the last thing that would be of any use to me. I do worry very much that politicians have absolutely no understanding whatsoever of drug culture, and it seems sad that every time they hire someone who is usually called a 'Drug Tsar' to look into business of the drug problem in Britain, that Drug Tsar says one thing and one thing alone, which is 'you have to decriminalise these drugs', because making them criminal does nothing but endanger people who use them because it's cut with chemicals that can't be controlled, it's not licensed - money coming into the government that could be used to help people who have drug addictions, in the same way that alcohol is licensed, and it may be that there's huge trouble with alcoholics - and there is - but it would be even worse if it were prohibited, as we know from history.
Talking about leaving Twitter...
Carr: Where were you that you could tweet?!
Fry: It might disappoint you, it's not that thrilling an answer, but it was for kind of contractual reasons that I couldn't say, that's to say insurance company reasons. I was filming in Mexico, which is a wonderful country, but the insurance company decided that I shouldn't tweet for fear of kidnapping and things like that. They didn't want me to reveal where I was, and they thought it was too complicated to make me insist that so long as I didn't tweet where I was, because you know, it's almost impossible, they just said 'don't tweet, no social networking'. And also we weren't allowed to drive at night and various other things, because there has been appalling violence in Mexico, but I have to say, filming there for a month, as we did, I didn't sense anything violent at all, it was just a wonderful country, and I would recommend anyone going there.
Broadcast details
Date

Friday 12th December 2014

Time

10pm

Channel

Length

65 minutes
Cast & crew
Supporters and subscribers get more
Additional content and tools are available across the site for Supporters and BCG Pro subscribers. On this page you can:
Broadcast details of 2 further repeats of this episode
This episode's inital overnight ratings
Already a donor or Pro user? Sign in