Series 13, Episode 11 - Russell Brand, Rafe Spall, Warwick Davis, Jim Broadbent, David Guetta, Kiesza
Further details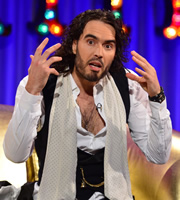 Russell Brand (on his new book Revolution)...
Alan: I agreed with some of the things you said - I'm not sure if it'll work your revolution...
Russell: It ain't my revolution - I've done my bit, I'm just mucking around, stirring up trouble, causing aggravation, getting people wound up, getting people riled. You can't get a revolution from one bloke from Grays in Essex [...] what you need is - I think with something like that, either when you say something it resonates with people or it don't - if you say to me that there seems to be a lot of the old inequality about; if you say to me it seems a bit unfair that George Osborne made 80 billion quids' worth of cuts in the same time-frame that bankers awarded themselves 80 million pounds' worth of bonuses - does that seem fair to you? Either people in their heads go 'no that ain't fair' or they go 'nah I ain't bothered'.
Now, what's happening this time is the stuff I'm saying, loads of people think it. It's not - I'm not inventing these things, I'm not like 'I'm Russell, I've come to lead you', I'm just mucking around, all I want to do is kick off [audience cheer] it's working n'all - it's properly working!
Alan: Since Revolution has been out, how many times a day does someone shout 'PARKLIFE' at you?
Russell: Not very often, and it's always Noel Gallagher - he finishes his texts with it now he'll go 'alright Russell, how's it going?' then say something offensive about my hair or my private beliefs, and then go 'PARKLIFE', like that. But every time he does it I secretly think 'I remember when there was a race to be number one, and Blur won it against Oasis, so fuck you, in a time machine'.
Alan: How did you feel when they said it - when they started going 'parklife'?
Russell: First of all I wondered what is that? What does that mean? Then I looked at it and thought 'that's people digging me out because I'm using long words with my accent', and then there was a bit where I wanted to kill someone, and then I thought, hold on a minute - I'm a troublemaker, a mischief maker, embrace that, that's a right laugh - don't take life too seriously, soon we'll all be down in the grave.
No one's said nothing snidey to me this whole time. In fact, you know what's mad about this Alan, right, in that book Revolution, I'm really proud of that book, I put my heart in there, and people - normal, ordinary people - have been really into it, and then the media - I've been coated off - I've never been coated off like it since the thing with Andrew Sachs' granddaughter, which obviously I deserved to get a bit of, chastised for that, but with this thing, the papers are really having a go at me, but everywhere I go people are like 'well done Russell, well done', and I think there's a massive difference between how the newspapers talk , how politicians talk and how ordinary people talk - it's like a massive gulf has opened up. I'd rather be on this side with the people than them lot, so fuck 'em, man.
Alan: What does the future hold for you then?
Russell: Fuck knows [...] I'll just keep carrying on with The Trews [his online video show], carry on with writing stuff and then just feel it out, do whatever comes up.
Alan: Are you worried about burning your bridges with Hollywood? Would you go back there?
Russell: I've never felt more happy than I do at this time, I've never felt more connected to people. Being involved in campaigns to help people with their housing, helping people get reasonable pay and that, I really enjoy it - that don't mean that - I might turn in a TV - when I saw Jim Broadbent I thought 'oh wow I'd like to be in something with Jim Broadbent - it's not like, again I'm not saying I'm perfect, I'm just like, all I'm doing is the thing that I can do - if I write a book and people read it, that's a positive thing - I still wanna have a laugh. I don't know because I'm not putting myself forward as any sort of leader, I'm just a bloke from Essex who's being given a chance and what's to do something worthwhile with it, that's all.
Broadcast details
Date

Friday 28th November 2014

Time

10pm

Channel

Length

65 minutes
Cast & crew
Supporters and subscribers get more
Additional content and tools are available across the site for Supporters and BCG Pro subscribers. On this page you can:
Broadcast details of 3 further repeats of this episode
This episode's inital overnight ratings
Already a donor or Pro user? Sign in