Series 13, Episode 14 - Gemma Arterton, Brendan O'Carroll, Greg Davies, Tom Odell
Further details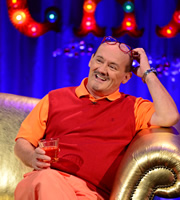 Brendan O'Carroll on winning at the British Comedy Awards...
Alan: So what did you do about your speech? Did you write one or just wing it?
Brendan: I winged it. It was a lovely night - it was weird because I wasn't expecting anything - we weren't nominated in any category. So it was weird, they came out and were talking about the Writers' Guild of Great Britain Award, and talking about the writer who'd won it, and I thought 'I like the sound of this guy whoever he is. Sounds like a nice guy - sounds like a stud' And then he said Brendan O'Carroll and it took the wind out of my sails. I had nothing prepared, I just got up and spoke from my heart and said 'listen, you're all a shower of wankers.' No I didn't, it was nice, it was really nice.
Alan: Have you ever used the drag in the bedroom to spice things up?
Brendan: No, but we often thought about it, me and Jen there going [puts on Mrs Brown voice] 'who's your mammy, who's your mammy, who's your mammy' [audience laugh] 'yeah, put your tights over there beside mine, love'. No, it'd be too weird - we can't even kiss! I often, I forget I'm in the gear, and I'll come off stage and say to her 'well done' and she'll say 'great show', and I go [moves in to kiss] and 'too weird, too weird'. She can live with Mrs Brown, and she can live with Brendan, but when I'm halfway - when there's no wig and I still have the bodysuit on, she'll go 'oh Jesus, no'.
On his wife being a contestant on Strictly Come Dancing...
Alan: How did she find it though, because they work them to death?
Brendan: It is really, really tough - it's the final shortly and the four couples that are left must be absolutely exhausted, because genuinely in the four weeks, she was just - it's 7 days a week, 24 hours a day - when you're not talking about it, you're texting about it, when you're not texting about it you're thinking about it, looking at the videos back to get your steps right, and you're still going out and Craig is telling you you're crap. I think it's a bit soul-destroying too, I remember probably the one that disappointed her the most was Darcey. Jenny did a dance one week and Darcey gave her - I can't remember how maybe points, 5 or 6 points - and in the following week Darcey said 'you can really see the work you've put in, the improvement you've made', and then gave her the same points again, and Jenny went 'well, what do I have to do?'. It's tough - it's competitive, more competitive than it looks.
Alan: Were you worried about the curse of Strictly? There's like people having sex in the disabled toilets, it's like Sodom and Gomorrah on that show!
Brendan: Maybe that's why she was coming home tired. No, no we weren't worried about the curse of Strictly, and I think the curse of Strictly, I think it's a myth, you know. The way I looked at it was - we talked about it beforehand - if your marriage is okay and you're okay there's no room for anybody else anyway so, you should be fine. We're getting divorced on Wednesday [audience laugh]
Alan: Now, there's been rumours in the press that this is it for Mrs Brown - are you going to jack it in?
Brendan: You must be kidding!
Alan: Are you saying that newspapers lie...?
Brendan: I don't think they necessarily lie, I think they might be misprint, and I think in the case of - what it was was, my son Danny was doing a charity function, and one of the papers called him about the celebrities that were doing it etcetera and during it they said 'so how's things going with Mrs Brown?' and he said 'oh we're finished with Mrs Brown', and so they ran with the story that Mrs Brown was over, but what he meant was we've just finished the Christmas specials, so they ran with that, and it's 30 phone calls from different people etc, and it's the BBC shitting themselves [audience laugh]. It was panic stations, but yeah I said, 'yeah, that's the kind of guy I am, I work years and years and years with Mrs Brown, and as soon as it takes off, I stop...' [smiles and takes a drink] so no, it's not, I'm going to milk this dry.
Broadcast details
Date

Friday 19th December 2014

Time

10pm

Channel

Length

70 minutes
Cast & crew
Supporters and subscribers get more
Additional content and tools are available across the site for Supporters and BCG Pro subscribers. On this page you can:
Broadcast details of another repeat
This episode's inital overnight ratings
Already a donor or Pro user? Sign in