American re-make for BBC police sitcom Feel The Force
American re-make for BBC police sitcom Feel The Force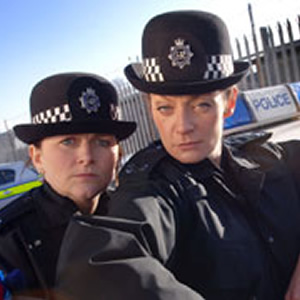 Feel The Force, a 2006 sitcom about a pair of incompetent female police officers working in Edinburgh is to be re-made for American audiences.
US industry website Deadline reports that Bill Lawrence, the producer behind shows including Cougar Town and the worldwide hit hospital-based sitcom Scrubs, is overseeing the project for the ABC network.
Lawrence, working as an Executive Producer for Doozer, his own production company label, is working on a pilot script of the show at the moment, transporting the action to an American setting. The Disney owned ABC network have signed up to a 'pilot commitment plus penalty' deal, meaning that if they will pay additional money if it doesn't go into production.
The UK version of Feel The Force, which aired on BBC Two in May 2006, was written by Georgia Pritchett, whose other credits include Smack The Pony, My Family and Life Of Riley. The show received lukewarm reviews, and was axed after its six-part run.
Michelle Gomez and Rosie Cavaliero starred in the show as Bobbins and Frank, two useless police officers described as "the Cagney & Lacey for the 21st century, but with worse hairstyles. Their intentions may be good, but they are too easily distracted, as well as being accident-prone."
The series was strikingly similar to 1990s sitcom hit The Detectives, which ran for 5 series on BBC One, starring Jasper Carrott and Robert Powell as incompetent Detective Constables Bob Louis and David Briggs.
Gomez is perhaps best known for playing Sue White in Green Wing, and was most recently seen as sadistic deputy-head Pickwell in Jack Whitehall's Bad Education. Cavaliero's CV includes shows such as Eyes Down and Jam & Jerusalem. Most recently Sky viewers will have seen her as Hesther in Hunderby and as demented councillor Paula in hit sitcom Spy.
There is no news yet on who will be cast in the American version of the show.
American TV is currently looking to British TV for a number of comedy format ideas. Other British comedy re-makes in development across the Atlantic at the moment include Spy, Gavin & Stacey, Misfits, Rev, Getting On, Only Fools And Horses and Whites. Additionally, this Friday a pilot episode of an American version of Have I Got News For You will be recorded in New York, and it has recently been announced that both Stephen Merchant (Story) and Rob Brydon (Story) are working on American sitcom projects.
Below is footage from Feel The Force:
Share this page