Jack Whitehall to star in Bad Education USA
Jack Whitehall to star in Bad Education USA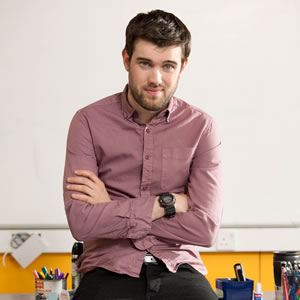 Bad Education, BBC Three's hit sitcom set in a failing school and focusing on a young teacher with many obvious shortcomings, is to be re-made in America.
It has been announced that the ABC network has ordered a pilot episode, with a view to make a full series of the show.
Jack Whitehall, who plays the central character of Alfie Wickers in the comedy, will also front the US version, which will go under the title An American Education.
Writing on Twitter, Whitehall commented: "gonna be all over Bad Ed US, there are great people involved and will do everything to not make it shit (we may fail in which case #awkward)"
In the new pilot, Alfie will be seen working in a school in Chicago alongside American teachers. The pilot will focus on how the young British teacher copes in the Chicago school system with his 'British eccentricities' and unconventional teaching methods.
The trial episode of An American Education will be filmed in Los Angeles in January. US writers Alex Gregory and Peter Huyck, who have previously worked on shows including Frasier and King Of The Hill, are helping to adapt the scripts. The project is being overseen by UK-based executive producer Ben Cavey from the production company Tiger Aspect.
Created by Jack Whitehall and Freddy Syborn, Bad Education is now a big hit in the UK. The show recently completed its second series, with episodes available on iPlayer a week before transmission. The move was deemed to be a success, with the BBC reporting a "phenomenal" 1.5 million iPlayer requests in the first seven days.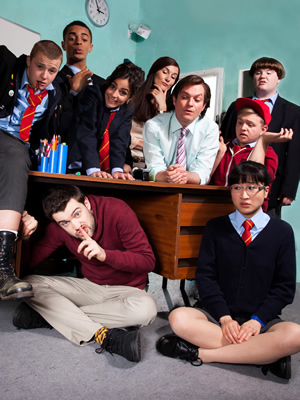 Meanwhile, the BBC Three original will continue. A Christmas special has already been filmed, and a third series is expected to be ordered for broadcast in the second half of 2014.
Responding on Twitter to a question asking "What happens to the UK one?", Jack Whitehall confirmed: "Even if they pick it up (chances of this are v[ery] tiny) would not mean the end of Bad Ed UK!"
Bad Education joins a long list of contemporary British sitcoms to get a US pilot. Other Britcom re-makes currently in development in the States include Cuckoo, Spy, Feel The Force and Sirens, whilst a full series of hospital-based comedy drama Getting On is due to start on HBO shortly.
In recent years an adaptation of The Office has become one of the USA's most popular comedies, but not all British re-makes are a success. Last month Fox axed production on a new version of Gavin & Stacey; MTV's take on The Inbetweeners was not renewed after its first season; and Kings Of Van Nuys, the re-make of Only Fools And Horses, has now been shelved by ABC.
Meanwhile, Episodes, a sitcom starring Matt Le Blanc, Stephen Mangan and Tamsin Greig based around the very topic of trying to re-make a British sitcom in America, is due to return to BBC Two for a third series shortly.
It is a busy time for Jack Whitehall. The comedian is currently starring in the third series of Fresh Meat, plus has a book to promote and will shortly star in Backchat, a BBC Three comedy format in which he and his father interview celebrities together.
Below is the trailer that was used to promote the second series of Bad Education:
And here is Whitehall appearing as JP in Fresh Meat. The series continues on Monday:
Share this page