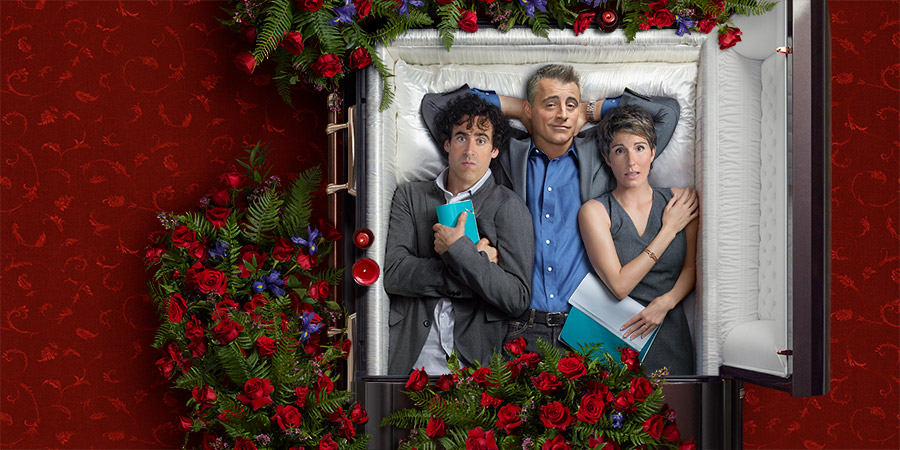 Genre

Sitcom

Broadcast

Channel

Episodes

Starring

Matt LeBlanc, Tamsin Greig, Stephen Mangan, Kathleen Rose Perkins, John Pankow, Mircea Monroe, Daisy Haggard, Joseph May and others

Writers

Directors

Producers
Episodes is the story of a married English couple, Sean and Beverly Lincoln, who also happen to be successful writer-creators of hit sitcom Lyman's Boys. At an awards ceremony in London they are wooed by a hugely powerful and charismatic US network executive who persuades them to move out to LA and remake their hit show for an American audience.
Things begin to unravel at Sean and Beverly's first studio meeting. It soon becomes clear that the network president has never even seen their show. To make matters worse, he insists on sweeping changes including the replacement of lead actor and erudite Royal Shakespeare veteran Richard Griffiths, with Friends star Matt LeBlanc. The intelligent Lyman's Boys is becoming Pucks!.
Sean and Beverly are appalled at the changes, and especially the casting of LeBlanc, but the decision is out of their hands. Matt comes on board and they find themselves in a complicated triangle, which threatens to destroy not just their TV show but also their marriage.
By the end of the first series, all three are bloodied and bruised, with hearts broken and friendships ruined: inevitably, it's at that point that the network tells them that they're ordering a full series, and the three know they'll be forced to work together despite the complete mess they've made of their lives.
The second series picks up four months after the end of the first. Sean and Beverly's marriage has been blown apart by Beverly's fling with Matt, and Matt's friendship with Sean appears to be beyond salvage. But Pucks! hasn't even yet premiered, and the road ahead is long.
As the series progresses, we are plunged deeper into the twisted world of making television. It's a portrait gallery of megalomaniac network executives, surgically-enhanced actresses and naked stalkers who appear unexpectedly in your kitchen.
Through it all, Sean and Beverly struggle to rediscover the love they had when they started their American adventure, while Matt struggles to reclaim the stardom that was once his.
Series 3 starts immediately after we last saw Sean, Beverly and Matt. Whilst the couple are back together, they soon discover that it's not so easy to heal old wounds, especially when additional secrets are revealed about their time apart. Meanwhile, Matt is now seeing Merc's wife, and Merc himself is out of a job and back to pitching shows as a freelancer. Carol's hoping to take over the network, whilst Matt finds himself desperate to be rid of Pucks! and move onto an exciting NBC drama pilot...
In Series 4, Matt faces a financial crisis and is forced to make some tough decisions. Matt being Matt, he will likely make the wrong ones.
Meanwhile, Sean and Beverly have been dragged back to LA to shoot more episodes of their disastrous sitcom Pucks!, and their other project, The Opposite of Us, refuses to go away. And there's a new head of the network who will, in all likelihood, make life more complicated for everyone.
Fortunes are lost, hearts are broken, egos are crushed, careers are ruined, sex tapes are revealed, and large amounts of alcohol are consumed. Just another day in Hollywood.