Series 2, Episode 4 - Super Mammy
Agnes is feeling self-conscious about her weight after some less-than-flattering comments from her family. She decides to go on a diet but struggles to keep her resolve when she sees her favourite foods.
Further details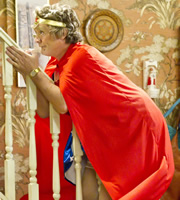 Rory meanwhile is in good spirits after securing a promotion as manager of the local hair salon. However he is immediately thrown in the deep end when he has to deal with a major staff incident. And as if that wasn't stressful enough, boyfriend Dino is in a foul mood with him after being overlooked for the job.
Broadcast details
Date

Monday 23rd January 2012

Time

9:30pm

Channel

Length

30 minutes
Repeats
Saturday 23rd March 2019 at 11:00pm on Gold
Sunday 24th March 2019 at 9:00pm on Gold
View more broadcast data
This content is exclusive to
BCG Pro subscribers
and
BCG Supporters
. Join them and get extra features including this episode's audience figures and further repeats data.
Already a donor or subscriber?
Sign in
Cast & crew
View related press