Series 2, Episode 3 - iMammy (Batteries Not Included)
With Dermot and Maria's baby due very soon, Agnes is excited about the prospect of having a new Brown in the house.
Further details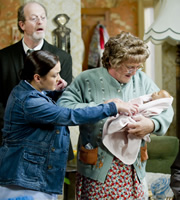 In the meantime Anges has to make do with the robot baby which the expectant couple have been given to practise with at their pre-natal classes.
Unfortunately, the new addition to the family keeps crying and disturbs everyone at night. Agnes kindly offers to babysit the robot baby and seems to have the magic touch, but her methods are not exactly orthodox...
Meanwhile, Cathy is feeling down about her love life. However, there's a new man on the horizon: her psychology lecturer Professor Clowne. Agnes is suspicious that a lecturer would want to hang around with one of his students and questions Clowne's intentions. But in fact the Professor seems more interested in studying Agnes for his new book than he does in spending time with Cathy.
Broadcast details
Date

Monday 16th January 2012

Time

9:30pm

Channel

Length

30 minutes
Repeats
Friday 22nd March 2019 at 10:40pm on Gold
Saturday 23rd March 2019 at 10:20pm on Gold
View more broadcast data
This content is exclusive to
BCG Pro subscribers
and
BCG Supporters
. Join them and get extra features including this episode's audience figures and further repeats data.
Already a donor or subscriber?
Sign in
Cast & crew
Videos
View related press