Bless This House
Sid James - say his name and you'll likely be instantly transported to the world of Carry On, where his unmistakable laugh punctuated the innuendo-filled sauce fests that were such an icon of the sixties and seventies. Yet, to just consider him, as so many do, as the wise-cracking face of the Carry On troupe would be doing him a disservice in overlooking his vast body of work away from Carry On, as the star of some of the UK's finest sitcoms.
Arriving in Britain in 1946, Sid first came to prominence in the 1951 Ealing classic The Lavender Hill Mob, alongside stars Alec Guinness and Stanley Holloway. But his real breakout role came in the BBC radio landmark Hancock's Half Hour, as Hancock's mischievous (and devious) friend and con-man in a series that many cite as having created the great British sitcom as we know it.
Of course, Hancock's Half Hour's legacy really belongs to the legend Tony Hancock himself, along with series writers Ray Galton and Alan Simpson. However, no small amount of that success must also be attributed to Sid James. By the time Hancock's Half Hour transferred to television in 1956, Tony had become all too aware that Sid's personable man-on-the-street patter was becoming popular; fearing that he might be turning into more of a straight man, he famously insisted on the sacking of his friend, going solo in the final series, entitled simply Hancock. This move saw the trio produce some of the most iconic episodes, such as The Blood Donor, whilst The Bowmans featured an early and particularly prominent example of parody, as Hancock satirised The Archers. Tony and Sid had recorded over one-hundred episodes of Hancock's Half Hour together, setting the sitcom standard for generations to come, but their comedy union ceased in 1959.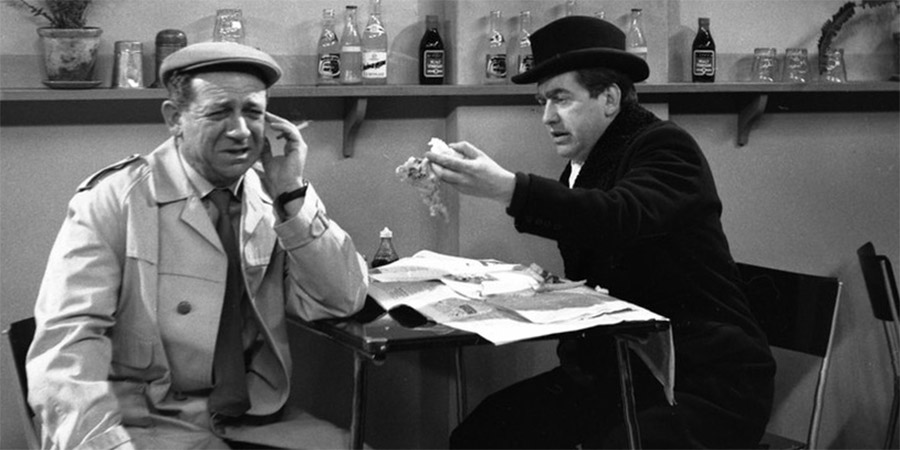 In-between James's myriad of film roles, Galton & Simpson created a new series especially for the growing star: Citizen James, with the eponymous character barely a cigarette paper away from the wheeler-dealer of Hancock's Half Hour. Debuting in 1960 it ran for three series, of which only eleven episodes survive today - the habit of wiping tapes was sadly prevalent throughout the era, when 2-inch quadruplex videotape on which television programmes were recorded, was expensive and impractical to store. As a result, many episodes of Citizen James, like Hancock's Half Hour before it, remain lost to time.
As the burgeoning success of the Carry On films (1958 - 1992) saw Sid's popularity equally boom across the following decade, he came to star in a variety of other television comedies, usually - as was common with comics in those days - playing characters sharing his first (if not second) name. In 1963 there was Taxi! for the BBC, but a move to ITV a few years later would see him united with new writing talent Harry Driver and Vince Powell for the first of three smash-hit sitcoms that would see Sid through until his untimely death in the mid-70s.
The first, George And The Dragon, debuted in 1966 and saw Sid playing chauffeur alongside housekeeper Peggy Mount and gardener Keith Marsh in the household of John Le Mesurier's Colonel Maynard. Their second, Two In Clover, put Sid alongside Victor Spinetti in a back-to-the-earth situation that predates the much more famous The Good Life by some six years; but their third would become the most iconic of them all.
That final series, only ending with Sid's 1976 demise, is the one that truly showcases Sid James at his best: 1971's Bless This House. It saw him playing the archetypal everyman, a husband and father, and travelling stationery salesman, named - well, what else but Sid?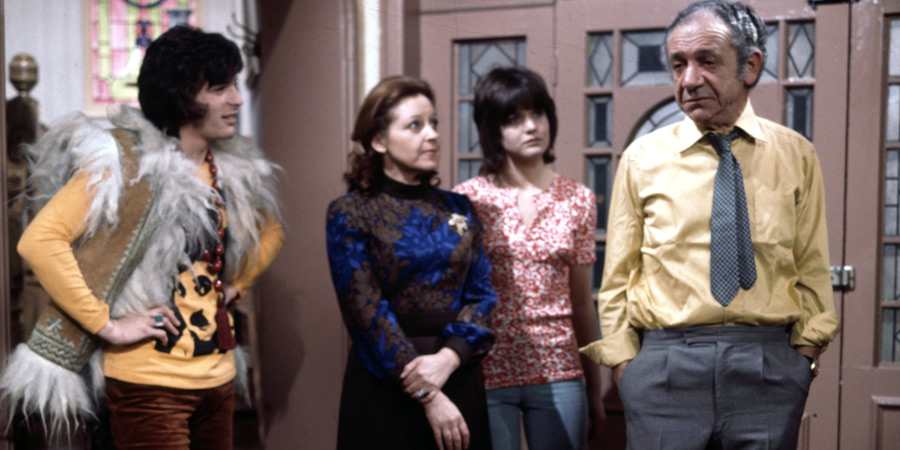 Bless This House is perhaps the collective spine of the traditional domestic sitcom - a setting often sneered at, and frequently passed over by critics. Yet, throughout the years, it is one that has proves time and time again to be immensely popular with viewers, offering a recognisable set of circumstances from which the comic situations can grow. Almost certainly, it is the sitcom set-up with the most longevity: in relatively recent history, 2000s sitcom My Family ran for well over one hundred episodes, whilst 90s fixture 2point4 Children continued for fifty-six episodes across nine years.
Bless This House, however, managed to notch up seventy-two episodes and a feature-film spin-off - a huge feat given its comparatively short five year run. As is custom with a sitcom such as this, every episode was filmed in front of a live studio audience, in this case at Thame Television's now sadly demolished Teddington Studios base.
Sally Geeson, Sid's on-screen daughter Sally, remembers: "We'd all be introduced at the start. Every time Sid was announced, you felt the roof was going to come off the studio, people were cheering so much. Everybody loved and identified with him, especially in Bless This House where he was this dad and husband character."
It was the fundamental likeability of Sid James that carried the show, playing the often-cantankerous dad running around after his family (in fact most of the time they're running around after him, as he attempts to sneak off down the pub). Diana Coupland co-starred as his long-suffering wife, Jean (who always managed to see through Sid's absurd get-rich-quick schemes, which inevitably ended in disaster), with their two children, Mike and Sally, played by Robin Stewart and Geeson. The two offspring provide the focus of many of Sid's consternations and bewilderment at the ever-changing world around him: it's all bell-bottom jeans and flower power; and whilst many concerns of 70s teenagers have dated, their climate change fears feel strangely prescient.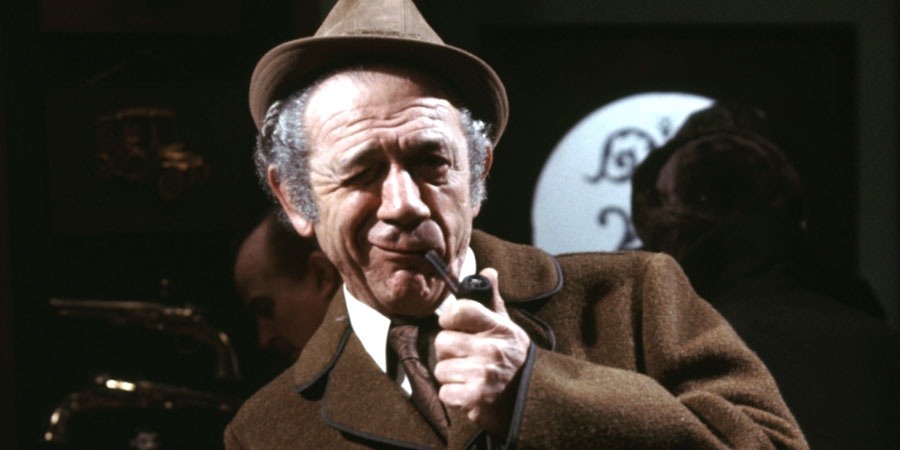 What Sid James brings to the proceedings is a timeless quality of almost unrivalled natural skill in comedic performance. His ability to enhance the delivery of a fairly simplistic gag is rarely matched today, and his array of facial reactions are exquisitely expressive, often providing a good number of laughs on their own. The series is warm, naturally funny - and nostalgic for a bygone era - in a manner that can still provide much-needed escapism from the modern world.
The series' - and indeed, Sid's - bankability was proven in 1972 when, barely a year after its ITV debut, Sid, Diana and Sally starred in a film spin-off, made by his Carry On bosses of producer/director team Peter Rogers and Gerald Thomas. Recasting a number of other roles, it also capitalised on the popularity of a BBC on-screen couple, Terry Scott and June Whitfield, then starring in Scott's thematic sketch show Scott On... (it would not be for another two years they began their own domestic sitcom journey with Happy Ever After, later reborn as the much more famous Terry & June).
By all accounts, Sid James adored making Bless This House. Playing to a crowd and entertaining people was something he thrived on. Clocking up that impressive run of episodes, thanks to a talented pool of writers that also included Carla Lane and Myra Taylor (The Liver Birds) and Johnnie Mortimer and Brian Cooke (Man About The House), there was a feeling that the series could have continued for years to come. Sid had cheerfully remarked to Diana Coupland: "We'll keep making this until one of us kicks the bucket" - sadly, that was the case.
Plans had been in place for at least another two series of Bless This House, along with a second feature film, when Sid James tragically passed away, aged just 62. He was on stage at the Sunderland Empire in a touring production of The Mating Season when he suffered a fatal heart attack in April 1976, just four days after the final episode of Series 6 had broadcast.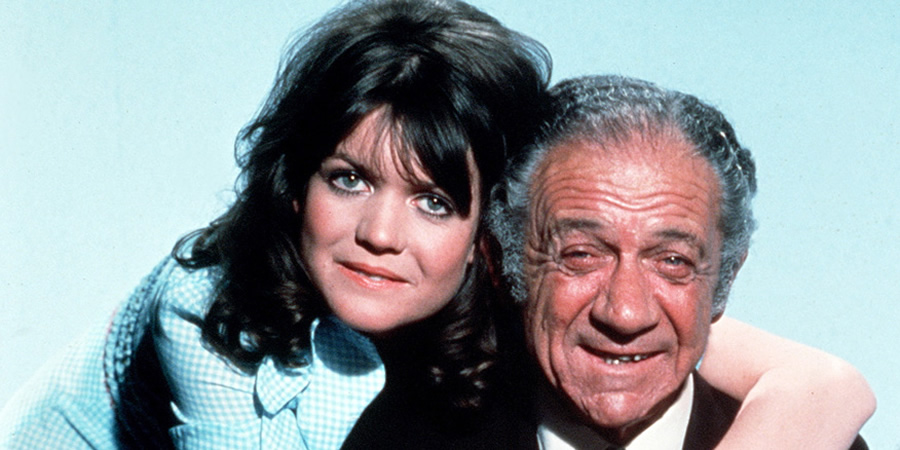 Sally Geeson, who also appeared with Sid in several Carry On films, remembers her time working with him fondly:
"I first met Sid at Thames Television - the place we called the fun factory, because it was such a blast - when producer and director, William G Stewart introduced us to talk about a new TV series he was planning called Bless This House. I was expecting to meet this Carry On character. But Sid was the loveliest, sweetest man. He just stood up and said, 'Hello, Sal', and straight away we had a rapport that we knew would work.
"He knew his craft so well and had this incredible ability to make it look completely natural, but it was seriously practised. He was a lot like Norman Wisdom in that way, who I worked with in the early days - a slick, professional performer, but a real natural clown."
Fifty years on, Bless This House enjoys regular repeats on ITV3, something the cast could never have envisaged at the time. It is a series that continues to entertain audiences as Sid James's signature laugh rings down the years - a fitting legacy for one of British comedy's most recognisable faces.
Where to start?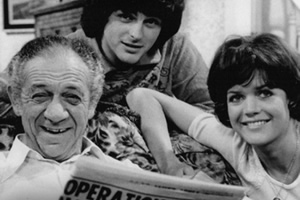 Series 5, Episode 1 - They Don't Write Songs Like That Anymore
When Sid hears about a three grand cash prize in a song-writing contest, he immediately sets about buying a piano and getting to work, the big problem is ... his efforts are somewhat ... lacking.