Series 9, Episode 3
Mimi worries that she can't be everything that Billy needs so proposes an open marriage which he reluctantly accepts.
Full synopsis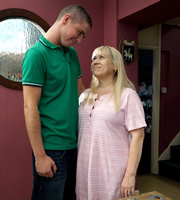 Mimi and Billy are settling into married life but the elephant in the room still remains: Mimi is 30 years older than her man-child husband and worries she can't be everything he needs. In her wisdom, Mimi decides if she wants to keep her man, she needs to set him free and proposes an open marriage. Billy is initially reluctant, but agrees - on condition it's something they both do. While Mimi and Gloria go out on the pull, Shane is forcibly enlisted to take his stepfather (Billy) out to get him laid. It's a risky strategy, as they look to seduce others in order to stay in love together.
In the wake of losing her baby, Kelly deals with it in the only way she knows how - she puts on her face, hikes up her skirt, steps into her heels and grabs the world by the knackers. She becomes good-time Kelly and gets hedonistic in a major way. And in truth, it's a laugh - getting drunk, getting into trouble. Whilst everyone else thinks she's doing great and getting over it, Marty is worried; Kelly refuses to grieve and is spinning out of control.
At a funeral, Patty finds herself under scrutiny from the deceased's son, Alan. Desperate for information about the mother he never knew, and believing her to be an old friend, Alan latches onto Patty. Patty tries to deflect his constant questioning until she learns of Alan's inheritance. Sniffing an opportunity, Patty quickly regrets exploiting Alan's grief when he reveals a darker side to his personality. But then - perhaps Patty hasn't been entirely up-front with him either. The truth will out.
Broadcast details
Date

Tuesday 17th January 2012

Time

10pm

Channel

Length

60 minutes
Repeats
Monday 23rd January 2012 at 11:10pm on C4
Friday 27th April 2012 at 10:45pm on E4
Cast & crew