Series 9, Episode 2
Carl arrives back on the Chatsworth as a qualified policeman, but not everyone welcomes him back with open arms. Jackson is fingered for falsely claiming benefits, resulting in the withdrawal of his teaching job, and his marriage is thrown into chaos.
Full synopsis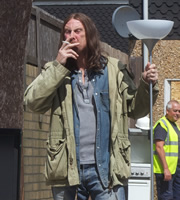 War has been declared between the Chatsworth and Operation New Start but with each eviction, and as more and more houses are boarded up, the estate quickly looks neglected and deserted; Carmen has the upper hand and hope is fading fast. Refugees give up and move on in increasing numbers - the Chatsworth is dying.
Desperate, the residents engineer a plan of action, scratching away at the facade of Operation New Start to discover the shocking real objective behind their presence. Using this information to their advantage, the Chatsworth troops mobilise and the fight back for the estate begins in earnest. But for Carmen, failure is not an option, and the conflict comes to the boil as she prepares to take the law into her own hands to bring down the Chatsworth.
Marty struggles with the notion of becoming a father again, whilst pregnant Kelly visits one of her oldest and most regular punters in the hospital. Bob the chiropodist is out cold and in a coma, but still able to "salute" Kelly when she enters the room. As an act of tenderness, Kelly employs a unique bedside manner and makes it her duty to visit Bob every day. Opening up about her future, Kelly confides to Bob the hopes she's never told anyone before - even Marty. Especially Marty. And when Bob's wife arrives, the two women strike up an unlikely friendship - though, it seems, hospital is no place for a pregnant woman.
Meanwhile, Frank makes it clear that Carl is no longer a son of his, and with evictions and convictions continuing, everyone on the Chatsworth is expected to play a part in resistance tactics to avoid more evictions, including Carl. Can Carl Gallagher really become a policeman?
Elsewhere, a confused Gloria tries to remember who took advantage of her in the snug...
Broadcast details
Date

Tuesday 10th January 2012

Time

10pm

Channel

Length

75 minutes
Repeats
Tuesday 17th January 2012 at 12:30am on C4
Friday 20th April 2012 at 11:50pm on E4
Cast & crew