Sky orders 'three generations under one roof' family sitcom
Sky orders 'three generations under one roof' family sitcom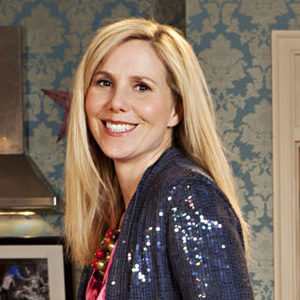 Sky1 has ordered a new six-part sitcom called Parents which will focus on three generations of a family living under one roof.
The single-camera sitcom, which will begin filming at the end of January, follows a middle-aged couple with two teenagers who lose their jobs and have to sell their home and move the family in with one of their sets of parents.
Sally Phillips (pictured) - known for her roles in Smack The Pony, I'm Alan Partridge, Green Wing, Jam & Jerusalem and - most recently - as Tilly in Miranda - has signed up to play the mother, and Darren Strange, who appeared in The Armando Iannucci Shows, will take on the role of the father. Veteran actors Tom Conti (Friends) and Susie Blake (Mrs Brown's Boys, Milton Jones's House Of Rooms) will play the put-upon grandparents.
The comedy has been written by Lloyd Woolf, perhaps best known for being part of the sketch group Cowards, alongside Joe Tucker. This commission means that all four members of Cowards have now written a sitcom: Tim Key created All Bar Luke; Tom Basden has written shows including Radio 4 comedy Party; and Stefan Golaszewski is behind BBC Three's top rating show Him & Her.
Sky say: "Each episode of Parents will focus on a different family member and will be made up of 2-3 different plots. It will move swiftly between the precincts of work, home and school, and use cut-away gags to create a fast paced style. Parents has potential to be larger than life, using occasional surreal jokes, particularly in the cut-away scenes. It is co-written by Cowards member Lloyd Woolf, so as well as appealing to a similar broad family audience as Modern Family, it will be appreciated by comedy aficionados and fans of cult comedy shows."
The programme is being made by Objective Productions, the production company behind hit scripted formats including Peep Show and Fresh Meat.
The sitcom has been commissioned by Lucy Lumsden, Sky's Head Of Comedy. She said: "We've been on the hunt for comedies about family life for Sky1 and feel we have found it with Parents. We're very excited about the cast we've managed to attract and can't wait to start production."
Sky is planning to broadcast Parents in May.
This commission is the latest in a long line of new comedy shows coming from the subscription broadcaster, as it invests multi-millions in finding new British comedy hits. Other series to launch on the satellite channel soon include school-run sitcom Gates; another family-based sitcom called Starlings, and a spoof detective series from Charlie Brooker called A Touch Of Cloth.
Many of Sky's scripted comedies from 2011 are also set to return this year, with more episodes of supermarket sitcom Trollied, MI5 comedy Spy and frothy comedy drama Mount Pleasant all in production.
Share this page