In The Meantime
By: Ciaran Murtagh & Andrew Jones
Sitcom Mission 2011 finalist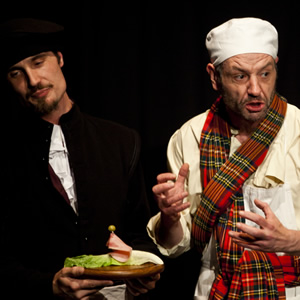 Sitcom Mission 2011 finalist
The year is 1498. The Spanish have discovered America, and now the English want to discover it too. Unfortunately, no-one in the fleet knows exactly where this new continent is...
Step forward the ramshackle crew of HMS Lillyliver - England's most expendable ship! Sent from Deptford with strict instructions to either return with a cargo hold of baccy or not return at all it's going to be a long, long trip.
Captained by an imbecile, sailing to the ends of the earth and bored out of their skulls, this is what happens to them In the Meantime...
Credits
| Cast | | Character |
| --- | --- | --- |
| Dave Roberts | ... | Mr Cheddar |
| Stephen Harvey | ... | Horatio |
| Lee Ranns | ... | Lionel |
| James Sutherland | ... | Hamish |
Ciaran Murtagh & Andrew Jones
Ciaran Murtagh and Andrew Jones are writers and performers who work under the name The Black Sheep. They studied at the BBC College of Comedy under Micheal Jacob, are members of the Soho Theatre's Comedy Project and regularly work with Cal McCrystal to create stage shows that have enjoyed sell out runs in the West End, in Edinburgh and on tour across the UK.
Recent TV writing work includes: The Legend of Dick and Dom, Hotel Trubble, The Slammer, Scoop, Planet Ajay, Mr Bloom's Nursery, The Four O'Clock Club and Casper's Scare School.
For radio they have contributed to Loose Ends, Recorded For Training Purposes, Newsjack, The Milk Run and Bearded Ladies.
They also created the stage shows The Joy of Wine, I, Lear, Ubersausage, The Joy of Politics and Professor Bumm's Story Machine.
As performers they are graduates of The Central School of Speech and Drama and, in addition to their own work, have appeared in four series of The Slammer. Their work has won numerous awards including a Time Out Critic's Choice, a Buxton Fringe Best Comedy Award, Norfolk and Norwich Festival Children's Choice Award and multiple Hairline Highlight Awards.
Find out more at www.blacksheepcomedy.co.uk
Jamie Harper (Director)
Jamie Harper trained at LAMDA. Directing credits include Invasion! (Tooting Arts Club), Our Town (Rose Theatre, Kingston), Beyond the Pale (Southwark Playhouse), A Real Humane Person Who Cares and All That (Arcola), Invisible Storms (Cock Tavern), The Six-Days World (Finborough), The Things Good Men Do (Lyric Hammersmith), A Lie of the Mind (BAC), and Left (BBC Radio 4). Awards include the National Theatre Cohen Bursary and the JMK Directors' Award.
Note
2011 Finalist.