Your Script: Written, Improved and Performed in 6 Weeks!
Since 2010 Sitcom Mission has produced an international sitcom writing competition. Our main focus has always been on what we do best - script development. And so that we can help even more people to take their writing to the next level we now offer our 'level 2' course for writers who have already written one or more 15 minute sitcoms!
Here's your chance to complete new episodes, rework current episodes, and have a plan for what to do with your script once you've finished in a little over a month! ALSO you'll have your script performed LIVE over zoom by actors!
How good will it feel to have those goals checked off your list in just a few weeks? Not only that but you'll finally be able to have your work performed at performance speed with high quality delivery from professional actors and get their feedback on particular characters. It's really easy for us as writers to brush over an underdeveloped character, but an actor being asked to play this will spot it and be able to give answers to any questions. You'll get to hear your script how it's supposed to sound - something that's usually reserved for competitions. AND not only that. You can finally let your mind relax in terms of your next steps for your sitcom, because you'll have a clear plan at each stage of your scripts development and a plan for delivery of that script to those in the industry.
Who is this for?
We built this course for aspiring comedy writers facing these challenges:
😤Struggling to Finish Your Sitcom
Are you stuck in front of a blank screen, unsure of where to start or how to make progress? In our 6-week course we'll provide step-by-step guidance, tools, and accountability to help you complete your sitcom script with confidence.

👊 Uncertain About Your Script's Impact
Worried that your jokes will fall flat and your story lacks resonance? Benefit from seasoned actors bringing your script to life and expert feedback that enhances your script's comedy and characters. Gain insights into its strengths, elevate your story's stakes and amplify its comedic impact.

👋 Frustrated with not getting noticed
Tired of struggling to gain industry recognition for your hard work? Our program not only equips you with techniques to get your writing noticed but also connects you with a supportive community of actors and writers for ongoing growth.
🧭 Lacking Direction for Your Writing Career
Unsure of what steps to take after finishing your script? Our course includes proven methods for navigating the industry, making connections, and advancing your writing career, giving you a clear path to follow
If you're a writer who wants to stop PROCRASTINATING, letting writing one episode drag out over months and make the TIME you have AVAILABLE work for you... Or you know that if you just got some good quality FEEDBACK you'd get the energy and inspiration to complete that episode...
Ultimately if you're tired of letting these goals just drift out over the year and you want to make some big progress, QUICKLY without a huge time commitment then we can help you do that with this course.
We've carefully developed this course to include:
🔧 Tools to help you develop all aspects of your idea
☁️ Concepts to break through mental blocks
📺 Classic & current sitcom examples
🗣️ In class activities & feedback
📜 Key information documents to come back to again and again
🏋️ Manageable exercises to work on at home
🥳 All leading to your finished sitcom script.
And here's some feedback from a recent cohort:
"I just wanted to let you know that the course is absolutely brilliant and already exceeded my expectations. In the first hour, I got so much value that it was worth the money…I got clarity on my first 4 characters just in one session. I'm very grateful for it."
There are a lot of books & interviews on comedy and sitcom writing out there (we've read most of them), but we've found every time the quickest way to get your sitcom written is consistent, short guided bursts with a group of people all trying to do the same thing.
As a result, this course is made up of 6 x 2.5 hour group classes on Wednesday nights 6.30pm - 9.00pm.
AND to ensure that we can help people all around the country and even outside of the UK we host these classes on Zoom! Hopefully this makes writing your sitcom even more effortless.
Over the 6 weeks we cover:
Week 1: Characters
Checking the foundations of your sitcom in terms of character. Working on and analysing attendees individual scripts. (e.g.) Making sure you have a solid character mix and characters have clear Gross Comic Perspectives. Introducing your characters.
Week 2: Keeping it funny and Ideas for your episode
Looking at different styles of sitcom episode. How we can transpose that into our own sitcom or tweak a current episode based on this structure. A chance to explore new ways of writing through exercises. Hearing it out loud and feedback. The set up/turning point of your episode.
Week 3: Structure & Keeping the story on track
Getting used to quickly plotting the beats of an episode. Clarity on the storyline of your episode. Structuring tools for A plots and B/C plots. Discuss and progress the next scene in your episode.
Week 4: Improving your episode
Looking at attendees scripts. Working on specific improvements and things that everybody can be looking out for. How to apply that to an episode you want to improve. Or how to plan ahead for the new episode you're working on. Read out the changes and see the improvements.
Week 5: Treatments & Getting Your Work Out There
What to do once you're happy with an episode. Based on conversations with production companies, producers, script developers, writers and commissioners. A system that you can follow. WITH examples of others successes that you can work from. Ways of getting your work performed. What's needed for a treatment.
Week 6: Your Script Read Live over zoom
Professional actors reading your script. Feedback from myself, the actors and other attendees. A chance to hear your script out loud, make notes and see what it's really like at performance speed. A recording of the session for you to keep and work from.
How do I know I'll end up with a sitcom?
We break down this process into simple manageable activities, progressing your sitcom a little bit further each week and give you tools to break out of any procrastination or unhelpful thoughts that have stopped you in the past. Lawrence is also on the class Slack group an will be available to offer additional support to ensure you get it done.
How long will it take?
A little over a month. We find that consistently meeting up online, being given simple tasks and all working towards the same goal is often the perfect way to get out of your head and finally get your ideas into a finished script. In 6 weeks time your script will be ready!
What's expected of me?
Very little when you think about it - the key thing is that we'll be there guiding you with short focused tasks. Every week, for the first 4 weeks, there'll be a 30 minute or so activity to complete after the class, exploring some of the tools that you've learned and progressing your script.
After week 5 you'll be ready to tweak and finalise those 15 pages of your script. 15 (formatted) pages really isn't much at all. Usually the hardest thing is cutting it down! It will likely take a bit longer than 30 minutes to bring it all together, but you'll have 7 days and will be adding to your script in the weeks running up to it.
Who's teaching the course?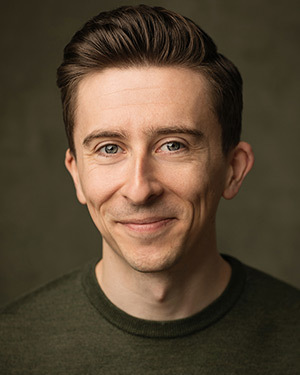 Lawrence Russell - Co-producer of Sitcom Mission competition
Lawrence is an actor/writer with credits including (Mood, BBC; Trying, Apple TV; The People We Hate At The Wedding, Amazon Prime; Luther: The Fallen Sun, Netflix). He has also adapted classic comedies for comedy dinner shows and toured his own comedy around the UK to No. 2 Theatre Venues. Currently, he's working on a series of shorts with lead writers from Fraggle Rock and Bob The Builder.
Lawrence has spent years working with and learning from Sitcom Mission co-producer Simon Wright to produce the Sitcom Mission course. With Simon's 10,000 scripts worth of experience and the hundreds of scripts Lawrence has personally read and given feedback on, there's a lot we're looking forward to sharing with you.
This course is for you if you:
Have written a sitcom before
Have an idea but haven't pieced it together
Want to rework a current idea
Have written sitcoms before but have a new idea
Have written your sitcom but want to explore new episodes
This course is not for you if you:
have never written a sitcom script before.