Thursday 29th June 2023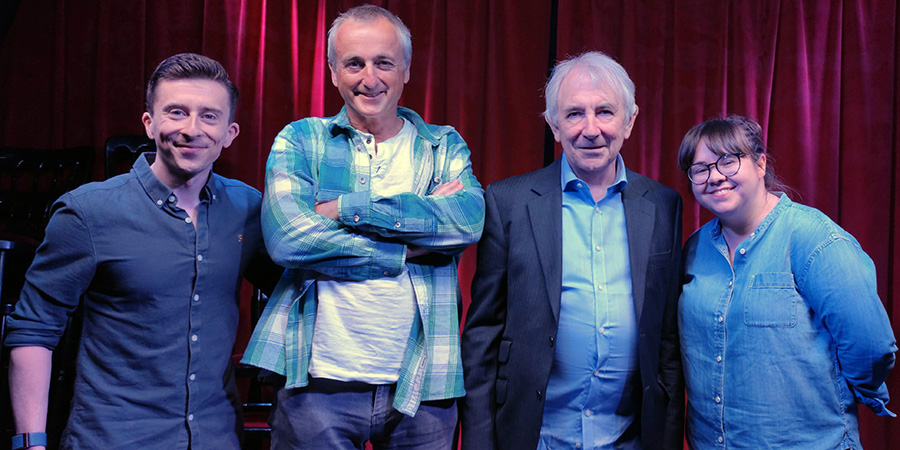 William Vandyck sitcom Cole's Law has been selected as the winner of our 2023 competition.
We showcased the four scripts shortlisted in this year's competition with a team of actors at the Museum Of Comedy yesterday afternoon (28th June), and - following that - the judges have picked Cole's Law as the winner.
Cole's Law is a sitcom about two barristers who take on cases at a weekly pro-bono legal evening in a pub: "Asha is an ambitious social crusader; Robert is not those things. And frankly Terry the barman is a crook."
William Vandyck's writing credits include a Radio 4 sketch show And Now, In Colour that won a New York Radio Festivals Silver Award, and a TV sketch show, It's A Mad World World World World. His sitcom script was one of four winners of Pozzitive Productions' Funnydotcomp in 2022.
His biography explains: "He has also written children's books (Amazon reviews include, 'Slight, but quite funny') and was 'Man At Till' in a Mr Bean episode. He has mainly been a barrister, however, starting out with small cases and pro-bono work. Leaving the bar to focus on writing, his new creativity is fully on show in his sitcom Cole's Law, about barristers starting out with small cases and pro-bono work."
He says: "Sitcom Mission is a fantastic competition and I'd recommend it to any writer trying to develop a sitcom and get it seen in the industry. I think wannabe sitcom writers like me have a concern that there's some comps and note-givers out there who are rather preying on our hopes and position at the very bottom of the food chain, taking a fee but not giving much substantial back.
"Even though this competition has hundreds of entries Simon and Lawrence give supportive but focussed and challenging notes along the way for anyone who wants that. In my case certainly they made for a better script before the judging stage. Then if you get that far there's the public showcase where you get to see what works with real actors in front of real people - I made a few more changes after that. And then the industry showcase where real producers turn up to watch and judge. I'm delighted to have won of course but I think that last bit was the real prize for all of us who made it to the final. As I say: a hard recommend."
The other scripts at the showcase were NHS-set radio sitcom Please, Take A Seat by Tom Worsley, advertising-based Marketing 101 by Kalum Wilson, and high-octane taxi comedy Top Gut by Tom Critch.
Meanwhile Chloe Page's Ladies and Cerys Lockwood-Farnaby Is Online by Matt Harrison were longlisted and appeared at our public showcase earlier in the month at the Canal Café.
As Teresa (the third Sitcom Mission wheel) said after the show: 'on a different day it could have gone another way.' Which is what we want, of course. We had four strong, very different scripts and any of them could have won.
We're proud of what we do at Sitcom Mission. It's time-consuming giving feedbacks, hiring theatres and actors, getting industry in etc, but it's clear that the end justifies the means.
Far too many entries this year that didn't make it were making basic mistakes like having no plot, or a thin or predictable plot. We suggest that you watch the Steve Speirs interview on BCG Pro in which he talks about plotting. It will seriously strengthen your chances of being one of our finalists next year. Or if you'd like some help directly from us, get in touch for year round feedback or sign up to one of our courses. We look forward to seeing more of your sitcoms. Keep writing!