Series 3, Episode 1 - I'm Excited Too!
Jamie & Laura are finally a couple, but Laura is already having cold feet. Meanwhile Beth and Mike are trying to deal with the aftermath of their night together. Sandra and Keith are facing eviction, and Alan and Janet are talking divorce.
Further details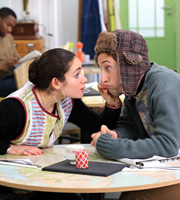 Jamie & Laura are finally a couple, but Laura is already having commitment issues. She's also caught in the cross fire of her parents' impending divorce. Janet's still in NY, and Alan has put the family home up for sale.
Jamie is having domestic problems too; Sandra and Keith have fallen behind with their mortgage payments and are being evicted. When they are forced to move into a static caravan park, Jamie decides to drop out of school and get a job to provide for his family.
Meanwhile, Mike and Beth are acting awkwardly with each other after their night together. Mike wants to 'hook up' again and is desperate to tell Jamie he's finally lost his virginity, but a mortified Beth wishes it had never happened and swears Mike to secrecy.
Broadcast details
Date

Tuesday 25th February 2014

Time

10pm

Channel

Length

30 minutes
Repeats
View more broadcast data
This content is exclusive to
BCG Pro subscribers
and
BCG Supporters
. Join them and get extra features including this episode's audience figures and further repeats data.
Already a donor or subscriber?
Sign in
Cast & crew
View related press