Series 1, Episode 2 - Pregnant Rapist
Laura is in shock, having discovered that Jamie is only 16 years old, and refuses to speak to him. Jamie feels that Laura is not taking him seriously and decides the only way to get her attention is to propose.
Full synopsis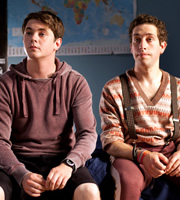 Laura is refusing to speak to Jamie, but encouraged by her best friend Danielle, she decides to book an appointment to find out what her options are in regards to her pregnancy before she makes any decisions. However this is proving difficult since her parents, as part of their marriage counselling 'homework', surprise her with a pre-university shopping trip in an attempt to bond the family.
Meanwhile Jamie, hurt that Laura's isn't taking him seriously, decides to propose. If he's seen to do 'the right thing', she can't ignore him, right? Mike's all for the plan, but Beth's dead against it.
All Jamie needs to do now is find a suitable engagement ring and the right moment to propose. That moment is more eventful that he'd hoped and Laura's decision becomes harder and harder to make.
Broadcast details
Date

Thursday 1st March 2012

Time

9pm

Channel

Length

30 minutes
Repeats
Friday 2nd March 2012 at 12:30am on BBC3
Sunday 4th March 2012 at 1:30am on BBC3
Sunday 4th March 2012 at 5:00am on BBC3
Sunday 4th March 2012 at 10:00pm on BBC3
Monday 5th March 2012 at 3:30am on BBC3
Tuesday 6th March 2012 at 10:30pm on BBC3
Wednesday 7th March 2012 at 3:45am on BBC3
Thursday 8th March 2012 at 1:30am on BBC3
Saturday 7th April 2012 at 1:30am on BBC3
Tuesday 31st July 2012 at 12:00am on BBC3
Sunday 16th December 2012 at 3:25am on BBC3
Wednesday 19th December 2012 at 3:00am on BBC3
Tuesday 21st May 2013 at 1:00am on BBC3
Friday 24th May 2013 at 2:00am on BBC3
Sunday 26th January 2014 at 3:30am on BBC3
Saturday 10th May 2014 at 10:00pm on Gold
Sunday 11th May 2014 at 12:40am on Gold
Tuesday 9th September 2014 at 11:20pm on Gold
Wednesday 10th September 2014 at 2:45am on Gold
Thursday 26th February 2015 at 11:40pm on Gold
Friday 27th February 2015 at 2:00am on Gold
Saturday 25th April 2015 at 1:10am on Gold
Saturday 25th April 2015 at 3:30am on Gold
Saturday 15th August 2015 at 2:30am on BBC3
Sunday 25th October 2015 at 4:15am on Gold
Monday 28th December 2015 at 2:05am on Gold
Cast & crew
Videos
Jamie decides that the only way to get Laura's attention is to propose to her. Beth and Mike are on hand to help him find the perfect engagement ring...
Featuring: Sean Michael Verey (Jamie Prince), Pamela Byrne (Julie), Dylan Edwards (Mike Fenton), Yasmin Paige (Beth Mitchell).
Janet and Alan are in counselling, trying to repair their marriage, but their guidance counsellor Jeremy doesn't really seem up to the job.
Featuring: Karl Theobald (Jeremy), Angus Deayton (Alan Derbyshire), Anna Chancellor (Janet Derbyshire).
How does everyone respond to Jamie's rash decision to pop the question? And how will Mike cure his worsening addiction to the QVC channel?