such brave girls pilot
Kat Sadler pilots new BBC sitcom 'such brave girls'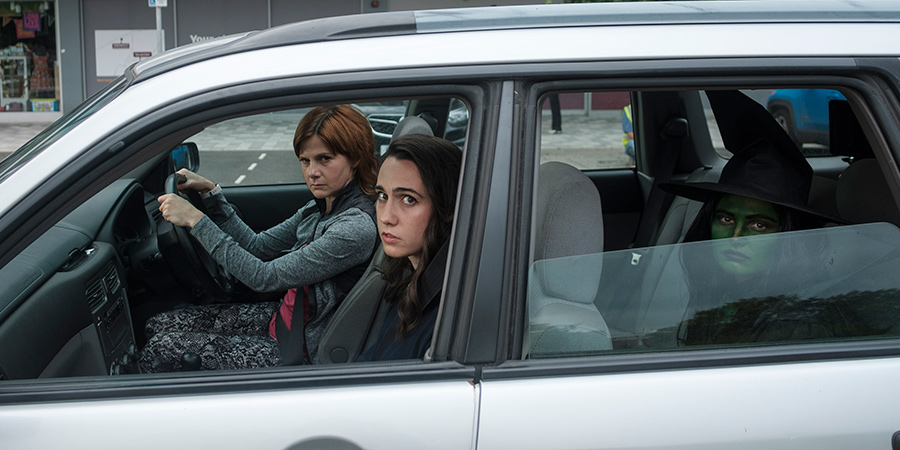 Stand-up Kat Sadler has written and stars alongside her sister Lizzie Davidson in a loosely autobiographical new BBC Three sitcom pilot, British Comedy Guide can exclusively reveal.
Airing this autumn, such brave girls [sic] follows the lives of single mother Deb and her two daughters, Josie and Billie, in their late teens and early twenties, trying to piece their lives back together after their narcissistic father and husband finally leaves them for good.
Sadler, whose own father left her family, plays Josie, with Davidson as Billie. Deb is played by Back's Louise Brealey, with Paul Bazely (Feel Good) co-starring as her prospective new boyfriend, Dev, and Amy Trigg (Stella) as Josie's workmate, Clare.
Set in Crawley, the Comedy Slice follows "a family navigating life armed with nothing but a warped view of the world, poor judgement skills and self-esteem that's exclusively tied to men and women who couldn't care less whether or not they stop breathing".
The family are "vain, selfish, heavily in debt, angry, pathologically desperate for affection, minorly (sometimes majorly) criminal and bursting with misplaced, terrifying love".
"Everything we joke about in the show is from a place of lived experience" said Sadler. "I wish I could say this is a heart-warming show about overcoming trauma, but that would be a lie. It's about three toxic, damaged egomaniacs manipulating the world and each other for their own personal gain, vengeance and glory. Yes, just like in Little Women."
such brave girls is one of three BBC Three comedy pilots from queer writers confirmed by the corporation today, alongside Mawaan Rizwan's Juice and Soph Galustian's Peck'Eds.
"Cheers to BBC for letting two queers with mental health issues have a TV show" said Davidson. "Or wherever BBC Three is now, I still don't quite understand. And if any of this show makes you uncomfortable, at least you didn't have to live it."
The 22-minute teaser is the first development from Camden Productions, the company founded last year by This Country producer Simon Mayhew-Archer and Mrs Brown's Boys producer Stephen McCrum.
such brave girls is also the television debut of short film director Marco Alessi and was produced for the BBC by Mayhew-Archer, with McCrum executive producing. It was commissioned by the BBC's comedy commissioning editor Gregor Sharp.
"This is a comedy packed with extremely funny, complicated characters whom you will sometimes want to hug and other times run away from" said Mayhew-Archer. "The cast is amazing, as is the writing - brutally authentic and charmingly funny. I love these people and I'm also quite scared of them."
Sharp added: "such brave girls is a brilliantly unique and totally unflinching take on the family sitcom and so feels perfectly at home on BBC Three."
Awarded the BBC comedy writing bursary in 2019, becoming an in-house writer for BBC Studios, Sadler's writing credits include The Mash Report, Frankie Boyle's New World Order and The News Quiz. She has been commissioned to write an as-yet-unannounced series for Radio 4, with BBC Studios producer Gwyn Rhys Davies tweeting of it: "Get ready for some spicy opinions".
Sadler has also performed sketch and stand-up shows at the Edinburgh Fringe, including a showcase of Succubus Magazine, a women's online satirical magazine which she edits and co-created with Sara Gibbs, which is being developed for television.
It was also confirmed today that Liam Williams' sitcom Ladhood is returning to BBC Three for a third series:
"Backing new talent and giving a platform to new comedy voices has always been key for BBC Three" said Fiona Campbell, controller of BBC Three. "Mawaan, Kat, Soph and Liam are some of the finest comedy storytellers around and we feel incredibly fortunate that we get to work with them and showcase their creations.
"From family dilemmas through to adulthood predicaments, each show has a unique voice at the heart telling relevant stories that we know our audience is going to love."
---
For updates, click the button below.
Share this page