Mawaan Rizwan Juice pilot
Mawaan Rizwan piloting BBC comedy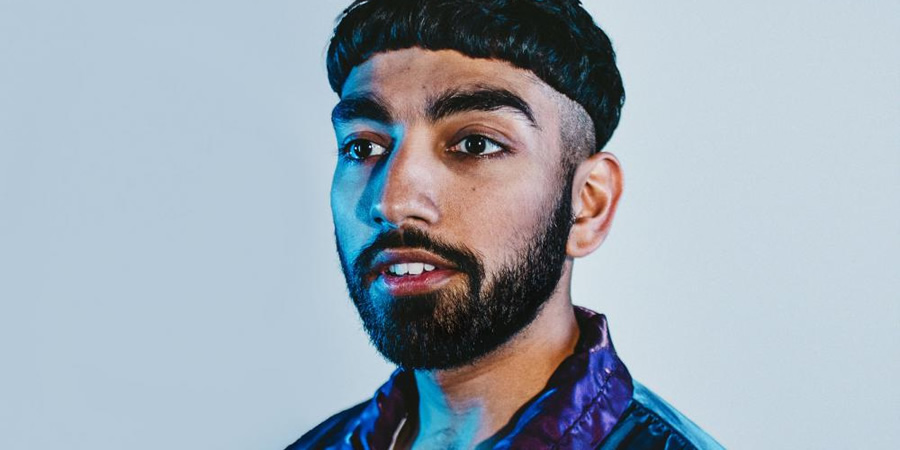 Mawaan Rizwan is piloting a comedy for the BBC and US streaming service HBO Max, British Comedy Guide can exclusively reveal.
Juice is based on the stand-up and Two Weeks To Live star's 2018 Edinburgh Fringe storytelling show of the same name, which in turn derives from his mother's malaprop advice to him growing up that if "life gives you mangoes, make mango juice".
Directed by Gideon Beresford and Behnam Taheri under their pseudonym Rosco 5, which made the 2020 short Mondeo starring Kiell Smith-Bynoe and Sunil Patel, Juice is produced by Hannah Moulder for Various Artists Limited (Dead Pixels, Sally4Ever).
As recounted in his live show, Pakistani-born Rizwan's mother became a Bollywood star after he featured her in one of his music videos. The wannabe showbusiness megastar's father is a playwright, while his brother, Nabhaan, is also an established actor, who has just shot HBO Max's sci-fi mini-series Station Eleven, about a pandemic that wipes out most of the world's population.
Appointed as the BBC's first Young People's Comedy Laureate last month, with a remit to champion comedy as an artform, and to engage and inspire new talent to begin writing and performing, Rizwan featured in Channel 4's inaugural series of Taskmaster last year. He also co-hosted Jonathan Ross' Comedy Club on ITV and starring alongside Game Of Thrones' Maisie Williams in Two Weeks, Sky's survival comedy which airs on HBO Max in the States.
A writer for the hit Netflix comedy Sex Education, reprising that job for the third series launching next month, Rizwan was named one of Forbes magazine's "30 Under 30" performers to watch in Europe last year.
The erstwhile cross-dressing comic, who is gay, also presented the 2015 BBC Three documentary How Gay Is Pakistan?, in which he met people in the country living gay and transgender lives despite fear of persecution.
Further screen credits include appearing on Live At The Apollo and Harry Hill's Clubnite, as well as Simon Amstell's films Carnage and Benjamin, after he supported the former Never Mind The Buzzcocks host on tour.
He has released three comedy songs as singles: I've Got A New Walk, Never Been Skiing and Mango, which you can watch here:
---
For updates, click the button below.
Share this page