Norman Wisdom - Follow A Star (1959)
As comfortable, celebrated, and wealthy as Norman Wisdom would become in later life, his early years was a joyless period of poverty, deprivation and hardship. Having already described Max Miller's childhood as a 'Chaplinesque evocation of poverty', that period of Miller's life spent on the south coast in Edwardian Brighton seems relatively rosy compared to Norman Wisdom's squalid and desperate Dickensian existence in post-World War One London.
Born in 1915 in Marylebone, the second son of a dressmaker mother and a chauffeur father, both parents were gainfully employed but all was far from well in the Wisdom household. His father was a violent alcoholic and regularly took his temper out on both Norman and elder brother Fred. Norman was slight and small even then, and by all accounts light enough for his father to hurl, at will, around their small family home. Although those years of grim domestic violence and abuse helped Norman learn the art of tumbling without bruising, inadvertently preparing him for a lifetime of pratfalls and slapstick, it seems scant consolation.
Wearied by years of abuse, Norman's mother fled the family home when he was just nine years old, leaving the two boys alone with their father. With his job as a chauffeur taking him all over the country and sometimes even abroad for long periods of time, Norman and his brother Fred were largely abandoned and left to fend for themselves. Faced with the genuine threat of starvation, Norman took to stealing food from local shops and markets to survive. With the boys rarely attending school, the local authorities took them into care, placing the two boys with foster families, first in Hatfield and then later in Deal, in Kent. The open air of that seaside town and the surrounding countryside helped both boys to return to some sort of healthy stable normality, if only temporarily. At the age of fourteen Norman left school and became a delivery boy in the town. As stable as his life was at that particular moment, the misery and deprivation was not yet at an end.
After leaving Deal to work in a hotel in London, Norman and a friend decided, rather inexplicably, that they would quit their hospitality roles and walk to Cardiff to find employment in a coal mine. A two-week-long journey ended in disappointment when it was clear there was neither a job nor accommodation at the end of the epic, arduous trail. Following a raging argument with his friend, Norman was left on his own in Wales. Abandoning thoughts of digging for coal, he instead journeyed to Cardiff's docks, where he signed on a merchant ship plying between Wales and Buenos Aires. It was tough work and his career as a sailor would last just that one return journey, after which he was once again homeless and destitute. Reduced to sleeping rough in London, Norman, still only 15 years of age, signed on as a boy bandsman at an army recruiting office despite not being possessed of any discernible musical talent.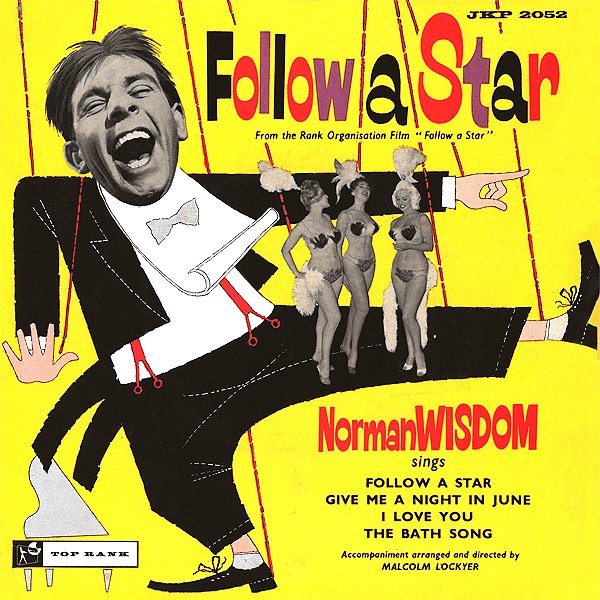 He would often state in later life that the army was the making of him. Serving in Lichfield with the King's Own Regiment, a sympathetic army bandleader allowed Norman the time to learn various instruments. Norman later joined the Hussars, spending four and a half years in India, where he became the regimental boxing champion, learnt to play yet even more instruments, and perfected the subtle art of falling without injury from a galloping horse. Taking part in army concert parties, Norman also learnt how to tap dance in oversized army boots and consequently heard for the first time the sound of appreciative laughter and applause. Leaving the army and returning to London in the spring of 1939, Norman might have settled into civilian life were it not for Herr Hitler and his plans for world domination. Signing up once more for military service, Norman saw out the duration of World War Two in the Royal Corps of Signals, stationed far from the frontline in Cheltenham. More concert parties inevitably followed, with Wisdom perfecting his clowning and gradually taking on scriptwriting duties. From this point he became fixed on the idea of becoming a professional entertainer and after the end of the war Norman became like so many of his contemporaries - an eager but unemployed entertainer, searching for work in the capital.
Norman Wisdom had in his favour a tenacity and persistence born out of all those years of struggle and poverty: where others may have given up in the face of months of indifference and rejection, he doggedly persevered. By December of 1945 and down to his last £3, he finally made his first professional appearance at Collins Music Hall in Islington (now a Waterstone's bookshop), where he was billed modestly, yet honestly, as 'the successful failure'. Luckily the performance went well and the successful failure proved a genuine success. Years of revues, variety and tours followed from that triumphant engagement as Norman gradually worked his way up the billing to become a star in theatres all over the country, as well as on radio and on television.
By 1951, Norman Wisdom was hot property and the Rank Organisation were convinced that his energetic style of manic physical comedy could be successfully adapted for films, filling a gap in the market that had existed since George Formby's withdrawal from filmmaking five years earlier. With ABC also after his talents, Rank offered Norman Wisdom a seven film deal, which he duly signed. It was the start of a hugely lucrative series of films that made Wisdom an international star and cemented his place in comedy history.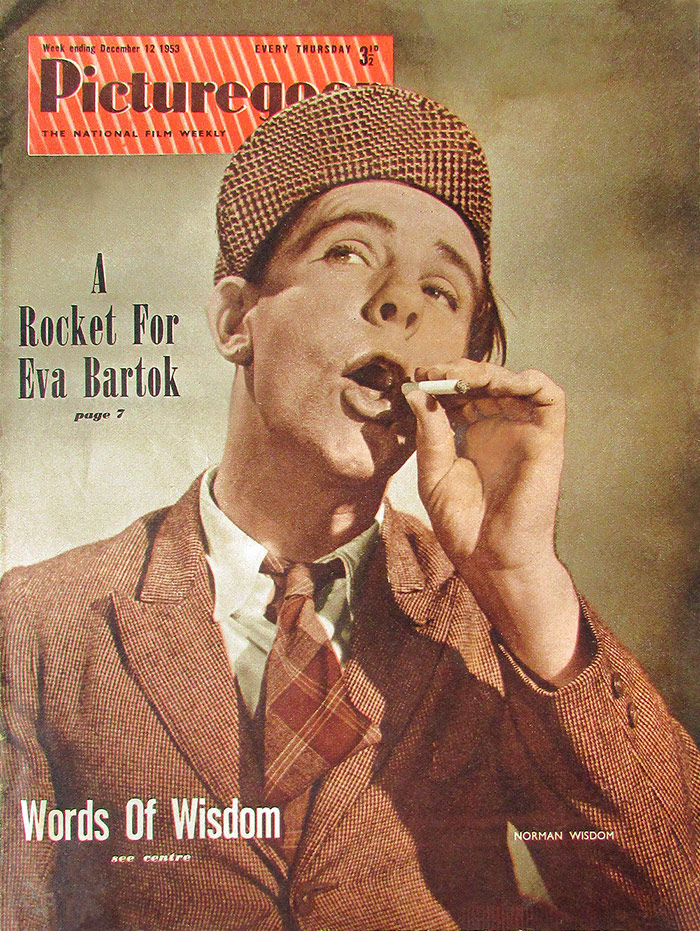 At last the years of struggle, hardship and suffering were over for Norman Wisdom, but did he let all those early days of penury affect his comedy style now he was a star? Of course he did, in big sloshing bucket loads. Whereas the aforementioned Max Miller gained a brash swagger and a combative self-confidence from his formative years, with Wisdom it was almost the total opposite, with Norman's film career relying on the charms of the 'Gump': an oppressed, cloyingly sentimental creation, constantly belittled by authority, unlucky in love, with a bottom lip that was never more than a few seconds away from a quiver or a whimper.
Indeed, as the butt of every cruel jibe, always suffering in life and love, the Gump's browbeaten proletariat everyman became beloved by Norman's similarly oppressed fans in communist Albania. Created after Wisdom bought a tatty, ill-fitting suit for a run of the show Out Of The Blue with David Nixon in Scarborough, the Gump became Norman Wisdom distilled and refined. Like Charlie Chaplin's Tramp, the Gump was box office gold in a less cynical age that enjoyed a healthy dollop of pathos with its comedy.
Norman's 1959 film Follow A Star was something of a turning point in his career. As the final picture in his seven film contract with Rank, it also marked the departure of director John Paddy Carstairs, who had helmed the majority of the previous films so successfully. Wisdom stayed with Rank without a binding contract until 1966's Press For Time, his continuing demands over artistic control caused increasing tension with the studio. Pressing for ever more pathos to be added to the screenplays despite his diminishing box office appeal in the satire-rich 1960s, Rank would drop their star after a dozen films.
Follow A Star also marked the last truly great hurrah for Norman Wisdom's musical career. He had been writing and releasing songs since 1951's Beware, and had achieved a sizeable chart hit with his 1954 co-written work Don't Laugh At Me ('Cause I'm A Fool) (as featured in Trouble In Store). Nearly always veering towards the slushy, maudlin and sentimental, and crammed full of pathos, throughout the 1950s Norman's songs had gradually become an integral part of his film work. Cinemagoers loved the musical interludes and had apparently made numerous complaints to Rank that his 1958 film The Square Peg did not feature a single one. Producer Hugh Stewart therefore took the decision that the next film, Follow A Star, would cast him as a budding songwriter, once again persecuted by regular nemesis Jerry Desmonde, this time attempting to steal Norman's songs by means devious and foul. There would be ample opportunity to feature Norman's singing without distracting from the plot too much, and the public would be happy. Or not, as it turned out...
After the abundance of maudlin sentimental songs in Follow A Star, the same cinemagoers who had complained about the lack of songs in The Square Peg quickly realised the error of their ways and were soon begging forgiveness from Rank for their previous unwarranted effrontery. Rank, to their credit, listened and this would be the last time that Norman sang in a film until his 1968 US feature debut, The Night They Raided Minsky's. There were a total of five musical numbers in Follow A Star, with four of them making it on to a 1959 EP and two onto a single release, both issued in 1959 by Rank's music publishing arm. The fifth song to feature in the film, You Deserve A Medal For That, was the soundtrack to a lavish dream sequence complete with complicated choreography that saw Norman indulging his skills for physical comedy. The film's finale takes place at the London Palladium as he is allowed his traditional brief moment of triumph and a chance to once again show off singing skills.
The title track, Follow A Star, as well as the EP tracks I Love You and The Bath Song, were all written by Norman, with Give Me A Night In June created by prolific film composers Philip Green and Sonny Miller. Like the plots of his films in this period they are similarly sentimental, and Follow A Star lacks the punch and energy that would normally be expected of the theme tune to a major cinematic release. The lyrics verge towards the trite, and Wisdom's weak, faltering vocals lack any sort of power. In a pop scene that had the likes of Paul Anka and Neil Sedaka singing bold, confident and believable ballads, his vocals are severely limited by comparison. I Love You also suffers from the same limitations, which none of Malcolm Lockyer's many layers of schmaltzy, slow tempo orchestral arrangements can manage to disguise.
The best tracks are those that do not rely on Norman's ability to croon convincingly. Give Me A Night In June, with its jolly guitar plucking, is much more upbeat and competent an effort. There is still much schmaltz with mawkish corny rhymes abounding, but the skipping tune, cheery backing vocals and jaunty melody is much more suited to Norman's skills. The Bath Song is perhaps the best of the four EP tracks and also the one with the most comedic elements in; all twangy guitars delivered with just the merest hint of late '50s rock. A silly voice that Norman affects, along with occasional fits of manic giggles, play to his strengths much more than sentiment or sincerity. Chaos and abandon always suited Norman Wisdom more than playing the romantic lead.
As with most things in life, Norman Wisdom did not let setbacks or criticism hold him back. He would persevere with his own brand of dated sentimentality and pathos until the swinging '60s finally caught up with him. The resulting film, What's Good For The Goose, featuring nudity and mid-life crises, effectively killed off his film career until the bizarre and obscure gangster crime thriller Double X: The Name Of The Game in 1992.
There would be no more chart hits for Norman, but again he persevered and would continue releasing a steady stream of singles into the 1970s. For the new generations that discovered his work and sought out his previous work, there would also be a plentiful supply of CDs containing both original and archive recordings.
Norman was still happily releasing compilations of his compositions into the 21st Century, well into his nineties and still falling over for other people's amusement. Like his songs and his films, Norman Wisdom remained unashamedly sentimental and emotional to the end - but it was a formula that served him well and made him into one of the biggest stars in British comedy history. Despite what he may have asserted many times in his records, Norman Wisdom was certainly no fool.