Dentist On The Job
Bob Monkhouse was supposed to have been a film star. He had the looks, the wit, the charm and the camera loved him. In 1957 Peter Rodgers cast him as the juvenile lead in the first of what would become a new series of comedy films, playing opposite Shirley Eaton as frustrated newlyweds in Carry On Sergeant. Bob says in his 1993 autobiography, Crying With Laughter, producer Peter Rogers described him as his "Golden Boy' - then promptly never cast him again!
There are several theories as to why Bob didn't continue with the Carry On team. One is that Bob didn't want to be just part of an ensemble but to have more creative control. Another is that he hoped the Dentist... series of films - begun in 1960 with Dentist In The Chair - would rival the Carry Ons and be a vehicle for his writing and acting talents; and a related theory is that in any Dentist film would naturally give him a leading rather than ensemble role. Much later on it was rumoured that he came to regret leaving the Carry On family, but hindsight is a wonderful thing.
And so it was that in 1961 Bob made the second, and last, of the Dentist films: Dentist On The Job.
Why Bob apparently regretted his decision was not due to the quality of the Dentist films, their writing or the cast, many of whom were also Carry On stalwarts: it was just that they never took off in the same way the Carry Ons did. Dentist In The Chair had set up the main characters as medical students, and in this second film the aim was to expand on them and play with notion of them out in the world of work.
Dentist On The Job sees Bob as David Cookson, reunited with Ronnie Stevens as Brian Dexter, both straight out of dentist college and looking for their first gainful employment. Unfortunately the jobs they take could see them instantly struck off the dentistry register as they become entangled with endorsing a new brand of toothpaste produced by Proudfoot Industries.
Bob is a confident lead and Ronnie Stevens an excellent sidekick. It's easy to picture the two of them going on to do more together in the future because the partnership worked and the dialogue sparks between them, but in all honesty how many funny and vaguely believable situations could one really spin out from the subject of dentistry? Enviable comparisons with the Carry Ons are obviously drawn, but in reality the Dentist films were aiming to compete with Rank's highly successful Doctor series, starring Dirk Bogarde, Leslie Phillips and James Robertson Justice. But without the comedy potential of home visits, bed pans and hapless medical students; or the drama of births, deaths and blue light dashes, it was never going to have legs. Or should we say teeth?
That is not to say the two films are no good. On the contrary, they are wonderfully fun romps with the early 1960s charm that only a certain sort of black and white British comedy picture can provide: corny and a bit far fetched in places but essentially comforting with lots of funny set pieces and great comic performances.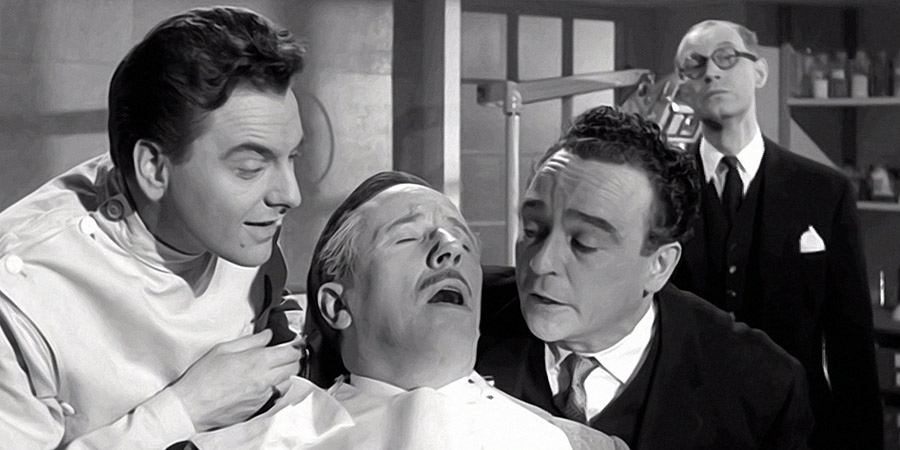 Which brings us neatly on to co-star Kenneth Connor as the loveable rogue Sam Field. Bob Monkhouse may be the handsome, charismatic leading man but this film is all about the comic tour-de-force that is Kenny. Connor's character is a big part of the first film, Dentist In The Chair, and he returns in the second feature to light up the screen once more with each look, line and gesture. As the plot moves ever further into farce Connor steps up with a classic British comedy film device - pretending to be someone else in order to gain an advantage and defeat the 'bad guys'. This means Connor can portray a whole other character, in this case, rather topically, the US President with suitable accent, confident swagger and patter.
Connor isn't the only other Carry On regular who appears in Job. The movie begins with a lot of strong physical comedy and a cameo from Charles Hawtrey, getting a 'guest star' credit in the titles and no doubt cast as a star name to pull in the punters. It also features Eric Barker in a dual role as cousins, the Dean of the dentistry college and JJ Proudfoot of Proudfoot Industries itself. Richard Wattis, perhaps best known as snotty neighbour Mr Brown in BBC television sitcom Sykes, but who also appeared in Carry On Spying, is the villain of the piece as Proudfoot's toadying assistant.
Ronnie Stevens and Shirley Eaton complete the main cast as second lead and love interest respectively. As with Connor, both had appeared in the first film, and Ronnie would later pop up in the first colour Carry On film, Carry On Cruising, the following year. Bob and Shirley had been cast opposite each other in Carry On Sergeant so the chemistry had already been proven, and there's no denying they make an attractive on screen couple. If the series had continued as Bob apparently wished, it's hard not to picture Shirley as a regular and key member of the ensemble. Notably, the pair also starred together in the delightful comedy caper A Weekend With Lulu, released that same year.
Bob certainly had much more creative control on these films than he would've ever had on a Carry On, or indeed any other British comedy made at the time. It's of note that he is credited with writing 'additional sequences' and material: Monkhouse started as a writer for others, and whatever he worked on then and afterwards, he would always tinker, suggest, add to, or totally re-write the script if he felt it necessary. It says a lot about the writers, Hugh Woodhouse and Hazel Adair (who went on to create the TV soap Crossroads) and director, C. M. Pennington-Richards, that they trusted Bob's judgement to do this. Not many scriptwriters or directors would've handed over any creative control over to the lead, however much his pedigree as a script writer preceded him!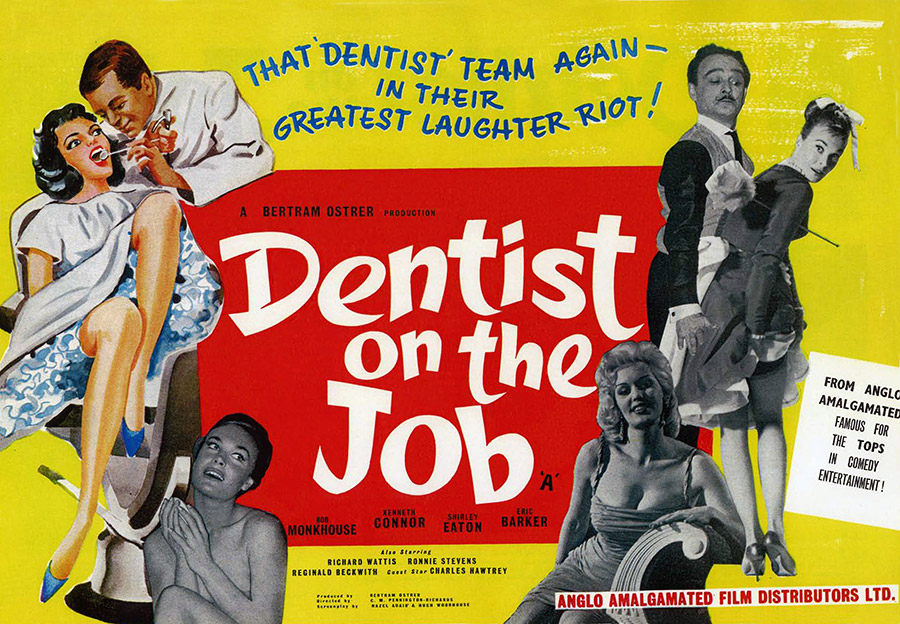 By the time Dentist On The Job was made in 1961 Bob had already written, alongside his then creative partner Denis Goodwin, for all the top comedians of the day: Arthur Askey, Jimmy Edwards, Ted Ray, and many others besides; and for visiting American acts like Jerry Lewis, Bob Hope and Dean Martin. He was in demand and had built a reputation not just as a writer but as a top-notch performer, with a flair for the ab-lib and a keen eye for what translated well to TV and film. It's not made clear which elements of the film are Bob's additions, or indeed the extent of his contributions, but it's a testimony to his skill, work ethic and attention to detail that he strived to make the movie as funny as it could be.
One scene coming toward the end of the film ties in wonderfully to one of the biggest TV programmes of the time, game show Take Your Pick, hosted by Michael Miles: if this is one of Bob's 'additional sequences' then what a premonition it is to his future career as one of the UK's most prolific game/quiz show hosts.
When talking about his film career in Crying With Laughter, Bob says:
I was cast... as the hero in a small handful of slickly made movies... some of which I helped to write. Though they did moderately well at the box office, further offers of starring roles in movies never materialised.
Bob never really worked out why his film career didn't soar in the way other parts of his career did - such as stand-up comedy, TV roles, and of course hosting light entertainment formats. It seems unlikely any of us can reason quite why, when it would seem he had it all going for him.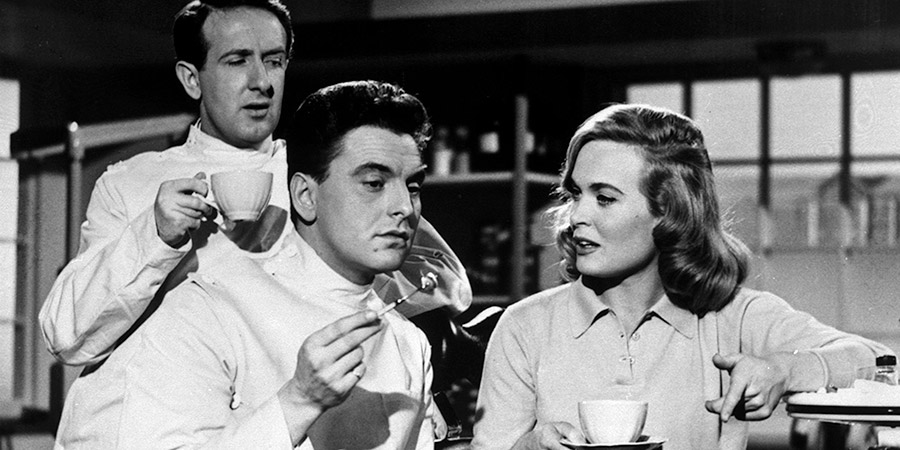 In the late 1960s, during a hiatus in his comedy career and before those game shows took off, Monkhouse acted in a number of TV plays. These included The Flip Side, a Thirty Minute Theatre from 1966, and a wonderfully jittery, on edge performance in the Half Hour Story Bug in 1967 alongside Bill Owen (another Carry On Sergeant almuni) and directed by William G. Stewart, who ended up as Bob's producer on Family Fortunes, and is now best remembered as a game show host himself, for the iconic Fifteen To One.
The 1990s saw his return to television acting, most notably with the 1993 ITV mini series All Or Nothing At All starring Hugh Laurie and Caroline Quentin, and in 1998 with an episode of Jonathan Creek, The Scented Room, again with Caroline Quentin (and Alan Davies in the title role), for which Monkhouse received much critical acclaim. All these parts were very different to his early film roles and reflect a more mature Bob Monkhouse, both in years and in acting style.
Dentist On The Job may be as frothy as the toothpaste formula in the film, designed to make you laugh and while away a pleasant 88 minutes, but acting with a light comic touch is as hard to pull off as the most dramatic and emotional of roles. Bob was a very good actor and it still feels a loss that he didn't delight us with a larger number of both light comedy and challenging drama performances.
Of course, his lack of a cinematic career does mean we got to enjoy decades of his talents here in the UK, when he could very well have been lost to Hollywood.
Comedy writer Denis Norden once remarked that the reason Monkhouse never made it in America is because his game show career ruined his chances. This may be true. Or it may be that when the film parts dried up for Peter Rogers' "Golden Boy", we kept one of British entertainment's greatest comic talents to ourselves.