Classic Comedy Year: 1994
Chris Hallam has previously looked back at why 1979 was such a good year for comedy, and now he's turning his attentions to 1994.
Fourteen year-old Simon Amstell performs impressions of Dame Edna on Good Morning with Anne and Nick. Brand new series of Jewish ghost comedy So Haunt Me and solicitor romance May To December. Christmas specials of Keeping Up Appearances and Birds Of A Feather. Here Chris explains why, despite all these things, 1994 remains one of the best ever years for British comedy...
Glory Years
"I was there in the glory years. Mid-90s.
Four Weddings
had just come out. Britpop was kicking off. It was mental." (Jez,
Peep Show
, 2004).

1994 was indeed a glorious time. Graham Taylor boldly led England towards World Cup glory. Michael Sheen (Tony Blair) struck a deal with David Morrissey (Gordon Brown) to lead the Labour Party following the death of Father Jack Hackett. Across the pond, President Bill Pullman prepared to lead the nation in defence against an under-scripted extra-terrestrial assault.
With all this going on, it's amazing anyone found time to produce comedy at all. But remember: without Angry Birds, DVDs or a proper internet, people were forced to make their own entertainment...
Scorchio!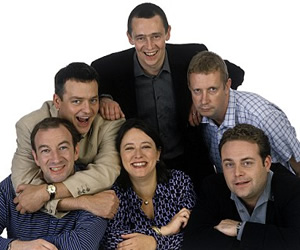 Actually, it's probably a good thing the internet hadn't really got going by 1994. The Fast Show should, on paper, have been awful. It's easy to imagine cynical bloggers ripping it to shreds before it even began.
For one thing, it relied heavily on repetition and catchphrases. "Where's me washboard?", "Suit you sir!", "Brilliant!", "You ain't seen me, right?", "Hi! I'm Ed Winchester!", "I'll fetch my coat" and many more.
For another, as Paul Whitehouse nervously admitted in pre-publicity it was also not especially "fast" at all. Indeed, he later revealed many of his own characters from the show had already been rejected by his old collaborator Harry Enfield. What was worse, the new series was based around the traditionally patchy and to some extent discredited sketch show format.
As it is, as we know now, the show was a huge success, the clever use of catchphrases and repetition in fact proving one of its main strengths. Within years, Whitehouse would be appearing in Hollywood films, admittedly usually in smallish roles alongside professed Fast Show enthusiast Johnny Depp (The Corpse Bride, Finding Neverland). For the record, the US version of The Fast Show went under the name Brilliant.
Whitehouse was the most prominent figure in the show, playing gamekeeper Ted to Charlie Higson's repressed aristocrat Ralph in some of the show's subtler sketches scripted by future Father Ted scribes Graham Linehan and Arthur Mathews as well as, of course, Ron Manager and fictional 1940s comedy legend Arthur Atkins.
But he was by no means the only star performing with Higson; Arabella Weir, John Thomson, Mark Williams and Simon Day all rose to prominence on the show, as well as many recurring supporting players. It was decided that each actor should own copyright of their own characters. Many would thus later appear in adverts, although none of the show's direct spin-offs (Arabella Weir's book Does My Bum Look Big In This? or the sitcoms Swiss Toni and Grass) were especially successful.
Oddly, with the exceptions of Caroline Aherne and John Thomson, it's probably fair to say that nearly twenty years on, all of the cast including Whitehouse are still better known for The Fast Show than for anything else.
But with the show so well loved and in my opinion still holding up better than some more recent sketch show fare (such as Little Britain), there is certainly nothing shameful about that.
Ultranews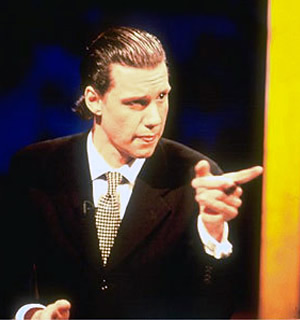 1994 saw not just one but two new comedy teams emerging fully formed into the world. Of course, The Day Today team (Chris Morris, Steve Coogan, Rebecca Front, Patrick Marber, Doon Mackichan, Armando Iannucci, David Schneider and others) weren't untested, having first appeared in On The Hour (sample headline: "Ireland has burst") on Radio 4 in 1991. But despite the misfortune of losing rising stars Stewart Lee and Richard Herring in the transition to screen, The Day Today emerged as a gloriously slick looking TV success in 1994.
It wasn't just about the news. Chris Morris's fanatical Paxman-like presenter - giggling flirtatiously with Rebecca Front's traffic correspondent one minute, barking at Patrick Marber's Peter O'Hanraha-hanrahan the next - was undoubtedly the star and the show mocked the hysterical urgency, and even the rhythms of news speak, brilliantly ("Those are the headlines - God, I wish they weren't"). The war episode was another highlight, one correspondent intoning: "As I swilled the last traces of toothpaste from my mouth this morning, a soldier's head flew past the window, shouting the word 'victory'".
But the show had a pop at everything, brief samples including George Formby singing Bob Dylan's Subterranean Homesick Blues, an advert for tampons performed by a Nirvana-like band, a snippet from fictional racist 70s sitcom Them Next Door and soap opera The Bureau (set awkwardly in a narrow Bureau Du Change). There was even a segment called The Office, a parody of a fly on the wall documentary which could (at a stretch) be viewed as influencing the most successful sitcom of the next decade.
Despite its references to Boris Yeltsin, and Virginia Bottomley, The Day Today has stood the test of time remarkably well, certainly better than the more recent Broken News. However, its most immediate influence was to spawn a new chat show.
On that bombshell...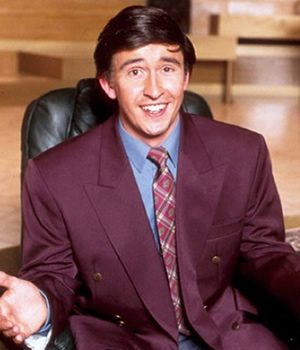 Oliver Reed and George Best drunk live on air. Grace Jones punching Russell Harty. Actor Christopher Lloyd refusing to talk to Terry Wogan. Actress Anne Bancroft refusing to sit down.
Given how many genuine tremendously awkward chat show moments there had been in the Eighties, it's surprising how few spoof chat shows there had been before Alan Partridge. The only notable exception being Dame Edna Everage's series, which like most of the later post-Partridge inferior offerings such as The Mrs Merton Show and The Kumars at No. 42, actually had real guests.
The secret of Partridge was not so much about the show but the extent to which it revealed the massive personality flaws of its sexist, borderline racist, "homosceptic", ex-sports presenter, host.
The character had, of course, first existed as an improvised voice on On The Hour. The TV version of Knowing Me, Knowing You... With Alan Partridge (or "The Alan Partridge Show" as its host is keen to call it) was actually the fourth series the character had been on. By then Steve Coogan, still in his twenties at this point, had fine-tuned the Norwich City fan to perfection.
The awkwardness with women (particularly lesbians), bouts of rage (particularly with both precocious child actors and anyone who forgets his name), the obsession with catchphrases and terrible introductions ("she's a trooper, I think she's super...") and little touches such as his miming an increasingly aggressive attack on the audience at the start of each show before the final episode culminating in the accidental shooting of a guest ("On that bombshell: Forbes McAllister is dead") have ensured Coogan's career and the character's immortality.
Although the jury's still out on one question... Is this, or his later incarnation as a permanent guest at the Travel Tavern, Alan Parrtridge's most successful manifestation?
Four Weddings And A Funeral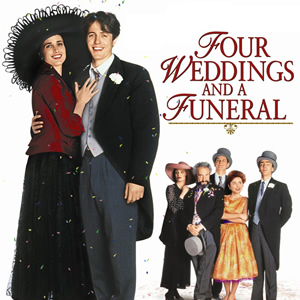 Okay, it may not seem very cool to sing the praises of a Hugh Grant film. But the fact remains: Four Weddings And A Funeral is one of the best British comedy films there has ever been.
Yes, it does go off a little towards the end. Yes, Andie "Is it raining? I hadn't noticed" MacDowell who famously had her voice dubbed over for the film Greystoke ten years before, could happily have been surgically erased from the whole film in many people's view. And then there are the questions. How do all these friends know each other in the first place? Why does Andie MacDowell's character invite them all to her wedding in Scotland when, aside from Hugh Grant, she's barely met any of them at all at the previous weddings? Do any of them work?
These quibbles aside, the film remains very funny. The mad old man for example is hilarious. And it revived the British film industry. So stop complaining.
Other Stuff
Like Britpop, the comedy boom of the 1990s had a bit of a false start. Just as the short lived ascendancy of Suede had appeared to herald a new musical age in 1992, before fizzling out until the successes of Pulp, Blur and Oasis two years later, comedy too had a false dawn. Newman & Baddiel and the notion of comedy as "the new rock and roll" had effectively died a death by 1994. Newman and Baddiel themselves fell out. Rob Newman fell into relative obscurity while in 1994, the intellectual Baddiel formed an unlikely partnership with Frank Skinner to front Fantasy Football League.
Like Loaded magazine, the show perfectly captured the prevailing "lad culture" humour that was so in vogue then, but to be honest, looks less good now. Simon Nye's Men Behaving Badly had begun in 1992 but was approaching the peak of its success in 1994, partly by pandering to this trend. At the start for example, Martin Clunes' Gary (as in Nye's novel) had refused to get a TV, enjoyed classical music and reminiscing about university with his old friend Dermot (Harry Enfield). By the mid-Nineties, he was swigging beers instead with Neil Morrissey's Tony. But this is not to knock it. The show worked better with Tony, not least because Morrissey is a better actor than Enfield.
1995 would see new series for ex-On The Hour alumni Lee & Herring while even more excitingly Irish writers Graham Linehan and Arthur Mathews who had produced the "tiger" sequence for The Day Today together (an enormously difficult to film story about a tiger being released as a measure to shut up noisy neighbours), as well as the memorably awkward Ted sketches in The Fast Show, went onto write a sitcom about another Ted. A priest.
But that was another year and another story...