Classic Comedy Year: 1979
1979. The very year evokes images of strikes, political turmoil and er, Smashing Pumpkins singles. Well, for some anyway. Yet the last year of the Seventies was also possibly the finest twelve months for British comedy that there has ever been. Chris Hallam takes a look back...
Confession time: I have no memory of 1979 whatsoever. Yet even I can see that an astonishing range of enduring comedic triumphs came to fruition in that one year. It probably didn't seem like it at the time, but 1979 was the greatest year for British comedy on record. Why?
The greatest British comedy film ever made was produced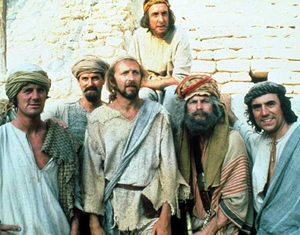 Malcolm Muggeridge certainly knew what he thought: "It's such a tenth rate film, it would not disturb anyone's faith," he argued during the televised debate with Pythons Michael Palin and John Cleese. Adding to the Bishop of Southwark's view that the film was essentially "undergraduate humour," Muggeridge, a celebrated journalist and author argued: "I don't think that in the eyes of posterity it will hold a very distinguished place."
How wrong he was. At the time, and as the recent comedy drama Holy Flying Circus reminded us, the critical reception to Monty Python's Life Of Brian was almost completely drowned out by the ensuing religious controversy over its content. In the thirty three years since, however, its reputation has continued to climb and climb to the point where it's now hard to think of a British comedy film that is held in higher regard.
Even the most ardent Python fans would have to concede that most of the team's output was decidedly patchy. Yet in Tunisia, where the team reunited for a project that Eric Idle had originally coined as Jesus Christ: Lust For Glory, everything seemed to go right.
From Terry Jones' shrill performance as Brian's mother, ("Sex, sex, sex. That's all you think about") to Cleese's star turn in the stoning scene ("Are there any women here today?"), and Palin's Pontius Pilate ("welease Woderick!") or cured leper, the film contains classic scene after classic scene almost from the very start to its celebrated musical finish.
And as the famous "What have the Romans ever done for us?" scene demonstrates, it's as much about parodying the narrow mindedness of the self righteous as it is about the tenets of organised religion.
The ageing Muggeridge privately admitted he had missed the beginning of the film's screening, thus explaining partly his failure to understand that the film isn't about Jesus (who briefly appears in the film), but by a luckless figure mistakenly elevated in his wake.
In your author's opinion, no other British comedy film has matched Life Of Brian - before or since.
The second series of one of the greatest ever TV sitcoms was broadcast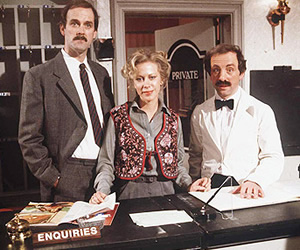 Imagine being John Cleese at the end of the Seventies. He was undoubtedly at the peak of his creative powers, appearing in and co-writing Brian while also co-writing and starring in the second series of his sitcom Fawlty Towers.
In some ways, it's a miracle the second series worked as well as it did. The first series in 1975, which introduced the world to Basil, Manuel, Sybil and Polly, plus celebrated episodes including The Hotel Inspector and The Germans, had undoubtedly been a triumph. But four years had passed and Cleese's marriage to co-writer and "Polly" actress Connie Booth had ended.
If anything, however, the new creative tension between Cleese and Booth seems to have helped. The second series - including appearances by a very deaf old lady (Joan Sanderson), a very rude American, a kipper, a corpse and famously Basil the Rat - is every bit as good as the first (indeed, only a true Fawlty fan would be able to spot any difference between each). Cleese, like Stephen Merchant and Ricky Gervais with The Office over twenty years later, showed tremendous restraint in ending the show after just twelve episodes, perhaps ensuring its immortality in the process.
One of the greatest topical TV comedies launched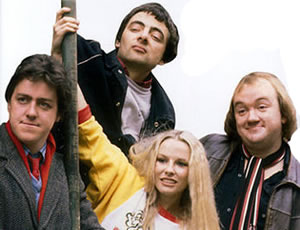 "It appalled me. I find it deeply offensive that, in what is still, after all, basically a Python-worshipping country, fourteen-year-old children can get to see this film... this 'Jesus Christ' is quite clearly a lampoon of the comic messiah himself, Our Lord John Cleese. I mean, look, even the initials are the same!" - Alexander Walker, as played by Mel Smith in Not The Nine O'Clock News.
Great as Cleese and the other Pythons were, they were hardly the Next Big Thing in 1979, having first hit screens a full decade before. But it would be a brave quartet indeed who escaped their shadow. Happily, with Not The Nine O'Clock News, Mel Smith, Pamela Stephenson, Rowan Atkinson, and in that first series Chris Langham - later Griff Rhys Jones - did just that.
In a sense though, this isn't true. For one thing, the series' success was not just down to them but to now legendary producer John Lloyd and an incredible team of writers including Richard Curtis, David Renwick, Nigel Planer, Rory McGrath and Andy Hamilton.
It's also not true that the show escaped Python's shadow. The series was to be introduced by Basil Fawlty himself as "a tatty revue", beginning in the slot vacated by Fawlty Towers the previous week. However last minute scheduling changes saw the sketch eventually broadcast mid-run some 4 months later - albeit, due to its own delay, a mere 5 days after the final Fawlty Towers episode premiered. Further, the writers apparently strove to end every sketch with a punch line simply because Python a few years earlier had always defiantly done the opposite. And as noted above, one of their most famous sketches directly parodied the controversy over Life Of Brian.
Yet it would be wrong to deny NTNOCN's status as a brilliantly funny show in its own right. Lasting until 1983, it ultimately launched the careers of many of the key figures of the comedy scene of the next few decades.
A new form of comedy was born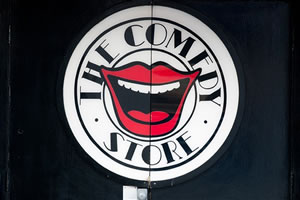 May 1979 was a historic month. Not only did Margaret Thatcher enter Downing Street, but the London Comedy Store opened its doors for the first time with one Alexei Sayle as its first MC.
Bold claims have been made about the Comedy Store launching the 'alternative comedy' scene. Predictably this does not quite tell the whole story: as we have seen, Not The Nine O'Clock News had been due to launch more than a month previously, and as with the separate emergence of Beyond The Fringe and the televised That Was The Week That Was in the satire boom of the 1960s, the two events were not inextricably related.
What's not in doubt, however, is that the Comedy Store was to provide THE major venue for numerous acts on the alternative comedy circuit in the years to come.
A lot happened in that comedy scene during an incredibly a short period. Dawn French and Jennifer Saunders had met in 1978 whilst Stephen Fry and Hugh Laurie would remain strangers to each other at Cambridge until Emma Thompson introduced them in 1980. Meanwhile The Young Ones and The Comic Strip didn't reach the nation's TV screens until 1981.
But 1979 has a stronger claim to having seen the launch of alternative comedy than any other year.
Another classic sitcom started (sort of)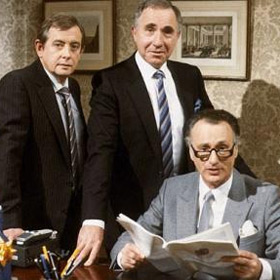 Okay, I'm cheating here. Yes Minister wasn't actually broadcast until early 1980. But the first episode was recorded (as a pilot) in February 1979, and a further full series would have followed soon after had the BBC not been cautious of the programme's overtly political nature, in that year of a hotly-contested General Election and following the unrest of the Winter of Discontent (largely the same factors, incidentally, that saw Not The Nine O'Clock News's debut pulled) - and so it was delayed. Yet it was one of the best sitcoms of all time, so it seems foolish not to include it.
That a sitcom about the intricacies of Whitehall ever got made at all, represents something of a triumph. In his book Comedy Rules, the sitcom's co-writer Jonathan Lynn relates how he had to intervene forcefully to prevent the series being rewritten by a director hired from On The Buses: "Paul (Eddington) was now playing a new, silly and "bad" sitcom scene, in which he was fussing around choosing new fabric for his office sofa."
Only by sticking to his guns and after being backed up by actors Paul Eddington and Nigel Hawthorne (Sir Humphrey), did the show we now celebrate survive. Yes Minister and its sequel Yes, Prime Minister ran until 1988, was recently revived for the stage, and the format will reach new television audiences later this year with a revival for GOLD. How's that for longevity?
Deliberately non-partisan - Eddington's well meaning but malleable minister Jim Hacker, was never pigeon-holed as either Labour or Conservative - it is probably one of the cleverest sitcoms there has ever been.
A few other things happened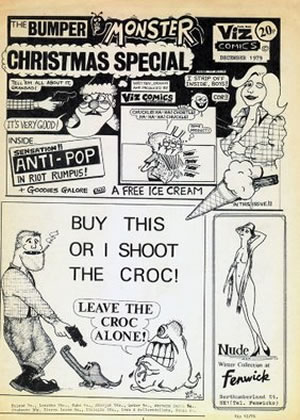 The weird thing about 1979 is not so much that there was so much great comedy around but that it sprang from so many different and diverse sources. We have seen that a lot came from the Monty Python and alternative comedy stables. But whilst certainly satirical, Yes Minister does not fit into either camp.
Comedy was springing up everywhere. In Newcastle, Chris Donald began selling copies of a home-made comic in pubs - Viz (pictured). An adult parody of kids' comics and the tabloid press, it would go national in 1985 and was a phenomenon by the end of the Eighties.
Meanwhile, overworked author Douglas Adams produced the first novelisation of his acclaimed radio sci-fi comedy, The Hitchhiker's Guide To The Galaxy, which itself had only broadcast the previous year. It is still one of the funniest books ever written.
Elsewhere, Peter Cook delivered a hilarious parody of an incredibly biased and elderly judge at The Secret Policeman's Ball, cleverly satirising the end of a recent murder trial of former Liberal Party leader Jeremy Thorpe. Saturday children's show Tiswas was also at its anarchic peak, featuring appearances from rising star Lenny Henry. Minder, originally conceived more as a vehicle for Sweeney star Dennis Waterman than as a launch pad for George Cole's Arthur Daley, also began - as did Hywel Bennett's sitcom Shelley. On BBC2, Ripping Yarns enjoyed its final series.
And then there was some crap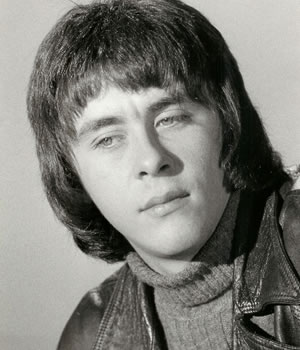 There's no point pretending everything 'comedy' in 1979 was great. A strong case could actually be made for saying it was an awful comedy year:
On a genuinely tragic note, the comedy actor and star of The Lovers, Porridge and Rising Damp, Richard Beckinsale (pictured) died in March of a heart attack at the ridiculously young age of 31. It is tantalising to imagine what sort of career the actor, who would now be in his sixties, might have gone onto enjoy.
It is also easy to dismiss any comedy that has not aged well: To The Manor Born started in 1979, and does not in my view warrant true comedy great status. Yet it certainly wasn't awful.
Morcambe & Wise were showing signs of having passed their peak, having defected from the BBC to Thames in 1978. OK, they only produced one single special in 1979 so we're pulling threads in here to make the point, but the duo would never again scale the heights of their BBC success.
Similarly, impressionist Mike Yarwood, a huge star throughout the Seventies (much of his output is almost unwatchable now, alas), was already showing signs of trouble. Having made his name impersonating the likes of Ted Heath, Harold Wilson and Denis Healey, Yarwood later claimed he never adjusted to the first woman Prime Minister's succession to the premiership. His one attempt at playing her in drag fell flat. In time Faith Brown, Janet Brown (not related) and Steve Nallon would all make names for themselves impersonating the Iron Lady, who was undoubtedly the dominant figure on the political scene long into the Nineties, and whose shadow is still cast today. In truth, Yarwood's alcoholism was probably a bigger factor in his fall: both Phil Cool and Rory Bremner, after all, emerged as leading impressionists during the Eighties without ever impersonating Thatcher.
Make no mistake though. There was lots of rubbish on in 1979. ITV double-act Cannon and Ball enjoyed their first solo series, whilst the awful night-school sitcom Mind Your Language continued to thrive on absurd national stereotypes. Elsewhere, British film production reached an all-time low.
So to conclude...
1979 may have seen the launch of alternative comedy, but for most people the likes of Terry & June and George & Mildred held sway. But the times were changing alright. By the end of the next decade, alternative comedy had become so prominent that it was practically the mainstream, while more traditional variety acts were increasingly forced into quiz shows or off TV screens entirely.
But let's not worry about that now. Life Of Brian, Fawlty Towers, Not The Nine O'Clock News and Yes Minister. 1979: has there ever been a better year for British comedy?