Sky confirm raft of new and returning comedies
Sky confirm raft of new and returning comedies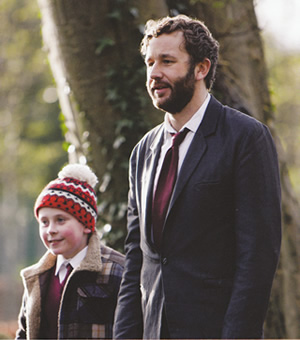 At a London press launch today, satellite television broadcaster Sky has confirmed the recommission of a number of its recent new comedies, some before the first series has even aired.
Notably, the Little Crackers storytelling strand, in which big-name stars pen a 15 minute tale based on their own childhood experiences, will return for a third series later this year. Confirmed names for the new run are Paul O'Grady, Katy Brand, Joanna Lumley, Jason Manford and Alison Steadman. Previous contributors have included Jack Whitehall, Sheridan Smith, Barbara Windsor, Victoria Wood and Bill Bailey.
A Little Cracker from IT Crowd star Chris O'Dowd is currently being turned into a full-length sitcom, Moone Boy (pictured). Sky say they're "onto a real winner" with the show, and thus a second 6-part series of the show has been announced today, before the first has even aired.
Based on O'Dowd's own youth in small-town Ireland and set in 1989, the actor stars as Sean, the imaginary friend of 11-year old Martin Moone, offering the youngster a unique and very individual perspective on life.
Meanwhile, Starlings, the family-based comedy drama written by Peep Show star Matt King and The Great Outdoors' Steve Edge, has also been recommissioned. The second eight episode series will broadcast in 2013. Executive produced by Steve Coogan and made by his production company, Baby Cow, the first 8-part run still has two episodes left to air on Sky1.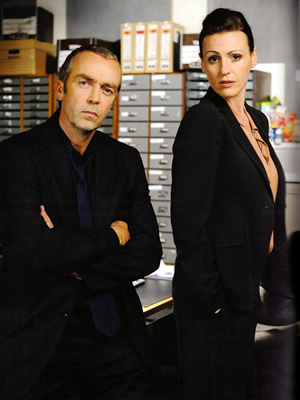 Upcoming Charlie Brooker-penned spoof crime drama A Touch Of Cloth (pictured), starring John Hannah and Suranne Jones, will also return. An initial single-episode 'series' is scheduled for broadcast on Sky1 in August, and today's recommission consists of a 2 new 60 minute series for broadcast next year, and feature-length 120 minute film thereafter.
Hat Trick will also be producing a new comedy chat show pilot for Sky1. Due to be broadcast early in 2013, Help Me I'm Human! is described as "a smart and candid comedy chat show dedicated to helping us navigate our way through the minefield that is modern life - the mixed signals, indecision, awkwardness and guilt."
Producers say: "How do you know if the woman you're about to offer your seat to is pregnant or just fat? How do you choose between a handshake, hug or a kiss? What should you do if your boss asks to be your friend on Facebook? What do you say to that friend who is always fishing for compliments? Help Me I'm Human! will confront these cringeworthy issues head on, as it establishes brand new rules for the tricky business of 21st century life. The dilemmas will be opened up to discussion before a panel of celebrity guests, whilst a hidden camera team will go out onto the streets to test different responses to the predicaments. Viewers will be encouraged to interact with the show by sending in their dilemmas and questions and participating in an online forum."
Other returning series include A League Of Their Own, which will have a brand new, even bigger set; and the previously announced extended-length second series of sitcom Spy in October, introducing a love triangle, Miles Jupp as a marriage guidance counsellor, and a new school nemesis for Marcus (Jude Wright).
Sky's comedy boss Lucy Lumsden, said today: "Sky 1 HD now has a reputation for delivering viewers the very best in original British comedy. Seeing these shows and characters over the past year received so warmly has been very exciting. We are thrilled that our comedies have quickly become established as favourites with our customers and so we're delighted to announce today the return of more of the shows they love."
The broadcaster's range of commissions and recommissions mean that it will soon be producing more new comedy than any other broadcaster in the UK.
Share this page