BBC Three announces new shows and recommissions
BBC Three announces new shows and recommissions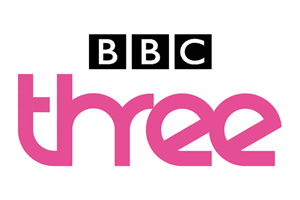 BBC Three has announced two new shows, and ordered third series of three of its existing sitcom hits.
The channel is currently working on new formats 600 Days and Top Coppers, and has commissioned another series each of Bad Education, Bluestone 42 and Some Girls.
BBC Three Controller Zai Bennett says: "BBC Three is at the heart of new comedy in the UK and is not only still on air, but thriving. These four deliciously different and brilliantly written series and pilot demonstrate our ongoing commitment to bring our viewers more even more cutting edge, exciting and most importantly of all, funny, comedy this year."
600 Days is a brand-new six part comedy series about "the ultimate unlikely couple who end up on the wrong side of the law". The comedy follows straight-laced Luke who finds himself sentenced to two years in a Young Offenders Institution alongside with his girlfriend's brother Jason. He has to rely on Jason's street smarts to get him through - unfortunately Jason is "a massive idiot".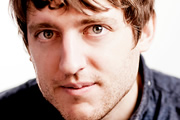 600 Days, a working title, has been created by writers Dan Swimer and Amateur Transplants member Adam Kay.
The series will star stand-up comedian Elis James (pictured) as Luke, with character comedian Cariad Lloyd as Dawn, a prison officer who is on hand to keep a watchful eye on the boys. Kadiff Kirwan will play Jason, and Him & Her star Ricky Champ will play Dawn's unsettling colleague Creg.
The show will also introduce various new comic actors to the channel after the BBC held open auditions earlier in the year. Zai Bennett says: "BBC Three has a rich history of spotting and nurturing the UK's best young talent. I'm sure the combination of a cleverly crafted script and the comedy world's hottest rising stars means we'll be bringing our audience something truly unique."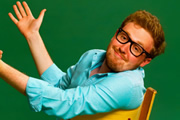 BBC Three is also working on a pilot episode of Top Coppers. The show is described as a 'silly' comedy about two police detectives, John Mahogany and Mick Rust. The 30-minute pilot, which is being made by Cuckoo producers Roughcut Television, will star Irish comedian Conor McKenna and Edinburgh Comedy Award Best Newcomer John Kearns (pictured).
Top Coppers, which will also feature PhoneShop actor Tom Bennett and Fresh Meat star Charlotte Ritchie, has been in development for a number of years. A pilot was filmed in 2012, which featured Kayvan Novak (watch the trailer).
The BBC also announced today that three of its established shows will return, each having run for two series to date.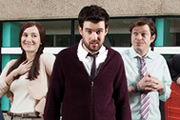 As has been widely expected, Jack Whitehall will return for another run of the critically acclaimed Bad Education. The school-based sitcom was a ratings hit on both iPlayer and television last September.
The new series of Bad Education will not be filmed immediately, as Whitehall is currently working on a US-remake of the show. Titled An American Education, the ABC network sitcom sees the young and naive Alfie Wickers entering the Chicago school system.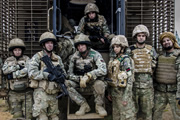 Bluestone 42, the comedy series about a bomb disposal squad in Afghanistan, will also return. The re-order comes whilst the second series of the show is half-way through its second series, with new episodes currently broadcasting on Thursday nights.
Oliver Chris, Stephen Wight, Kelly Adams, Tony Gardner, Katie Lyons, Scott Hoatson and Jamie Quinn are amongst the actors involved.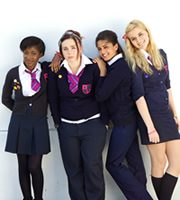 The final returning sitcom is Some Girls, a series about four female students living in south London. The BBC has released some information on what will occur in the new episodes: "This time, level headed Viva wants to defy expectations and do something completely crazy. But it's not long before she's regretting her actions. Holli needs to raise some money to buy back her mother's pawned jewellery and has some unusual ideas about how to do this.
"Saz discovers that, against all odds, there is a boy out there who likes her - if only she could work out who it is. And Amber gets ousted as the hottest girl on the block when her sister moves back home. Rocky and Viva are in love but the differences between them make this series a game of 'will they won't they'. And where is Brandon? Amber is convinced he has had to go into hiding..."
All the above series will be seen on television, as recently announced plans to make BBC Three an online-only channel will, if approved, not come into force until late 2015.
Today's commissions follow last week's news that BBC Three has also ordered two more series of the Nick Grimshaw-hosted panel show Sweat The Small Stuff.
Talking about today's announcements, Comedy Commissioner Shane Allen says: "This raft of new and returning comedy series celebrates how successful the comedy on Three remains and is a timely reminder that we're still very much open for comedy business.
"To have three comedies hit a third series stride is a monumental achievement. With Top Coppers and 600 Days we're backing a new wave of talent as both have sublime casts and are exciting additions to the comedy slate on BBC Three."
Share this page