Series 2, Episode 6 - Noddy Holder and Shappi Khorsandi
Slade front-man
Noddy Holder
and Iranian comedienne
Shappi Khorsandi
judge. Ideas include filing your nails while moving between the floors; the door hat; and banning Christmas records.
Broadcast details
Date

Sunday 31st October 2010

Time

11pm

Channel

BBC Two

Length

30 minutes
Full synopsis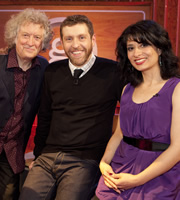 Ideas
Category Wall
Ideas relating to a category, each one relating to a lyric in the first verse of Slade's "Merry Xmas Everybody". The category is animals.
- Cat paper: like flypaper, but stickier. Genius
- Pornography for pets to watch while their owners are out. Not a genius
- Shops should be legally obliged to give facts about dinosaurs with every sale. Genius
Security
- The door-hat: When you open your front door a hat comes down on your head, so if it is a person you do not like at the door you can claim you are just about to go out and cannot meet them. If it is someone you do like, you can take the hat off and claim you have just go in. Genius
Picture and Video Ideas
- Hot water bottles that your partner wears at night. Instead of getting up in the middle of the night to go to the lavatory, you urinate into a tube that connects to the bottle, which warms the bottle. Female versions would urinate into a gravy boat. Genius
- Confident Queen - a song to boost people's confidence. Genius
Relationships
- The girlfriend games console interface: A suit worn by your girlfriend or boyfriend which has the buttons of a game console on it. The player can therefore play a video game while spending time with their partner at the same time. Genius
Final Ideas
- PIN numbers which are printed directly onto your cash card so you do not forget them. Not a genius
- Emery board escalators so that you can file your nails as you move. Genius
- Mobile pedestrian crossings so you can cross the road wherever you want. Genius
- Light bulbs that turn themselves off whenever you blink. Not a genius
- The Noddy Holder holder, which would stop global warming by removing Slade's "Merry Xmas Everybody" from the airwaves and replacing it with three minutes of silence. Not a genius
Repeats
Monday 8th November 2010 at 23.20
Cast & crew
Videos