Series 2, Episode 2 - Jane Moore and The Hairy Bikers
This week Dave is joined by motorbiking chefs The Hairy Bikers (
Simon King
and David Myres) and journalist
Jane Moore
. This week's ideas include magent-powered cars, edible sticky tape and colour co-ordinated supermarkets.
Further details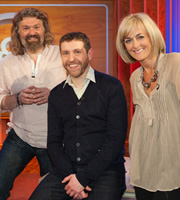 Food-Based Ideas
- Colour-coordinate everything in supermarkets. Not a genius
- Edible sticky tape to stick back broken food. Genius
Fastest Finger First
The next idea was picked by the person to put their hand up first.
- Inflatable bottoms to make it more comfortable sitting down on hard surfaces for long periods. Genius
Confusing Diagrams
The following ideas were submitted with confusing or strange pictures illustrating them.
- Table-top cows so you always have milk for unexpected guests. Not a genius
- Magnet-powered cars - a magnet is put in front of a car which drags the car along the road removing the need for fuel. Not a genius
Confusing Videos
Similar to the last section, just with video clips instead of diagrams.
- Comprehensive counting - instead of saying "one-and-a-half, two-and-a-half etc." the names of these numbers would be portmanteau words made from the two whole numbers they halve, so they would be "owo, twree, thour, fove, fivx etc." Not a genius
- Convert women's hot flushes into electricity. Genius
- Put root vegetable gardens on flat roofs above kitchens so you can pick your veg straight from your ceiling. Genius
Final Ideas
- The maximum speed you can drive at should be equal to your age. Not a genius
- Alternate eye blinking so you never miss anything. Genius
- Erasable plaster casts so you can get rid of signatures from people you do not like and remove silly drawings people put on them. Genius
- Update chess by desegregating the black and white pieces. Genius
- A half pen/half pencil called a "pen-cil". Genius
- Merge Sweden and Norway into one country called "Swede-way". If successful, you could also combine Spain and Portugal to make "Sportugal". Genius
- Late-night lollipop ladies dressed in rave gear for drunk people. Genius
Broadcast details
Date

Monday 4th October 2010

Time

10pm

Channel

Length

30 minutes
Repeats
View more broadcast data
This content is exclusive to
BCG Pro subscribers
and
BCG Supporters
. Join them and get extra features including this episode's audience figures and further repeats data.
Already a donor or subscriber?
Sign in
Cast & crew
View related press