Series 2, Episode 4 - Mel Giedroyc and Chris Addison
Stand-up
Chris Addison
and one half of Mel and Sue -
Mel Giedroyc
, act as the judges for tonight's show. Ideas include a machine that can simulate a person's handshake to a discreet device for fixing wedgies.
Broadcast details
Date

Monday 18th October 2010

Time

10pm

Channel

BBC Two

Length

30 minutes

Ratings

1.22 million viewers (5.90% audience share)
Full synopsis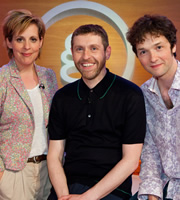 Handshakes
- A machine that will measure and record your handshake so that you can use it to perfect your handshake. Genius
Select-a-Genius
Ideas selected from a random light which shines on a random member of the audience.
- Improve coverage of the Olympics by have an extra lane which would feature an average member of the public in it. Genius
- An aftershave which displays the intelligence of the wearer. Genius
- A soft drink market for the people of Congleton called "Um Bongleton". Genius
Videoed and Illustrated Ideas
- Resurface all of Britain's roads with fitted carpet. Not a genius
- House hats to reflect what was inside. Not a genius
- Pre-flavoured meats so you do not need to add herbs and spices. Not a genius
- Handles for coins. Genius
- Dust-buster cars to clean up the roads. Genius
- Ride-on vacuum cleaners. Genius
Ideas with Prototypes
- Cheese slice dispensers. Not a genius
Ideas concerning Intimate Female Body Parts
- Baby dummies shaped like a breast. Not a genius
- Weighing scales for breasts, so breastfeeding mothers would know which breast had the most milk. Not a genius
- An anti-wedgie device to stop your underpants getting into your backside. Genius
Final ideas
- Save the polar bears by establishing a breeding colony on Jupiter's icy moon Europa. Genius
- Playgrounds for pensioners. Genius
- Get a large sheet of blue plastic with grey edging and fool Google Maps into thinking you have a swimming pool in your back garden. Genius
- Super cooling pants to keep testicles cool during spells of global warming. Genius
- Canary badminton. Not a genius
Repeats
Sunday 24th October 2010 at 23.40
Cast & crew
Videos