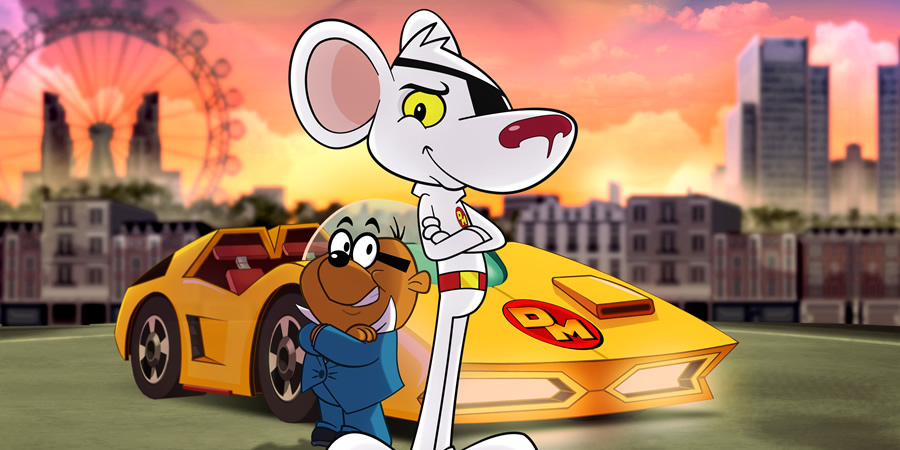 Genre

Sitcom

Broadcast

Channel

Episodes

Starring

Alexander Armstrong, Kevin Eldon, Dave Lamb, Stephen Fry, Shauna MacDonald, Ed Gaughan, Marc Silk, Morwenna Banks and Kayvan Novak

Writer

Director

Producers
Action and comedy collide in these all-new animated adventures as Danger Mouse is licensed to thrill a whole new generation of fans. His mission is to protect the world, multiple parallel universes and Willesden Green from the villainous machinations of the evil Baron Greenback.
At his side is his ever-faithful but always fearful sidekick Penfold. Together, the two best friends take on all manner of mind-blowing missions aided, abetted and aggravated by a menagerie of old and new allies and adversaries, and all manner of tech-defying gadgets.
From deep in their hidden London location, beneath the post box, DM and Penfold take their orders from the unflappable Colonel K, the Head of the British Secret Service. Appearing either on screen or in hologram form, Colonel K briefs DM and Penfold about the various secret missions which will take them anywhere from the coldest Arctic tundra to the hottest baked desert and sometime even a baked dessert! Exotic adventures can happen anywhere.
As ever, gadgets and vehicles are at the heart of every mission. In the lab, Professor Squawkencluck has worked her feathered fingers to the bone developing the greatest collection of new and exciting gadgets to help Danger Mouse on his next mission. Her gadgets are the envy of the world's secret services but sadly they usually end up wasted in the hands of Danger Mouse. But one gadget Danger Mouse is never without is his trusty 'ipatch' with multiple state-of-the-art functions.
And of course a new era brings a new vehicle for the number-one super hero. The Mark IV is the updated version of the classic Danger Car with a range of ridiculous upgrades to thwart any bad guy. Danger Mouse can also call upon the Space Hopper, The Danger Cycle, The Danger Jet Pack, the Danger Surfboard and Danger Ejector Shoes. In fact, for every danger, Squawkencluck has a technological solution that Danger Mouse and Penfold are bound to use inappropriately and return in a state of disrepair.
Pivotal to every episode is The Narrator. He believes he is destined for bigger and better things but has 'lowered' himself to work on Danger Mouse because he needs the regular work. His voice bookends the show and underpins the comedy and exposition throughout while ramping up the tension for cliffhanger moments from the safety of his unseen announcer's studio sound booth. Although The Narrator might prefer to be playing Lear at The National, even he is forced to admit this can be a thrilling show and ultimately he gets just as absorbed in the story as everyone else.
No series of Danger Mouse would be complete without a host of evil enemies and this one is no exception. Heading up the list is amphibious villain Baron Greenback, Danger Mouse's professional arch enemy, and evil genius. An imposing Marlon Brando-like mountain of a toad, he is 'the 'Kingpin' pivot on which the 'axis of naughtiness' turns and who is determined to become 'king of the world'.