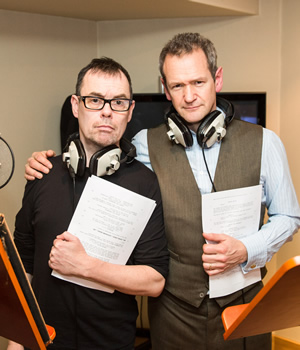 The world's greatest secret agent is back... all new Danger Mouse arrives on CBBC on September 28th... the exact day 34 years ago that the original series, which starred David Jason and Terry Scott, launched.
This new version features Alexander Armstrong as the voice of Danger Mouse, with Kevin Eldon as his trusty sidekick Penfold.
Action and comedy will collide in these all-new adventures as Danger Mouse and Penfold try to protect the world, multiple parallel universes... and Willesden Green, from the villainous machinations of the evil Baron Greenback.
Together the two best friends take on all manner of mind-blowing missions across the series - aided, abetted and aggravated by a menagerie of old and new allies and adversaries and all manner of tech-defying gadgets.
Comedy actor Dave Lamb (probably best known as the voice of Come Dine With Me nowadays) is The Narrator, with Morwenna Banks as various characters, including The Queen; and Ed Gaughan as Baron Greenback.
Also on the cast list is Pointless star Richard Osman as Professor Strontium Jellyfishowitz, the Leader of Earth's scientists; Shauna MacDonald as lab scientist and inventor Professor Squawkencluck; and Rasmus Hardiker as Count Duckula.
Other voices popping up across the series include Stephen Fry as Colonel K; Game of Thrones actress Lena Headey as Jeopardy Mouse; and John Oliver as Dr Augustus P Crumhorn III.
Speaking about his role at the show's premiere, Alexander Armstrong said: "I think when you get to play a character whose title music has swooning girls singing 'he's fan-TAS-tic' you've got to go outside and have a little sit down haven't you? Yes, I know it's not ME they're singing about, but still. Everyone loves Danger Mouse.... It's the closest to playing Bond I'll ever get."
Danger Mouse will also feature a host of guest stars across the 52 episodes. Brian Blessed will be lending his booming tones to the role of Santa; Richard Ayoade is taking on the role of the new frosty villain, The Snowman; whilst Blackadder star Miranda Richardson will play the menacing magical monarch, the Queen of Weevils.
More information about the show
From deep in their hidden London location, beneath the post box, DM and Penfold take their orders from the unflappable Colonel K, the Head of the British Secret Service. Appearing either on screen or in hologram form, Colonel K briefs DM and Penfold about the various secret missions which will take them anywhere from the coldest Arctic tundra to the hottest baked desert and sometime even a baked dessert! Exotic adventures can happen anywhere.
As ever, gadgets and vehicles are at the heart of every mission. In the lab, Professor Squawkencluck has worked her feathered fingers to the bone developing the greatest collection of new and exciting gadgets to help Danger Mouse on his next mission. Her gadgets are the envy of the world's secret services but sadly they usually end up wasted in the hands of Danger Mouse. But one gadget Danger Mouse is never without is his trusty 'ipatch' with multiple state-of-the-art functions.
And, of course, a new era brings a new vehicle for the number-one super hero. The Mark IV is the updated version of the classic Danger Car with a range of ridiculous upgrades to thwart any bad guy. Danger Mouse can also call upon the Space Hopper, The Danger Cycle, The Danger Jet Pack, the Danger Surfboard and Danger Ejector Shoes. In fact, for every danger, Squawkencluck has a technological solution that Danger Mouse and Penfold are bound to use inappropriately and return in a state of disrepair.
Pivotal to every episode is The Narrator. He believes he is destined for bigger and better things but has 'lowered' himself to work on Danger Mouse because he needs the regular work. His voice bookends the show and underpins the comedy and exposition throughout while ramping up the tension for cliffhanger moments from the safety of his unseen announcer's studio sound booth. Although The Narrator might prefer to be playing Lear at The National, even he is forced to admit this can be a thrilling show and ultimately he gets just as absorbed in the story as everyone else.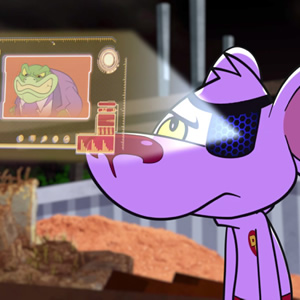 No series of Danger Mouse would be complete without a host of evil enemies and this one is no exception. Heading up the list is amphibious villain Baron Greenback, Danger Mouse's professional arch enemy, and evil genius. An imposing Marlon Brando-like mountain of a toad, he is the 'Kingpin' pivot on which the 'axis of naughtiness' turns and who is determined to become 'king of the world'.
Working for the Baron are a series of underlings including Nero, the Baron's pet caterpillar; Stiletto, the Baron's crow lackey; and Pandaminion, an overweight black and white panda bear with a liking for bamboo!
And then there's the legendary Count Duckula, a young, excitable vampire duck, who wants to be the most famous person in the universe. He is aware that he is in a TV show and it eats him up that he is not the star. He can't stand that Danger Mouse is more famous than him, so plots to bring down our hero. He lives in Castle Duckula, where he has dedicated his life to showbiz, already running the most popular talk show in the whole of South East Transylvania.
Other characters include Jeopardy Mouse, the super-proficient, female, American equivalent of Danger Mouse; Professor Strontium P Jellyfishowitz, The leader of all scientists on Earth; and mad scientist wolf Dr Augustus P Crumhorn II.
Production
Danger Mouse is scripted by a team headed up by Horrible Histories writer Ben Ward. It is animated by Boulder Media, with Robert Cullen directing. The series uses a 'mixed media' approach to give the show a distinct look and feel.
Game
To accompany the series will be an exciting new game on the CBBC website: Trailer
In the game, Danger Mouse is on a mission to save the world... but there is much to do! Can you help DM and Penfold travel across the globe, navigating traps, enemies and security systems to thwart the bad-guys? Use your slap-stealth skills to defeat Baron Greenback, King Kong Brunel and Loocifer over 29 levels on mobile, tablet and desktop.
Fun Facts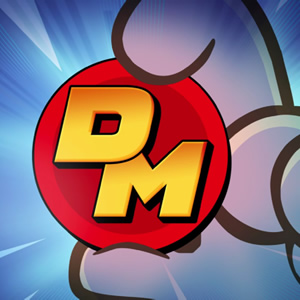 - The Secret Service's Secret Museum set a new annual visitor record last year... with a total of three.
- Colonel K used to be an agent called Danger K.
- Colonel K's opposite number in the USA is called General E Normus Schwartznut.
- Professor Squawkencluck's real first name is Professor, so she is Professor Professor Squawkencluck.
- Agent 58 comes from a long line of agents. There was an Agent 57 in the original series - presumably they are related.
- Giraffe Warriors is a gaming phenomenon in the world of Danger Mouse. In the game the Giraffe Warrior character is so tall that his head is never actually seen in the game. Penfold's favourite Giraffe Warrior's avatar is Samurhino.
- The Danger Bike transforms into a jet ski and a snowmobile. The car turns into a jet and a big-wheeled beach buggy. It has an Automatic Penfold fitted as standard, along with Splat-Cannons, grappling irons and a combined washer-dryer.The Danger Board transforms into a surf board, a wind-surf board and an ironing board.
- The Colonel can never remember Penfold's name. Among the many things he calls him are Bunfork and Pinhead.
- Danger Mouse is the greatest secret agent in the world. So is US agent Jeopardy Mouse. This can be a source of tension. Danger Moth is the second greatest secret agent in the world.
- The Baron's underwater base is called Toadlantis.
- Professor Squawkencluck and the Baron share a birthday.
- Danger Mole is based on Jason Statham.
Trailers
Cast interview
Alexander Armstrong, Kevin Eldon and Dave Lamb talk about the new series of Danger Mouse. This video includes clips of the cast recording their lines:
See Also